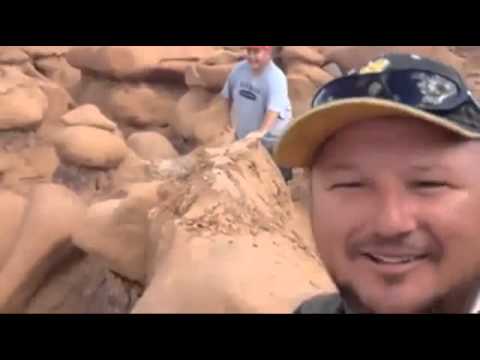 View 6 Items
Dave Hall

HIGHLAND — The Boy Scout leaders involved in pushing over an ancient rock formation in Goblin Valley State Park were removed from their positions Monday, according to the Utah National Parks Council.
The council of the Boy Scouts of America announced the removal in a brief statement that also reiterates Scouting's "Leave No Trace" policy, which teaches the value of natural areas and ways to help protect and conserve them for future generations.
The Highland men were visiting Goblin Valley this month when they say they noticed a precariously perched boulder that was loose and worried it would fall on someone. The delicate "goblin" formation, also known as a "hoodoo," is one of many that gives the park its name.
One of the men, Dave Hall, posted a video of the incident online that went viral.
In the video, Hall narrates and films while his friend Glenn Taylor pushes a large boulder from its delicate perch, sending it tumbling down a small embankment. A third man, identified as Taylor's adult son, watches. The video shows them laughing and trading high-fives after the rock falls to the ground.
Despite their assertions that they were concerned for the safety of others in the park after seeing a family with small children pass below, the lighthearted attitude of the film paints a different picture for many viewers.
The Boy Scouts of America earlier condemned the action as disappointing and reprehensible.
The Emery County Attorney's Office is considering criminal charges against the men.
In another twist to the story, Taylor filed a personal-injury lawsuit last month against the driver of a car that rear-ended him four years ago in American Fork. In the suit, he claims he "sustained serious, permanent and debilitating injuries" and seeks $5,500 in medical costs.
Cassie MacDonald, who was 16 at the time of accident, said she doesn't remember Taylor or anyone else in the four-car pileup complaining of serious injuries.
"I was a little bit surprised that the man who pushed over this 2,000-pound rock formation was suing me for disability. I just thought it was interesting," she said after watching the video. "I didn't think he had that much of a back problem."
Her father, Alpine resident Alan MacDonald, also is named in the complaint. Someone with a severe back injury shouldn't even be thinking about toppling a large rock, he said.
"It just doesn't look like he's got a terribly serious back injury to me if you're able to push over a rock that big," he said.
Calls to a lawyer representing the men were not immediately returned Monday.
Email: mromero@deseretnews.com, Twitter: McKenzieRomero