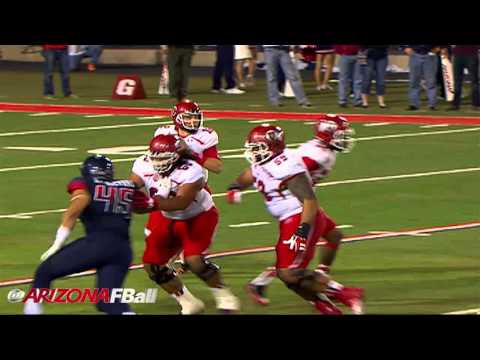 View 32 Items

Coach says when someone goes down you've got to pick up the rifle. That's all that was going through my head really — just make plays, help the team win

—Utah QB Adam Schulz
TUCSON, Ariz. — Before boarding the bus for the airport late Saturday night, Utah coach Kyle Whittingham acknowledged that the Utes learned something in a 35-24 loss to Arizona.
"This league is too competitive and too good to not play with every ounce of passion and energy and emotion that you have," he said. "It's just too competitive."
Although he didn't know if it was a let-down, Whittingham said that the Utes simply didn't have the fire early on that they had in an upset win over fifth-ranked Stanford seven days earlier.
Despite picking up the pace and playing much better in the second half, Whittingham was at a loss for the sluggish start against the Wildcats.
"Good question," he said. "We'll try to figure it out."
Whittingham said that there was nothing during the week of preparation to indicate that a lull was coming.
"It's not very often that we come out flat. We came out flat last year against Arizona State. We came out flat the year before against Cal Berkeley," he explained. "So there are two or three games the last few years I can recall having this same feeling."
Arizona jumped out to a 20-7 halftime lead. The Wildcats scored on their first possession and later cashed in on a pair of interceptions — returning one for a touchdown and marching 13 plays to the end zone on a drive that followed the other.
Utah defensive end Trevor Reilly thought the early lack of success was pivotal.
"They just kind of ran it down our throat," he said. "All around we were just pretty soft on those two drives. I think those really set the tone for the game."
Even though the Utes managed to come back and take a 21-20 lead in the third quarter, Reilly felt the game was ultimately decided in the first two quarters.
Utah's woes were compounded by the loss of starting quarterback Travis Wilson late in the opening half to an undisclosed hand injury. He was just 3-of-9 passing for 15 yards and was intercepted twice when replaced by Adam Schulz. The backup went on to complete 12-of-23 passes for 142 yards. He completed a 55-yard touchdown pass to Sean Fitzgerald on a flea flicker from running back Bubba Poole.
"I felt fine. A lot of the guys contributed to that," said Schulz, who said that several of his teammates offered encouragement when he entered the game on the final drive of the second quarter.
"Coach says when someone goes down you've got to pick up the rifle," Schulz said. "That's all that was going through my head really — just make plays, help the team win."
The Utes, though, were unable to finish the deal. They were outscored 15-3 in the fourth quarter in falling to 4-3 overall and 1-3 in Pac-12 play.
10
comments on this story
Whittingham called it a "team loss" and said they've got to bounce back from it. Utah faces USC at the Los Angeles Memorial Coliseum on Saturday.
The Utes do so after going from one extreme to another in a span of seven days.
"I don't know what the reason behind it is. We obviously came out flat. It obviously felt good beating Stanford last week but it's a long time ago," Fitzgerald said. "I don't think that had any bearing on us this week. But we've got to figure out a way to fix the errors that we made today, and do better next week, and move on like we try to do every week."
Email: dirk@desnews.com
Twitter: @DirkFacer