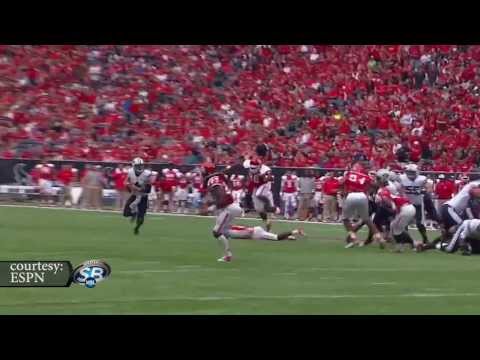 View 23 Items

Unity, respect for one another, cohesiveness, understanding how capable they are and then maybe to see where mistakes can change a game or cost you a game.

—Bronco Mendenhall
HOUSTON — Bronco Mendenhall told reporters that intense thrilling heart-thumpers like the one he got in the 47-46 win over Houston Saturday put him through the proverbial wringer. But he also knows BYU can't dwell on it in a short week with Boise State coming to LaVell Edwards Stadium on Friday.
"We haven't been in one like that before, maybe at Tulsa or that 51-50 with TCU," said Mendenhall. That kind of drama makes him and his wife Holly rethink contract extensions in the business, he joked afterwards.
The Broncos (5-2, 3-1 MWC) have won 50 straight games in October, and the Cougars (5-2) just played a record 115-play game, which players said was almost like playing two contests in one day.
The Broncos lost starting quarterback Joe Southwick to a broken ankle on the first play of Saturday's game against Nevada. His replacement led BSU to a 34-17 win. The Cougars lost starting running back Jamaal Williams to a hip pointer in the third quarter at Houston. His status for Saturday is uncertain.
BYU chalked up a season-high 681 yards and 41 first downs in the one-point win at Houston. Taysom Hill passes for 417 yards, four touchdowns and rushed for another 128, which includes losing 66 yards on sacks. The Cougars extended their win streak to four games.
Mendenhall and Hill said the Cougars grew from the experience of having to chase speedy Houston around the field in a back and fourth game in which BYU came from behind several times in the fourth quarter.
"Unity, respect for one another, cohesiveness, understanding how capable they are and then maybe to see where mistakes can change a game or cost you a game" are things Mendenhall said were take-aways from Houston, a four-hour, seven-minute game. It was the longest regulation game in school history.
"As coaches, we now know our team versus this kind of team and what it looks like. I'm not sure what changes to make or would make, but there's a lot to learn and now we have a very short week with a Friday game. However long this one was, it seems there ought to be a bye or a NCAA rule that if a game goes longer than four hours, a Friday game automatically goes to Saturday night."
Hill had a career day against Houston, but the most impressive thing he did other than prove his toughness in rushing 34 times was his mental toughness in shaking off a pick-six and an interception in the end zone — a direct 14-point turnaround for Houston.
"It was an amazing performance by him," said Mendenhall.
Hill beat up Houston in the first half and Houston threw man press coverage and blitzed him in the second, and it worked.
"You do what you have to do," said Hill. "I did my best to eliminate negative plays and accentuate positive plays. I could do better but credit Houston for making the adjustments they did."
It took a quarter to adjust to Houston's adjustments, said Hill of the third quarter. "But in the fourth, our adjustments worked and it showed."
On BYU's winning drive, Hill hit Skyler Ridley twice for a big gain and touchdown. He said on the first toss he saw Houston playing cover two on his first read to Cody Hoffman and Brett Thompson on the right side. He then made a progression over to Ridley, who Hill knew would beat his man. His touchdown pass to Ridley of 11 yards was a simple trust that Ridley would beat man cover.
"I trust the heck out of Skyler."
Hill said BYU's fight to overcome mistakes showed character by his teammates on both sides of the ball. But there is work to do.
"I think we need to be consistent offensively. We started out well, then squandered things in the second and third. We need to come out and play like we did in the first quarter for the entire game.
"There are a lot of good things to build on from this win, but we need to put an entire game together offensively. We showed greatness throughout the game but we need to show that consistently," said Hill.
BYU's defense, which featured interceptions by Spencer Hadley, Daniel Soresen and Alani Fua, also got a key corner blitz sack on a big third down by Mike Hague late in the game. The Cougars played without starting free safety Craig Bills, who was cleared to play from a concussion during the week but medical personnel held out of the Houston game just before kickoff after his warmups.
"We practiced all week as if he would play, we thought he would play, " said Mendenhall.
Dick Harmon, Deseret News sports columnist, can be found on Twitter as Harmonwrites and can be contacted at [email protected].