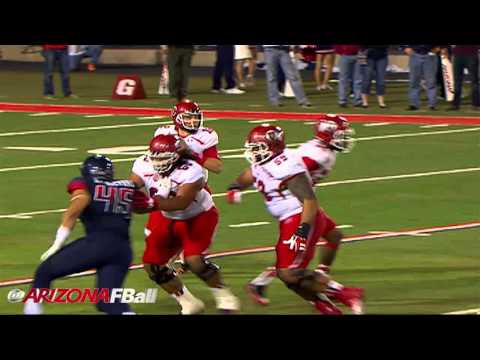 View 32 Items

It stinks pretty bad. I'm not going to lie.

—Utah senior captain Trevor Reilly
TUCSON, Ariz. — A week after knocking off No. 5 Stanford, it was the Utah Utes who left the field upset. They dropped a 35-24 decision at Arizona Saturday on a night when quarterback Travis Wilson was sidelined with an injury.
The loss drops the Utes to 4-3 overall and 1-3 in Pac-12 play. They visit USC next Saturday.
"It stinks pretty bad," said senior captain Trevor Reilly. "I'm not going to lie."
Reilly added that the Utes may have given the game away with soft play up front in the first half.
"It was ours for the taking when we came down here," Reilly said. "I think we matched up pretty well personnel-wise."
Utah trailed 20-7 at halftime, lowlighted by two interceptions by Wilson and his early departure to the locker room with a hand injury. Utah coach Kyle Whittingham declined to comment on Wilson's status.
Wilson, who had completed just 3-of-9 passes for 15 yards, was replaced by Adam Schulz for the final series of the half and was sidelined for the remainder of the game.
Although Schulz completed his first two throws to help the Utes move into scoring position, more misfortune followed as kicker Andy Phillips missed a 42-yard field goal attempt as time expired in the second quarter — ending his run of 11 consecutive successful kicks.
It capped a difficult opening half for Utah. Besides a 13-point lead, Arizona held sizable statistical advantages in total yardage (244-162), first downs (15-8) and third-down conversions (8-2).
Individually, the Wildcats were led by running back Ka'Deem Carey and quarterback B.J. Denker. Carey had 102 yards rushing at the break, while Denker was 11-of-15 passing and ran for two scores.
The first touchdown — off a 10-yard keeper — came on Arizona's opening drive. It capped an eight-play drive that gave the Wildcats a 7-0 edge less than six minutes into the game.
Utah countered on the ensuing possession. The Utes ran seven straight running plays before Wilson teamed with Anthony Denham on a 2-yard scoring strike. Phillips followed with the PAT to even the score at 7-7.
It stayed that way throughout the balance of the quarter, thanks to a late stop by the defense. On fourth-and-1 from the Utah 2, Reilly sacked Denker for a 7-yard loss to thwart a serious threat.
Unfortunately for the Utes, though, Arizona found another way into the end zone just over a minute later. Linebacker Marquis Flowers picked off Wilson and returned the interception 14 yards for a touchdown.
After an exchange of punts, another miscue led to more points for Arizona. An interception by cornerback Shaquille Richardson set up a 13-play scoring drive for the Wildcats. Denker concluded the march with a 1-yard touchdown run. Utah's Daniel Nielson blocked the PAT that followed.
Trailing 20-7, Utah's bid to close the gap before halftime sailed wide left after the ball left Phillips' foot to close out the half.
Things brightened up considerably, however, in the third quarter. Not only did the Utes climb back into contention, they took the lead.
The momentum shift began when Chase Dominguez recovered a fumbled punt by Arizona. It took Utah just three plays to cash in from the 17-yard line. The Utes crossed the goal line on a short run by Kelvin York to pull within 20-14.
Another defensive stand followed as Utah linebacker Jared Norris denied Carey any yardage on fourth-and-2 near midfield. The loss on downs was immediately followed by some first-down trickery from the Utes. A flea flicker featuring running back Bubba Poole was capped by a 55-yard touchdown toss from Schulz to Sean Fitzgerald. Phillips then added his 30th consecutive successful extra-point kick to give Utah a 21-20 lead with 9:08 to go in the third quarter.
The Utes remained in front until early in the fourth. That's when Arizona reclaimed the lead on a 7-yard touchdown pass from Denker to Nate Phillips. The Wildcats added a two-point conversion to carry a seven-point advantage into the final 13:32 of play.
Utah eventually cut into the 28-21 deficit with a 44-yard field goal by Phillips. The Utes added to the drama with 6:29 to go when LT Tuipulotu forced Carey to fumble and Reilly recovered it on the Arizona 38.
The Wildcats held firm, though, and averted any more danger when Phillips missed a 40-yard kick at 3:49.
Just over two minutes later, Arizona added a 44-yard touchdown run by Carey to clinch the late-night contest. Last season's national rushing leader — a focal point of Utah's defensive effort — finished with 236 yards on 40 carries. He had 204 against the Utes last year.
"I'm exhausted. It was a nice team win against a good physical team," said Arizona coach Rich Rodriguez. "We made a few mistakes, but it was a good effort and a very good win."
Whittingham, obviously, saw things from a different perspective. He noted the lack of production in the throw game, the missed field goals and the second-half impact Carey had in the game.
"We came out flat in the first half. In this conference, you can't come out and not be ready to play," Whittingham said. "We weren't ready to play in the first half. In the second half, we came out with some fire (and) did some good things. We fought our way back in the game and took the lead, but my final analysis of the game — we didn't make enough plays to win the game."
Email: [email protected]
Twitter: @DirkFacer