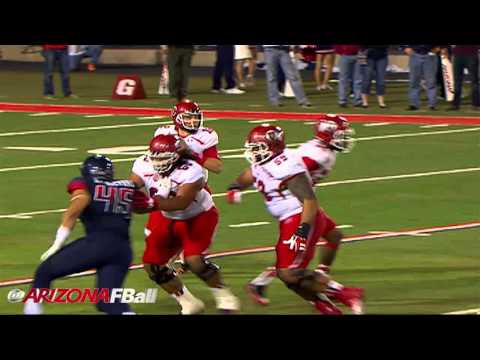 View 32 Items

This was a great opportunity to be down here.

—Pac-12 Commissioner Larry Scott
TUCSON, Ariz. — Pac-12 Commissioner Larry Scott made the rounds in the Grand Canyon State. After taking in part of the Arizona State-Washington game Saturday afternoon in Tempe, Scott made his way down the road to see Arizona and Utah play.
"This was a great opportunity to be down here," said Scott, who explained that he visits every school in the conference each season to check out new facilities and see what's going on.
Scott arrived at ASU early in the day, visiting with university officials and touching base. He also met with athletic department leaders from both the Sun Devils and Huskies before catching a little bit of their football game that began at 3 p.m.
Scott then caught a flight to Tucson, arriving about an hour before kickoff.
In a pregame press conference, Scott addressed a variety of topics with the media. Subjects included Stanford graduate Condoleezza Rice's role on the College Football Playoff selection committee; the one-and-done situation with college basketball and the NBA; Pac-12 officiating; and the NCAA landscape in general.
STREAKS AND STUFF: Utah quarterback Travis Wilson now has five career games with multiple interceptions, all against Pac-12 foes — Arizona (twice), Oregon State, UCLA and Washington State. … Kicker Andy Phillips was wide left on a 42-yard field goal attempt as time expired, ending his streak of consecutive kicks without a miss at 11.
BRUSCHI HONORED: Former Arizona star Tedy Bruschi, who won three Super Bowl rings during a 13-year career with the New England Patriots, had his college jersey No. 68 retired by the Wildcats during halftime ceremonies. Bruschi played for Arizona from 1991-95 and finished his career with 52 sacks, tied for the most in NCAA history.
EXTRA POINTS: Arizona State's 53-24 win over Washington improved the Sun Devils to 3-1 in Pac-12 play, giving them a one-half game lead over UCLA for first in the South Division. The Bruins dropped a 24-10 decision to Stanford earlier in the day. … A scout from the New York Giants was credentialed for the game. … Ka'Deem Carey became the sixth player in Arizona history to top 3,000 yards rushing in his career. … Daniel Nielson blocked a PAT in the second quarter, Utah's first deflection of the season. … Injured Utes Jake Murphy, Westlee Tonga, Jacoby Hale and Brian Blechen did not make the trip.
Email: dirk@dewsnews.com
Twitter: @DirkFacer