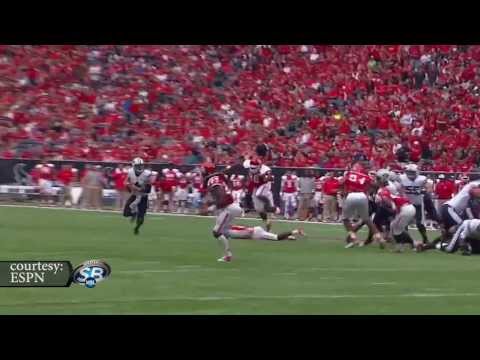 View 23 Items

I don't know if you can see a more gutty performance than that.

—BYU head coach Bronco Mendenhall
HOUSTON — On a day BYU had to have Taysom Hill play like a veteran, he did.
BYU stepped into a crazy big-play shootout with Houston Saturday night, and the sophomore quarterback made his share of clutch throws in a 47-46 win. Without them, the Cougars would have been left in the dust in this one.
Hill completed 29 of 44 passes for 417 yards and four touchdowns in the Cougars' win over undefeated Houston. He also ran 34 times and was sacked eight times and intercepted three times. All were career highs for Hill. He also gained 128 yards rushing. He became the first BYU quarterback to run for more than a hundred yards and pass for more than 400. Only seven NCAA quarterbacks including Archie Manning have done so.
"I don't know if you can see a more gutty performance than that," said BYU head coach Bronco Mendenhall.
"Just the sheer mileage on his legs, the wear and tear, the plays he's making; having to come back from an interception and a safety? He gave us a chance to win, and it was an amazing performance for our team and we're lucky to have him."
Hill finished the game with a 161.9 pass efficiency rating and became BYU's third all-time rushing quarterback behind Virgil Carter and Eldon Fortie. His 545 yards total offense was also his career high.
BYU needed every yard of it.
Trailing Houston 46-41 with 5:20 to play in the game, BYU's offense got the ball but failed to get a bounce-back touchdown and was forced to punt to a Houston offense that kept pulling out big plays.
After BYU's defense forced a Houston punt, Hill got back on the field with a do-or-die possession. The three previous such tries had failed with sacks and penalties and he had just 110 seconds left in the game.
He needed just 42 seconds.
After one of Houston's punter's worst punts of the night, Hill got the ball at the Houston 48 with 1:50 to play in the game and promptly set the Cougars up for the winning score.
Hill hit Skyler Ridley for a 28-yard pass. Three plays later he found Ridley again for an 11-yard touchdown, which proved the game winner.
Forced to run for first downs when Houston stuffed BYU's run attack and applied pressure, Hill continually delivered with his legs to keep the Cougars in position to score.
"Hands down, this was the craziest game I've ever been involved in," said Hill. "But boy, it was fun."
Hill said on the winning touchdown play, he looked over and saw Ridley had man coverage. "I have a lot of trust in that play. He fought to get open and make a play and gave us the win."
Dick Harmon, Deseret News sports columnist, can be found on Twitter as Harmonwrites and can be contacted at dharmon@desnews.com.