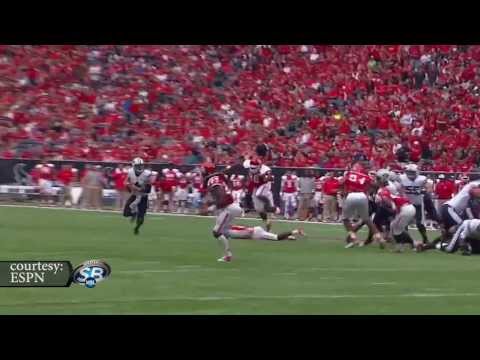 View 24 Items

It feels good to be able to pass a great receiver like Dennis Pitta. I'm not going to slow down, I'm going to set the record even higher.

—BYU wide receiver Cody Hoffman
HOUSTON — Cody Hoffman used a monster game in a 47-46 win over previously undefeated Houston to tie and break two BYU career receiving records Saturday in Reliant Stadium.
Hoffman broke current Baltimore Raven tight end Dennis Pitta's career record of 222 career catches on his first reception of the game. He tied Austin Collie's career mark for touchdowns with 30.
"It feels good to be able to pass a great receiver like Dennis Pitta. I'm not going to slow down, I'm going to set the record even higher," said Hoffman.
"We're just lucky he came to BYU," said head coach Bronco Mendenhall. "It's fun to see him and our team have success. He's not perfect and our team isn't perfect, but it's fun to see him help us have success."
The BYU senior caught seven passes for 156 yards and a touchdown in the win. His longest was a 53-yard catch in the fourth quarter, and it loomed huge for the Cougars, who were in a sprint to the finish with Houston.
"I was running that out of the slot and I knew I'd have a mismatch. I used my speed to get past him, and Taysom (Hill) put it right on the money," said Hoffman.
Hoffman's touchdown came with 12:57 to play in the game, a 25-yard catch from Hill that put the Cougars ahead of Houston 41-40. On that play, Houston defender Thomas Bates got caught hanging onto Hoffman and earned a pass interference call. It was almost a copy of Hoffman's TD catch in the Georgia Tech game.
"It just seems like that's what happens this year," he said.
"Even when he's not catching passes, he draws the defense," said Hill. "He is our safety net."
The BYU-Houston game began and ended as a crazy display of big offensive plays, including Hoffman's long catch. It also featured major mistakes by both teams.
It reminded Hoffman of the Tulsa game his sophomore year. "It was crazy, one for the books for sure," he said.
CRAZY START: BYU had a whopping 18-2 in first downs in the first quarter but only led 24-21. At the half, Houston led 38-34 and both teams combined for 701 yards, 72 points (BYU 456, Houston 245). The 72 points in a half was the second most combined for Houston since 1989, when Houston led SMU 59-14 at half and won 95-21.
MOST PLAYS: BYU set a school record by running 115 plays from scrimmage. The 41 first downs also became a new mark for BYU football. BYU's defense gave up a 76-yard pass play to Daniel Spencer, the longest of the year. The 4 hours 7 minutes made it the longest non-overtime game in BYU history.
Dick Harmon, Deseret News sports columnist, can be found on Twitter as Harmonwrites and can be contacted at [email protected].