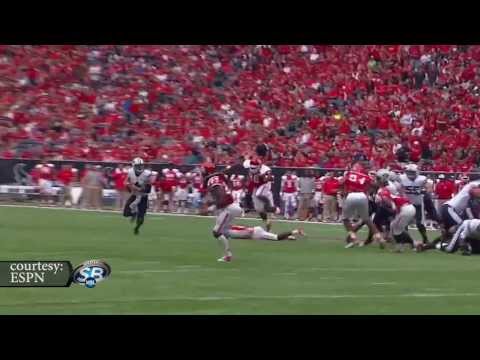 View 23 Items

Saturday afternoon's game in Houston was the first ever meeting between the BYU Cougars and the Houston Cougars, and it was not a disappointing one. Coming into the game, Houston was undefeated with a perfect 5-0 record and looking for the game against BYU as its first signature win.
It was BYU, however, that would capture the signature win as Taysom Hill threw an 11-yard touchdown pass to Skyler Ridley with 1:08 left in the game. The next drive, BYU's Alani Fua intercepted Houston quarterback John O'Korn's pass to seal the 47-46 win for BYU.
BYU's Hill threw 417 yards and four touchdowns and ran for an additional 128 yards in the win. Cody Hoffman caught seven passes for 156 yards and a touchdown.
For Houston, John O'Korn threw for 363 yards and three touchdowns. Two separate receivers had more than 100 yards receiving — Daniel Spencer (186 yards) and Xavier Maxwell (136 yards).
In this nail-biting thriller, there were several key factors that contributed to the final outcome of the game.
Explosive, high-scoring first quarter
BYU came out of the gate displaying a very explosive offense, running 36 run plays in the first quarter and racking up 275 yards of total offense. BYU was unstoppable, not punting the ball a single time until the second quarter. Hill threw two touchdown passes to Ross Apo, and Jamal Williams ran in another touchdown. Cody Hoffman grabbed his 222nd career reception, which is now the school record.
While BYU's ability to drive down the field was big for it early, it was Houston's ability to make enormous plays that was the difference maker in the beginning of the game. Demarcus Ayers ran a 95-yard kick return back for a touchdown, backup quarterback Greg Ward threw a 69-yard touchdown pass, and Derrick Mathews intercepted a pass from Hill that he returned for a Houston touchdown.
With both teams scoring in high amounts in the first quarter, it made for an extremely fun game to watch but raised many questions about both teams' defensive abilities. Houston's big plays kept it alive early as it trailed BYU 24-21 at the end of the first quarter.
Turnovers
Houston came into the game with a turnover margin of +2.8, the best in the NCAA. As expected, it was more than ready to capitalize on any mistake that BYU made as it forced Taysom Hill to throw three interceptions in the game, including one that was returned for a touchdown. It was the first game this season that Hill threw multiple interceptions. In addition to the interceptions, Houston made sure it kept pressure on Hill, sacking him eight times, one of which was a safety. Houston wrapped up extremely well on runners, which prevented BYU from getting many breakout runs.
In the end, BYU also forced three turnovers as its constant pressure on O'Korn forced three interceptions, the most important of which was on the last drive of the game to seal the win. Spencer Hadley's presence was also felt as he intercepted a pass on the first offensive play of the game.
Penalties
The officials were extremely busy as both teams had an astonishing amount of penalties, many of which were costly. As is the case with most football teams, once BYU lost the lead in the third quarter, it was clear that it was beginning to affect its emotions. BYU ended the game with 14 penalties for 125 yards, which nearly cost it the game.
As for Houston, it came into the game as the fifth most penalized team in the country, and as expected, it had its fair share of calls in the game as well. The holding and false start penalties really added up as it ended with 10 penalties for 88 yards.
Notable facts
BYU wide receiver Cody Hoffman caught his 222nd career catch early in the game, which broke the school record set by Dennis Pitta. He also snatched his 30th career touchdown, which tied Austin Collie's school record.
BYU coach Bronco Mendenhall improved to 35-2 when the Cougars score more than 41 points in a game.
BYU quarterback Taysom Hill is the first player to rush for more than 100 yards against Houston this year.
With the loss, the Houston Cougars lose their perfect record, and move to 5-1.
BYU running back Jamaal Williams suffered an unknown injury late in the first half and did not play in the second half.
You can follow Mitch Kunzler on Twitter at @MitchKunzler.