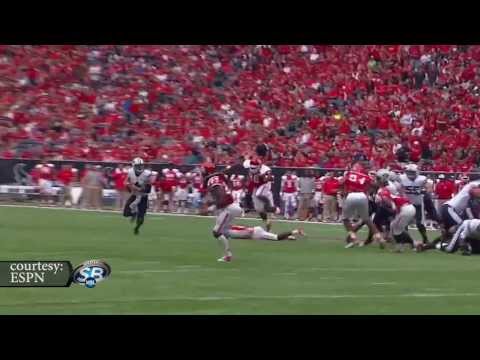 View 23 Items

John (O'Korn) thought he had a man open in the seam. They made a big play, game over.

—Houston coach Tony Levine, on Alani Fua's game-clinching interception
HOUSTON — Color Alani Fua good.
BYU linebacker Fua reacted to a juke move by Houston's hottest receiver, Daniel Spencer, then looked up just in time to see a fat football floating in the air toward him. Fua's eyes got wide and he just grabbed it.
Thus ended one of the more bizarre football games in BYU memory, a scintillating 47-46 Cougar win over previously undefeated Houston in Reliant Stadium before a crowd of 33,115.
The win lifted BYU to 5-2 and dropped Houston to 5-1.
For the second straight game, Fua, deployed as a nickel back instead of his position as an outside linebacker, intercepted a desperation pass by a quarterback to preserve a BYU victory. Fua did the same thing last week against Georgia Tech.
One could see relief on the faces of every BYU player and coach.
"John (O'Korn) thought he had a man open in the seam," said Houston coach Tony Levine. "They made a big play, game over." To that point, Spencer had seven catches for 186 yards including a 76-yarder, the longest pass play on BYU's defense this year.
In the longest non-overtime game in BYU history that saw the Cougars run a record 115 plays, the play by Fua ended Houston's fleet-footed show, an explosive display of speed that the Cougars struggled to contain all day.
"We were dazed by the wildness of the game," said BYU head coach Bronco Mendenhall.
"I had a flashback to the last game," said Fua of his game-saving interception.
The Cougars tied an FBS record with their 115 plays and set a school record with 41 first downs. The combined 93 points is the most since BYU got clipped at Tulsa in 2007. It was a game that saw 1,164 total yards, 681 of it by BYU.
Taysom Hill's 11-yard touchdown pass to Skyler Ridley with just over a minute to play lifted BYU to the winning margin. Fua's play sealed it on Houston's next possession.
How crazy was it? BYU dominated Houston on the field in the first quarter, scoring on four of its first five possessions. But Houston answered with three huge scoring plays of its own.
BYU led 24-21, but Houston scored its 21 points on highlight-reel plays — Demarcus Ayers 95-yard kickoff return, a 69-yard TD bomb from Greg Ward to Xavier Maxwell and a 29-yard Derrick Mathews pick-six.
While BYU looked unstoppable on offense early with Ross Apo's touchdown catches of 11 and 18 yards, Houston's big plays balanced out the ledger. BYU led 17-7 but it was short-lived. Houston tied the game at 24 with Richie Leone's field goal of 29 yards with 11:11 to play before half.
Houston's firepower put the home team up 38-34 at the half and a pair of touchdown passes by John O'Korn. BYU managed a one-yard plunge by Jamaal Williams in that span. Then it turned into a defensive battle and field position chess game the second half with Houston winning that battle until the final two minutes of the game.
"I felt good and then wondered, 'where did all the points come from,' " Mendenhall said.
"There were some giant throws (by Houston). They changed the field so fast with a freshman quarterback. You take away three plays, which we can't, and it's not close. Then there were these clutch plays we made mixed into the whole thing, which really made me proud."
Hill's performance lifted BYU's offense, especially in the waning minutes of the game when he hit Ridley twice on the game-winning drive. Hill finished with 29 completions in 44 attempts for a career high 417 yards with touchdown passes to Cody Hoffman, a pair to Apo and the game winner to Ridley.
With Houston pressuring Hill and stuffing BYU's run game, Hill's legs bought the Cougars some key first downs. He rushed 34 times for 128 yards and was sacked eight times.
"He was amazing," said Mendenhall.
"Coming out at halftime, I knew it would come down to who had the ball last," said Hill. "Luckily it was us. Fortunate for us, Alani made a big play once again. He's a great football player, and our defense made great plays all night."
Spencer Hadley opened the game by intercepting O'Korn on the first play of the game. Daniel Sorensen also had an interception.
Hill said it was a unique game and it felt like the Cougars had played an entire game by halftime.
"Credit Houston for making big plays and taking us out of some things," said Hill.
The Cougars now host Boise State on Friday night in LaVell Edwards Stadium.
Dick Harmon, Deseret News sports columnist, can be found on Twitter as Harmonwrites and can be contacted at [email protected].