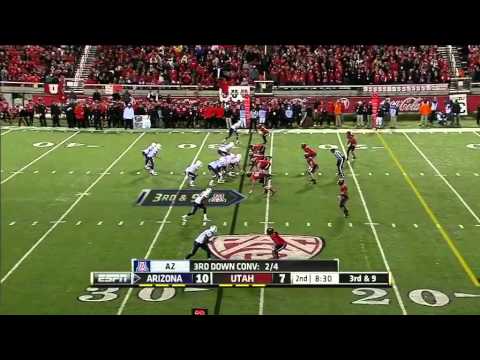 View 4 Items

He's a guy that can really change direction and (is) tough to tackle. We've got our work cut out for us and we've got to do a much better job than we did last year on him.

—Kyle Whittingham, Utah head coach
SALT LAKE CITY — Arizona running back Ka'Deem Carey has Utah's attention this week. Last season's national rushing leader, who ran for 204 yards in a 34-24 win over the Utes at Rice-Eccles Stadium in 2012, headlines the challenges the Utes face this Saturday in Tucson, Ariz.
"He did a number on us. He's a powerful kid," said Utah coach Kyle Whittingham, who noted that the 5-foot-10, 207-pound All-American isn't the tallest kid in the world but is extremely explosive with great vision and quickness. "He's a guy that can really change direction and (is) tough to tackle. We've got our work cut out for us and we've got to do a much better job than we did last year on him.
"I've been impressed with him since the first time I watched him play," Whittingham added. "I think he's one of the top backs in the country."
Carey, a junior, has 2,923 yards in his career at Arizona. His 488 carries include 34 touchdowns. He's rushed for at least 128 yards in eight straight games.
"We've got to try to slow him down. If he does to us this year what he did last year our chances of winning are slim and none," Whittingham said. "So we've got to try to keep him corralled a little bit."
Trying to stop the run, he continued, is the long and short of it this week.
"The biggest thing we have to do is tackle," said linebacker Trevor Reilly. "Last year we had a lot of missed tackles on him and that probably accounted for a lot of the yards that he had. So we've got to make the tackle."
Utah defensive coordinator Kalani Sitake acknowledges that the Utes have got to be able to bottle up Carey to be successful.
"The guy has been able to hurt a lot of defenses with his legs and we just can't let him go crazy like he did against us," Sitake said.
It's a consensus. However, stopping the guy who set a conference record by rushing for 366 yards and five touchdowns against Colorado last season isn't the only concern Sitake has this weekend. He notes that Arizona quarterback B.J. Denker poses a problem as well. The senior runs an offense that averages 423.8 yards and 35 points per game.
"We have to be really good on defense as far as being disciplined, being able to handle the run and the pass — and we'll see how it goes," Sitake said. "But I like the way our guys are performing, being more consistent as a group, and I'm looking forward to seeing these guys play every week."
Utah's defense enters the game ranked third in the Pac-12 and 31st in the nation against the run, allowing just 133.7 yards per game. The Utes held Stanford to just 13 first downs in last week's 27-21 upset victory.
"Defensively, they were very active. They're a tough, physical team," Arizona coach Rich Rodriguez said in his weekly press conference. "They've played well all year and (are) probably playing their best football right now."
Email: dirk@desnews.com
Twitter: @DIrkFacer