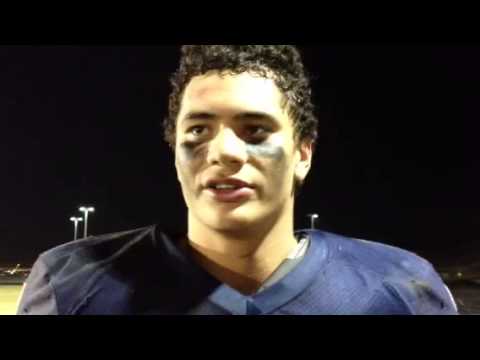 View 6 Items

It's always good to try and slow them down a bit. Obviously, they're really good offensively. Their quarterback is phenomenal. You want to try to slow them down any way you can, and we tried to do that with our offense, and just being patient.

—Ryan Bullett, Brighton head coach
COTTONWOOD HEIGHTS — To the rest of the world it looked like an impressive 8-yard run.
To Brighton junior running back Osa Masina it was a failure. Which is why he punched the ground before getting to his feet and heading back to the huddle.
"I could have broken that out and scored on that play," said Masina after Brighton defeated Jordan 34-21 in a critical Region 3 matchup Wednesday. "The next play, I was telling myself, 'I'm not going down this time. I gotta get in the end zone.' I let my team down, and I wasn't going down until I got in the end zone."
The next time he was asked to run the football, he busted out of a crowd of Beetdigger tacklers, came about as close to falling as he could as he broke the grasp of the last linebacker, and rumbled 21 yards into that end zone for his second touchdown of the game.
Wednesday's win was critical because, if Brighton beats Copper Hills next week, the Bengals secure second place in the region and get a home game in the first round of the 5A playoffs.
Brighton head coach Ryan Bullett was happy with the win, but unwilling to celebrate anything just yet.
"We need to win next week or this will all be for naught," he said. The Bengals scored within the first three minutes, but it was called back for a chop block. Neither team scored in the first quarter, but at 8:58 in the second, it was Jordan that managed to put together a scoring drive, capped by quarterback Austin Kafentzis' 4-yard rushing touchdown. Brighton answered on the next series with a Josh Thompson 1-yard run.
Kafentzis scored for Jordan just as the clock expired, but a bobbled snap meant no extra point. The Beetdiggers led 13-7 at halftime.
Bullett said his team's strategy was to try and slow down Kafentzis and running back Clay Moss.
"It's always good to try and slow them down a bit," Bullett said. "Obviously, they're really good offensively. Their quarterback is phenomenal. You want to try to slow them down any way you can, and we tried to do that with our offense, and just being patient. ... We've watched, and they've scored points on everybody the whole year. It's not like anybody is stopping them."
Bullett said he talked to his players at halftime about playing tougher, especially defensively. Meanwhile, Jordan's defense held Masina to 30 yards in the first half.
"Basically it was, 'You guys need to toughen up a bit,'" Bullett said. "(Jordan) played tough D. They did a good job of stopping our run game. We were able to throw a little bit."
The Bengal defense came out in the second half and played much more aggressively.
"They were just a great team," said Masina, who earned 140 yards rushing in the second half. "It came down to a stalemate at the line. But it came down to the second half and who wore the other team down. Our offense was just pushing them, but Jordan is just a great team."
Simi Fehoko, who got specific advice from Bullett at halftime, got the Bengals fired up with an interception that led to Masina's first touchdown, a 1-yard run.
"I was just playing my best, trying to do my best," said Fehoko, who finished with three interceptions, a personal best for the sophomore defensive back.
A couple of huge pass plays to Isaiah Kaufusi kept the Bengals moving at critical times, and it was a 35-yard pass from quarterback Robbie Hutchins to Kaufusi that set up Thompson's second touchdown late in the third quarter.
In the fourth quarter, the Beetdiggers hit back with a gritty run by Moss for a touchdown, followed by a two-point conversion at 9:19.
Hutchins answered by hitting Kaufusi for a 26-yard pass play that gave Brighton a 27-21 lead with just 4:33 left in the game.
Fehoko sealed the win with his second interception that led to Masina's impressive 21-yard run with just 1:18 remaining.
"The turnover battle was crucial," Masina said of Jordan's three interceptions and one fumble. "That was a huge key for us just holding on to the ball."
Fehoko's final interception came with 15 seconds left in the game.
"(The win) means a whole bunch," Masina said. "Against a great team, they beat us last year, and it's a home playoff. It's huge. If we win Friday ... it's just huge to our program and our coaches."
Twitter: adonsports
Email: adonaldson@deseretnews.com