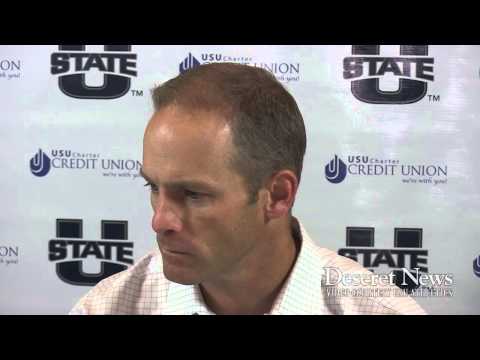 LOGAN — Matt Wells addressed the media Monday as part of his weekly press conference.
In that conference, he addressed a number of questions, not the least of which was the naming of Darell Garretson as the starter for this week's Mountain West football game against the New Mexico Lobos.
Here is a transcript of that press conference, along with quotes from senior receiver Travis Reynolds and senior defensive tackle AJ Pataiali'i, as provided by USU Athletic Media Relations.
Head coach Matt Wells
Recapping the Boise State game:
"There were a couple points in the Boise State game where I just didn't feel like we took a couple of opportunities. They ended up, ultimately, not allowing us to get back into the game. In the first half we had a couple of midfield positions and only came away with one score. As the second quarter wore down, we used our timeouts, got a punt block — which was a great block by Devin Centers. We threw two fade balls in the end zone and didn't come down with either one of them on plays I thought we could have and should have made. I have no problem calling those again. Then there was the blocked field goal. It was a good job by them, just not good enough protection on our part. I thought those two different opportunities and not getting the position or points made it a lot more of an uphill battle in the second half.
"As I told you after the game, I don't think we quit. I've seen the tape three times now and I know we didn't quit. There are some things to take away from that. A 91-yard drive there at the end, even when the outcome looks inevitable, is a big positive on our end. There are things to improve on and there are things to correct, just like we always do after a win or a loss. We've got to move on. That's a good team and they took advantage of it. There were miscues on both sides of the ball and they made us pay. That's what good teams do, and they're a good team."
Looking ahead to New Mexico:
"The biggest thing that stands out to me is coach (Bob) Davie brought a good attitude in there and rallied those kids. I think they play hard, they play with great effort, and they run the football really well. Their O-line does a nice job. Kasey Carrier, I've known him since I coached there, is a really good back. I've got a lot of respect for him and what he does. It will be a big challenge, one that is similar to Air Force only in the fact that they run it a lot. The challenge for our whole team is to bounce back from back-to-back losses and go on the road against a Mountain West opponent, and to be able to stay in the race and the bowl hunt and all that goes within that. We have to do this and regroup and bounce back on the road in Albuquerque."
On Darell Garretson being listed as the starting quarterback for this game:
"That's correct, Darell will start this week. As you go back and evaluate it, I thought Darell came in in the third quarter when I didn't think we had any momentum and kind of needed a boost to tilt it back in our favor. He struggled a little bit with the first couple series, but I thought he gained composure and played well down the stretch. In that last drive, there are a lot of pluses to that for him. I thought he was pretty calm from a communication standpoint with the plays and the signals. I thought he carried himself well, and I'm excited about seeing what he'll do this week."
On returning to New Mexico since coaching there:
"There are good and bad memories there. We struggled a bit my last year there, but winning the New Mexico Bowl and getting to nine wins in 2007 was cool. I coached two really good receivers (Travis Brown and Marcus Smith) who were both first-team all-MW, the first time it had been done there. They were both 1,000-yard receivers in the same year, so that was special. We've got friends there and (my son) Wyatt was born there, so it will be neat to go see some of that. But this is a business trip. We're going there to compete and win a ballgame and stay on track for some of our goals here. It's different than going to a stadium you've never been to."
On Kasey Carrier:
"He runs with balance, his lower body is strong, and he's shifty. He's got a good first step and he runs with balance. He's a really good receiver out of the backfield."
On Nevin Lawson being named MW Defensive Player of the Week:
"I'm really happy for Nevin. The way he's played and the confidence that he's playing with. Nevin has really expanded his game and played well. He's made plays with the ball in the air twice, and that pick six was an awesome play."
On depth concerns with injuries:
"I've got concerns at every position. We're thin at every position — O-line, quarterback and running back. The only group that's pretty healthy right now is all the wide-outs. I've got a lot of concerns."
On the lack of experience at tight end without D.J. Tialavea:
"It makes us be a lot more mindful of what we're doing with the tight ends."
On New Mexico's defense:
"They're a multiple, odd-front defense. I think they play really hard. The two defensive linemen play hard. Jacori (Greer) is active at nose guard, Javarie (Johnson) is long and athletic. He plays the boundary linebacker. They don't play a lot of nickel, they play in their base personnel. They fly around and they play hard. Dante (Caro) comes up and does a nice job from the secondary position."
On Darell Garretson's interceptions and fixing them:
"Chalk the first one up to being a freshman and chalk the second one up to it happens in the game on a vertical shot. We've got to look back at the receiver a little bit sooner, and he's got to keep the ball a little more outside and up field. The first one will never happen again, you can mark my word on that. It's just a young kid making a mistake, and I can live with that. He won't do it again.
"I thought he kept his composure well, he acted good on the sidelines. When you ask a young quarterback 'What did you see?' after you just saw it, whether from a pressure or secondary situation and he tells you exactly how you saw it, he's dialed in. It gives you good confirmation that he is."
On Craig Harrison's response to not being the starting quarterback:
"He's very positive. He's a really good teammate. He understands the situation and is ready to go in if and when he has to be called upon."
On the two blocked field goals in the last two games and the special teams concerns:
"We're trying to make changes and corrections all the time. Those two blocks were in two different spots. There are always corrections and improvements. You've got to get a kickoff in order to get points. I can take it if he misses a field goal, but it's a struggle if they block it. We have to do our very best up front."
Senior wide receiver Travis Reynolds
Recapping the Boise State game:
"The bottom line is, the offense didn't come out the right way like we should have. Coach Wells stressed to us all week that we have to come out and execute because we have a couple key players that we lost due to injury. I go out there and tell my guys that we can cry all we want, but great teams find a way to win. This game is not about one person; it's about the team. If we want to continue to reach our goals we have to play as a team and execute as a team. In the Boise State game we didn't do that. Going into this week, we know we lost a game in the conference and Boise State has lost a game in the conference. If we want to continue to have a shot at this, we will have to win out and that's our objective now. We're going into this New Mexico game with high intensity and we're preparing to execute the right way, unlike we have been the last two games. I feel like we're going to be fine. There are some things that we've got to clean up, a whole lot of things that we have to clean up, and we'll be good."
On when he knew senior tight end D.J. Tialavea was injured and out for the season:
"I didn't know that D.J. was out until the day of the game. We had meetings and a little walk-through and coach (Jovon) Bouknight shared that with us. He informed us that D.J.'s foot got worse and he's going to be out. That's a devastating blow to our offense because he's a big part of it."
On the wide receiver group being one of the only groups to remain healthy this season:
"(Travis) Van Leeuwen and I have really put this group on our back. Our toughness and playmaking ability has really carried over to each and every person in that room. Everybody in there is embracing that and becoming playmakers. Coach Bouknight prides himself on us being tough and being the team to carry this Utah State team, we just take pride in that."
On assuming more of a leadership role:
"That all goes back to my grandfather saying, 'You want to leave everything out there on the field,' and I think about that each and every day. As me and (Travis) Van Leeuwen are leading this young group of receivers, we always tell those guys, 'There are going to be rough days, but it's how you overcome those tough times that makes you a better player.' Being coachable and taking the technique that we are being taught is what matters. I'm just trying to be that leader that this team needs."
On the differences between Craig Harrison and Darell Garretson:
"Both of them are similar and both throw the ball very well. Craig is a little bit more experienced than Darell. There are some things that he would do that Darell wouldn't and some things that Darell would do that he wouldn't. It doesn't matter who they put out there at the end of the day, we've just got to execute."
On fixing some of the turnover problems:
"That's basically just shooting ourselves in the foot, like I said, execution. We're not executing right, we're not playing as a team on offense, and we just need to get back to that as a team. This week we're going to go back to the film and correct those mistakes and come together as a unit."
On if he's seen much of New Mexico on film yet:
"I haven't seen much of them at all. Today we had meeting, but it was to go over the film and correct the things that we did so we can move on to this New Mexico game. I'm going down this afternoon to evaluate film and I should know more about them then."
On the receiver corps evaluating themselves:
"Anytime you have a game like that, you always want to go back and look at your mistakes so you can correct them for future reference. As an offense, we are known to execute so even when games are good for us we always want to go back and look at little things so we can be perfect on them. We just continue to evaluate film and correct those mistakes."
On Nevin Lawson being the Mountain West Defensive Player of the Week:
"Nevin week-in-and-week-out is always a hard worker, so that didn't surprise me. I knew he would probably be the defensive player of the week this week because he has worked hard all season. I've been going up against Nevin since high school, so I know his work ethic and he knows mine."
On how close he is with Nevin Lawson:
"We're very close. When we go home (to Florida), I can basically walk down to his house and hang out with his family. My family is up here right now, and he was just up chatting with them yesterday. I feel like all of us Florida boys are very close."
On what the emphasis is for the receivers this week:
"I would say we've got to clean up our alignment a little bit. There were a couple of times where we were lined up wrong. Also, being physical. At the beginning of the season, we were known as that group to get after them a little bit, get after the corner and physical him up, but I feel like ever since Chuckie (Keeton) went down we kind of went away from that. We're going to go back to being that physical caliber group and clean up those mistakes."
On what it would mean to get a win before the bye week:
"It would mean a lot. You talk about team motivation and confidence for the rest of the season, because the season is far from over. I tell my guys everyday that you never know what can happen. All we're facing is adversity right now, and great teams overcome adversity, so we've just got to keep fighting. A win before this bye week will definitely put us in great position."
On gaining some confidence from the final drive of the Boise State game:
"It definitely gives us confidence going into the next game, but as an offense we know that we can execute and find rhythm, it's just been the minor mistakes that have kept us from doing that. As an offensive unit, we're not too surprised by us getting into rhythm like that because we normally do, we've just got to clean up the minor mistakes and penalties and stuff like that."
Senior defensive tackle AJ Pataiali'i
Recapping the Boise State game:
"In the Boise State game, I thought our front seven played well. We played the run pretty well, we just had a few missed assignments on the back end, and that's how they got their touchdowns. There are things that we have to fix in the back end. The physicality and the talent that the defensive players have is there, it's just the mental side that we have to fix on game day. We just have to lock in on game day so the defense can win games, because it starts with defense. Our goal is to be Mountain West champions, so it starts with defense. Defense wins championships, that's what our coaches always stress."
On looking ahead to New Mexico:
"They're ranked second nationally in rushing, so it's a big game for us defensively to stop the run. It starts with the defensive line. If the defensive line doesn't have a great game, our chances of winning the game go down, so it starts with us. We are the backbone of this team and it starts at the defensive line and works its way out. They're going to run the ball and they're very good at that, obviously. If we play with great technique, as we have all season, we will have a chance to win the game."
On New Mexico's offensive line:
"Their offensive line has pretty good size up front, but it comes down to our technique on the defensive line to be stout and stop the run. That's our goal as a defensive whole, to stop the run every game. Week-in-and-week-out we've got to stop the run to give ourselves a chance to win games on Saturday."
On if the team felt at a point in the Boise State game that things were going wrong and needed to be turned around:
"At the beginning of the game, we played good. The first series, they went three-and-out, but their offense just kept moving the ball. We just had some missed assignments on the back end, but I trust our defensive backs and our secondary to clean that up and they'll fix it come Saturday."
On having Connor Williams back:
"It's good, I've missed seeing him out there. He's a great leader, he's been here for five years, and he's a guy that you'll be seeing on Sundays. He's a great athlete, he leads our core and we look up to him. When he speaks, we listen. His experience helps the younger guys, and we have a lot of young guys, especially at the defensive end position. Our D-line is very talented, we take to heart every week that we have to play well to win. We take that upon ourselves to win games on Saturdays. The defensive line just has to play great to win games."
On what happened that helped him blossom as a player:
"Being a junior college player is different from Division I, I've seen both ways. Coming in, there's so much technique. I didn't know as much about assignments as I know now. Coach Frank (Maile) trusted me when I first came in but I didn't know the plays, the techniques or how they wanted me to play. As the season went on, my technique started to get better and he trusted me more. Then, I just had the starting job and I took over from there and just tried to lead."
On his leadership role growing:
"I'm the type that just sets the example, I'm not a vocal guy, I'll leave that up to Connor (Williams). Everyone knows that I'm not really a vocal guy, I like to show my peers how to work hard and how to believe in yourself and your teammates. It just comes down to trust, everybody is talented at this level. If you're here at the Division I level you can play ball, so it just comes down to leadership and showing what you can do. I just like to lead by example and show my brothers that I can play."
On what he saw from Nevin Lawson on Saturday:
"Nevin, you'll see him play on Sundays. Those caliber players, they do it on game day and they do it during practice. You see it on game day because he does it throughout the week. He's one of our main leaders on defense and when we're down and things aren't going our way he's there. He's a vocal leader, he'll tell us 'step it up, let's go.' He's the type of guy that you want on your team and all the stuff that he's doing now, his future looks good."
On if all the injuries on offense put pressure on the defense:
"Week-in-and-week-out, we take the game into our hands. We want to win and the defense has to win the games. It sucks to have our players go down, but every week the defense emphasizes that we have to play great. There's no pressure and nothing fazes our defense. It's just mental errors that we have to fix, missed assignments, that's all. We've just shot ourselves in the foot."
On what the defense took out of the second half of the Boise State game:
"It just shows what kind of men that we have in this program. We don't care what the score says, we're blue-collared men, and we know how to work hard. We're going to finish until the end, no matter what the score says. Our coaches know that we work hard for everything we have and things just didn't go our way that night."
Follow Deseret News sports on Facebook.com/DesNewsSports and Twitter.com/DesNewsSports