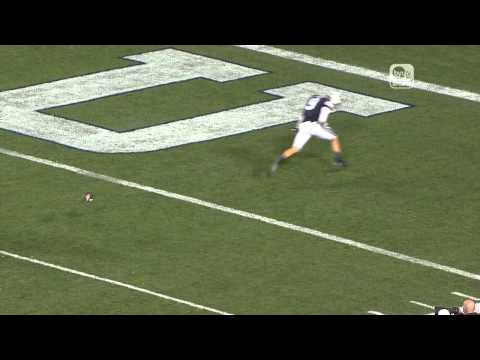 View 4 Items


It's just another part of the game where we can help both the offense and the defense with field position. Coaches do a great job of emphasizing that special teams isn't anything less than offense or defense — that your role is just important.

—BYU starting safety Daniel Sorensen
PROVO — BYU coaches made pointed moves to improve their team's overall special teams' performance in 2013.
Players have responded.
The Cougar cover and return teams have been nothing short of exemplary through six games — and for good reason. While other schools stock their special teams units with scrubs and underclassmen, BYU's include the team's top offensive and defensive players.
"The emphasis has been not being able to be a starter on offense or on defense without being a starter on special teams," Mendenhall said. "We've held true to that, so we have better players playing and trying hard. I think that and the more emphasis by coaches has led to the improvements."
Defensive starters, including Daniel Sorensen, Craig Bills and even Kyle Van Noy, have been standouts on punt and kick coverages and have worked to boost the overall performance considerably.
Sorensen, in particular, has been found frequently making spectacular plays on special teams — from his blocked field goal against Utah State to his downed punt at the 1-yard line against Georgia Tech. On the latter play, Sorensen tipped the ball back between his legs before it sailed into the end zone to give his defense a considerable advantage, which is the whole point.
"It's just another part of the game where we can help both the offense and the defense with field position," Sorensen said. "Coaches do a great job of emphasizing that special teams isn't anything less than offense or defense — that your role is just important."
Through six games the Cougars average 27.2 yards per kick return, compared to their opponents' 20.4, and 12.1 yards per punt return to the opposition's 7.3.
On kick returns Adam Hine has been in the limelight with his array of big returns. His play, as BYU's primary kick returner, wasn't exactly what coaches expected.
"It's been a surprise," Mendenhall said of Hine's performance. "I knew he'd be solid, but I didn't know he'd be this explosive or do what he's done. It's been a pleasant surprise and a lot of it is who is blocking for him and what they are doing."
It hasn't all been perfection for the Cougar special teams, however. Too many penalties early in the year and spotty punting from Scott Arellano against Georgia Tech have been cause for concern, although the penalties have gone down since they were made a point of emphasis.
Mendenhall said the team will continue to monitor Arellano's punting.
"It could be a problem if it continues, but right now I'm just chalking it up to one game," Mendenhall said of Arellano's performance last week.
Overall Mendenhall is extremely pleased with what he's seen on special teams and believes the units are performing at their highest levels since he became head coach.
"It's the strongest I've seen," Mendenhall said. "Again, it's because we have the best players doing it."
INJURY NOTES: Center Terrance Alletto missed last Saturday's game due to a stinger injury and has not yet been cleared to return. Safety Craig Bills has been cleared from his concussion against Georgia Tech and is expected to start this week against Houston. Defensive lineman Eathyn Manumaleuna is also expected to play after sustaining a lower leg injury last week.
Email: [email protected]
Twitter: @BrandonCGurney