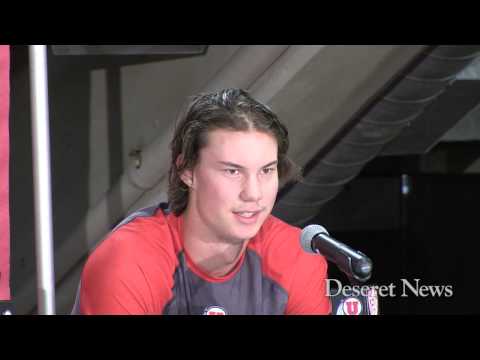 View 79 Items


It's the first time we've beaten a top 10 since I've been here, since '09, and it's a little redemption for the TCU game three or four years ago.

—Utah senior linebacker Trevor Reilly
SALT LAKE CITY — The first three minutes of Saturday's Stanford game were a nightmare for the Utah defense.
"Not so good," said Utah head coach Kyle Whittingham of the Cardinal's opening drive in the Utes' 27-21 victory. "Then they settled in and didn't give up another until midway through the fourth quarter."
Saturday's upset of No. 5 Stanford was the best game Utah's defense has played this season. The Utes weren't perfect, but they were tougher and more effective, causing two fumbles in the third quarter that led to six Utah points.
Junior defensive end Nate Orchard had two sacks and caused the first fumble, which was recovered by senior linebacker Trevor Reilly.
Reilly led the team with seven tackles and also stripped Stanford receiver Tyler Montgomery of the ball, which led to Andy Phillips' career best 48-yard field goal just two minutes later in the fourth quarter.
"It's the first time we've beaten a top 10 since I've been here, since '09, and it's a little redemption for the TCU game three or four years ago," said Reilly. "So it feels great. Plus it's our first big Pac-12 win against a winning team, so that's great."
Both Reilly and Whittingham acknowledged the defense wasn't perfect. But they might have even been more impressive because of how they regrouped after Stanford's impressive opening drive.
"The defense played well," Whittingham said. "Giving up 14 points to that outfit is commendable."
Reilly said the battle at the line of scrimmage was brutal, but nothing the Utes didn't expect and nothing they haven't seen.
"They're tough," Reilly said. "That's what you get in this conference. Give credit to coach Whit and coach (Kalani) Sitake for putting in a great scheme this week."
Reilly said the linebackers were able to make the Cardinal offensive line nervous enough that it was calling for extra help when it actually didn't need it.
"They were calling out slide protection when we weren't even blitzing, so that was helpful," Reilly said.
Whittingham said they "got a lot more production at the linebacker position."
"That group has been a big plus for us when you measure it against last year," he said.
The defense had several impressive stops, but maybe none more so than Stanford's last play. At the 6-yard line, with 2 yards to go for a first down, the Cardinal opted to go for a touchdown, rather than try to get the first down with 51 seconds remaining.
"It was just a big-time play," said Reilly.
Whittingham said the team didn't get discouraged after two heartbreakingly close losses to UCLA and Oregon State because of the senior leadership.
8
comments on this story
"This senior class ... they refused to let that happen," Whittingham said. "They hung together. There was no way they were going to back off. They knew they were close. We knew they were close, and they just persevered."
Reilly said the win sets the Utes up to potentially qualify for a bowl game.
Whittingham said the win shows the Utes can compete with anyone in the Pac-12.
"I think we've proved we can stand toe to toe with the quality teams in this conference," Whittingham said. "We can stand with the upper echelon of the conference and slug it out."
Twitter: adonsports
Email: adonaldson@deseretnews.com