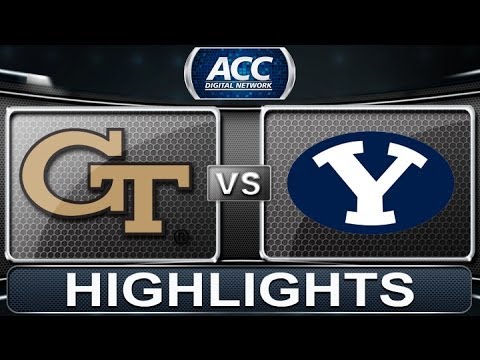 View 69 Items



Their defense doesn't change. They just line up; they outman you; and that's what they did to us.

—Georgia Tech quarterback Vad Lee
PROVO — BYU coach Bronco Mendenhall can stop the option. He must have his plan on speed dial.
For the second-straight year, Mendenhall took on Georgia Tech's vaunted triple option and had his team create enough big plays to win in decisive manner. A year ago it was 41-17. On Saturday, BYU earned a 38-20 victory.
It was business as usual.
If there is one thing 2012 and 2013 has held to be true with BYU football: The defense is as dependable as the periodic table.
"Their defense doesn't change," said Georgia Tech quarterback Vad Lee. "They just line up; they outman you; and that's what they did to us."
Unlike a year ago when the Cougars held Georgia Tech without a third-down conversion, this year BYU allowed a 10-of-20 conversion percentage. On the other hand, BYU forced two turnovers, one of them a spectacular pick-six interception return in the fourth quarter by linebacker Alani Fua.
The win featured a lively BYU offense in the opening half, but from beginning to end, it was the Cougar defense that delivered the big plays. Those plays sealed BYU's third straight win. It was BYU's 12th straight game in which an opponent scored less than 21 points and the third straight game Mendenhall's defense scored. It came with a myriad twists and turns in personnel, including an early injury to starting free safety Craig Bills, who never returned to the game due to a concussion.
The 51-yard interception return by Fua was storybook stuff.
The Yellow Jackets had the ball near midfield, trailing 24-13 in the fourth quarter. BYU's offense had crawled to a stop, producing nothing but three-and-outs. Georgia Tech coach Paul Johnson's team had momentum. He'd engineered a comeback.
Georgia Tech quarterback Lee looked downfield for a target and fired. Fua, who had dropped 7 yards off the line of scrimmage, jumped and caught Lee's pass with two hands, then raced 51 yards down the west sideline heading north like a bullet. He outran Lee, a 4.54 sprinter and a Scout.com four-star high school recruit who was AP's North Carolina Player of the Year.
Lee dove for Fua near the 10-yard line. But Fua had paydirt on his mind and ran in standing up.
"It was a huge play and gave us breathing room in what was a defensive struggle," said Mendenhall.
"You could tell Georgia Tech's demeanor changed after Alani's touchdown," said BYU quarterback Taysom Hill.
"It took pressure off of us (as an offense), but more than that it is demoralizing to the other team. We really had momentum because of that."
Linebacker Spencer Hadley, returning from a five-game suspension two games early by a decree from BYU's administration, recovered a Georgia Tech fumble caused by corner Robertson Daniel on the Yellow Jackets' next possession. Six plays later BYU led 38-13 on an Algernon Brown 15-yard run.
"It was fun to be out there again," said Hadley, who played a lot of outside linebacker in the win.
Mendenhall also watched Kyle Van Noy make huge plays, including a big sack and tackle for loss in the second half. The senior remains the NCAA's active sack leader with 25 in his career.
Mendenhall also saw a between-the-legs-bat-back save of a BYU punt near the goal line by Daniel Sorensen. BYU's coach praised his cousin Justin Sorensen's kickoff touchback through the end zone, also in the fourth quarter.
Mendenhall had no idea his defense had scored three games in a row, a safety against Middle Tennessee State and a pair of pick-sixes against USU and Georgia Tech.
Although Hadley returned, the defense lost Bills and had nose guard Eathyn Manumaleuna shaken up. He was replaced by Marques Johnson. Manumaluena returned to the game. Blake Morgan replaced Bills, and for the first time this season BYU played a front three in the 3-4 with Manumaleuna and Merrill Taliauli at defensive ends and Johnson at nose guard.
Georgia Tech, a team that averaged 300 yards rushing a game, gained 242 ground yards on the Cougars but 55 of that came with just more than a minute to play on a break-house sprint by Matt Connors, his only carry of the game. It was a meaningless possession that led to a meaningless Georgia Tech score.
BYU and Virginia Tech are the only two teams to hold Georgia Tech to fewer than 300 yards rushing. Until Conner's run set up Georgia Tech's final TD with 53 seconds to play, the 13 points by the Yellow Jackets were the fewest of the season and BYU had held the visitors to just 187 yards rushing.
"I'm coaching some really talented players and they work really hard," said Mendenhall. "It's fun, really fun. How hard this team is working is showing how they play. Georgia Tech is a difficult opponent to prepare for."
Consistent?
You can set a clock with this defense.
Dick Harmon, Deseret News sports columnist, can be found on Twitter as Harmonwrites and can be contacted at [email protected].