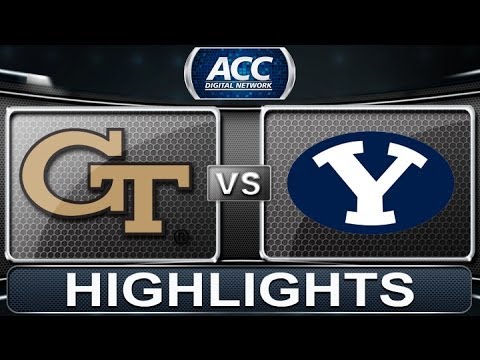 View 68 Items


I set my guy up and broke. I knew he was behind me, but I didn't know where. (Quarterback) Taysom (Hill) just threw a good ball. (The defender) pulled me in the back. I just kind of came down with it.

—BYU wide receiver Cody Hoffman, on his touchdown catch
PROVO — No one would have guessed it would take this long — the sixth game of the season — but wide receiver Cody Hoffman and running back Jamaal Williams finally scored their first touchdowns of the season Saturday during BYU's 38-20 victory over Georgia Tech.
Hoffman, playing in just his fourth game after missing a contest due to injury and another due to a suspension, caught five passes for 99 yards, including a diving, 45-yard touchdown in the first quarter.
"I set my guy up and broke," Hoffman said. "I knew he was behind me, but I didn't know where. (Quarterback) Taysom (Hill) just threw a good ball. (The defender) pulled me in the back. I just kind of came down with it."
It was a special TD for Hoffman.
"Probably for the fact it was my first one of the year," he said. "We're supposed to make plays, and I consider that a play that should have been made."
On his TD reception, Hoffman tied Eric Drage for second all-time at BYU for touchdown receptions (29) and on his fifth catch, he tied Dennis Pitta for first all-time in career catches (221).
"It feels good," Hoffman said of his performance. "A slow start to the season, but you've got to be mentally tough and overcome that. I'm back to 100 percent now, but it was a really mental game for me to get back."
Meanwhile, Williams scored his first touchdown of the season and the 13th touchdown of his career in the first quarter. He finished with 86 yards on 17 carries.
"I was fine just going out there helping my team win," said Williams, who missed the Middle Tennessee game with a concussion. "It was just a plus that I happened to score in this game. I'm proud of my linemen for getting me into the end zone."
SPIRIT, TRADITION, HONOR: The Cougars donned their "Spirit, Tradition, Honor" jerseys Saturday.
Prior to the season, BYU was going to represent the program motto every week, but players told coach Bronco Mendenhall they wanted to wear their last names on the backs of their jerseys instead.
As a compromise, the players agreed to wear these jerseys for Homecoming.
"It was sweet. I mean, that's what this program stands for," said defensive lineman Bronson Kaufusi. "To be able to wear them, and showcase it, was good."
INJURY UPDATE: BYU safety Craig Bills was evaluated at halftime after sustaining a helmet-to-helmet collision. He suffered a mild concussion. Defensive lineman Sae Tautu also sustained a mild concussion in the game.
Defensive lineman Eathyn Manumaleuna helped off the field early in the third quarter, but he returned to action.
NOTES: Linebacker Kyle Van Noy, who recorded two sacks Saturday, is currently the active national career sacks leader with 25 … For the first time since 2010, BYU had three players finish with double-digit tackles. Seniors Blake Morgan and Austen Jorgensen each finished with a career-high 11 tackles, and Uani Unga had 10 stops … BYU improved to 7-2 under Mendenhall in homecoming games … BYU held its 12th consecutive opponent to less than 21 points. The last time an opponent scored more than 21 against the Cougars was Oregon State, which scored 42 in Provo last season.