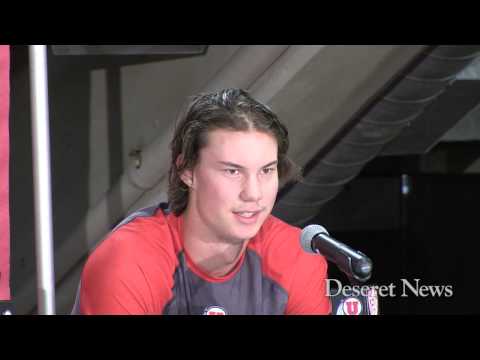 View 79 Items


The kid is so mentally tough. Louie Sakoda was here tonight, and he's been here the last couple of days. He reminds me of Louie, the way he handles things.

—Utah coach Kyle Whittingham on kicker Andy Phillips
SALT LAKE CITY — Utah kicker Andy Phillips continues to be automatic. The 24-year-old freshman, a former U.S Ski Team racer who never played organized football until now, continued his streak of perfection in Saturday's 27-21 upset of fifth-ranked Stanford.
Phillips made two field goals (from 23 and 48 yards) and three PATs in a game that ended with fans storming the field to celebrate. For the season, he's now 11-for-11 on field goals and 27-for-27 on extra points.
"The kid is so mentally tough," said Utah coach Kyle Whittingham. "Louie Sakoda was here tonight, and he's been here the last couple of days. He reminds me of Louie, the way he handles things."
Amidst the festive atmosphere on the field, Phillips acknowledged his passion for the game.
"Oh my gosh, football is a lot of fun," he said while noting the various scenarios involved. "It's a fun game. It's a really fun game."
Before walking off the field, Phillips added that it was an amazing feeling to be part of Utah's first win over a top-10 team since the 31-17 victory over No. 4 Alabama in the Sugar Bowl in January 2009.
"It's amazing. We played well in all three phases," he said. "We played awesome. I'm proud of our offense and I'm proud of our defense. It's a great win for us."
GETTING BETTER: Utah's win over Stanford improved the Utes' record to 5-7 in Pac-12 games played at Rice-Eccles Stadium.
Before Saturday's victory, Utah athletics director Chris Hill said that he felt things were starting to come together after a lot of infrastructure was put into the program and recruiting at the highest level was taking place.
"We're trying to grow into it as much as anything," he said. "I think that's what we're trying to do and it's going to take a little bit of time — but nobody wants to hear that."
For the record, though, Hill added that he thought Utah would win the game well before kickoff.
DREAM COME TRUE: Injuries and early playoff exits prevented Stanford backup quarterback Dallas Lloyd from making it to the turf at the University of Utah during his playing days at Pleasant Grove High.
"I always dreamed of playing in Rice-Eccles," Lloyd told the MediaNews Group earlier in the week. "But growing up, I didn't think I'd play for Stanford."
Even so, Lloyd didn't have to wait long to finally play on Utah's field. He opened Stanford's second offensive series and ran for 16 yards. He then returned to the sideline in place of starter Kevin Hogan.
EXTRA POINTS: Whittingham picked up his 75th career victory as head coach of the Utes ... This is the first time in the six games played between Utah and Stanford where the home team prevailed ... Scouts from the NFL's Green Bay Packers, Miami Dolphins and New Orleans Saints were credentialed for the game ... Stanford quarterbacks/wide receivers coach Mike Sanford is the son of former Utah offensive coordinator Mike Sanford ... Utah quarterback Travis Wilson and Stanford offensive lineman Kyle Murphy were teammates at San Clemente (Calif.) High School.
Twitter: @DirkFacer