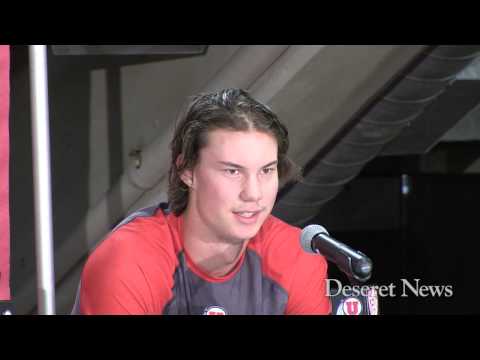 View 2 Items

SALT LAKE CITY — Following Utah's massive win over the No. 5 Stanford Cardinal, the players from both teams addressed the media.
The Utes entered the fourth quarter with a 13-point lead over the Pac-12 powerhouse. Unable to produce offensively, Utah gave the ball to Stanford with 7:53 remaining in the game. Stanford engineered a 13-play, 82-yard drive that ended in a failed fourth-down conversion at the Utah 6-yard line.
The win was an emotional one for Trevor Reilly, Travis Wilson and Dres Anderson. All three were ecstatic following the Utes' win.
On the other hand, Tyler Gaffney and Ty Montgomery, both of whom performed very well in the loss, addressed the media in subdued tones following the game.
This video is a compilation of quotes from these players on both sides of the contest.
Landon Hemsley is the sports Web producer for DeseretNews.com. Email: lhemsley@deseretnews.com. Twitter.com/EarlOfHemsley