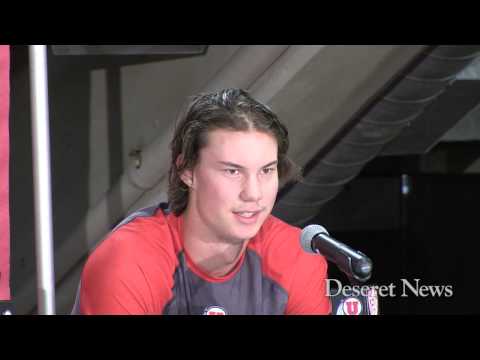 View 79 Items


Man, I felt like we'd just won the national championship. ... It's a huge win. But we're going to move on. We expect to win these close game.

—Utah wide receiver Dres Anderson
SALT LAKE CITY — His earrings glistened in the television lights, but they didn't come close to matching Dres Anderson's smile.
"Man," the Utah receiver said, "I felt like we'd just won the national championship."
Utah's 27-21 win over No. 5 Stanford wasn't that, not by a long shot. Still, when you wait 40 years to beat a top-10 team at home, it has to be something.
"It's a huge win," continued Anderson. "But we're going to move on. We expect to win these close game."
That's been the problem with the Utes. The expectations. Weren't they supposed to be here sooner? They talked about growing in the Pac-12 steadily, deliberately, but did anyone really want to wait? Now they're two-plus years into their project and finally they got a major win over a conference opponent.
Which should raise a warning flag right there.
Don't book the Salt Lake-to-Pasadena charter plane just yet.
"Yeah, it's a huge win," quarterback Travis Wilson said, "but now we move on."
Oh, yeah. That. Moving on.
Now the Utes hit the road after spending more time at home this year than Martha Stewart. They have yet to cross the state line. Next comes a run of four road trips in their next five games. For a team that has exactly three conference road wins in three seasons — none against top-level teams — there is much ground to plow.
So exactly how much celebrating should the Utes do?
They're likely putting on their game faces right … about … now. That's because in the past two years they've lost to Cal, ASU, USC, UCLA, Oregon State and Washington on the road. But on Saturday the Utes had more immediate things to address. They were at home. They'd already lost two conference games at Rice-Eccles, both games going down to the finish.
"We have a lot of work still to do," coach Kyle Whittingham said.
Until Saturday, all the Utes had in their bank against ranked teams since their Sugar Bowl season was a win over a so-so (8-5) Pittsburgh and a 2012 win over No. 25 BYU. Now they are 3-9 against ranked opponents since that shocker against Alabama in January 2009.
The best news for the Utes is that they did pretty much everything they hoped on Saturday. They established a running game early. They cut their interceptions down from six last week to one. They protected Wilson and forced turnovers and held when it mattered — which happened to be a 4th-and-2 at the Utah 6 with under a minute remaining.
Further, whenever they got pushed they pushed back.
"One thing we felt going in is that they're a physical team, we're a physical team," said defensive end Trevor Reilly.
They're a smart team and Utah's a smart team, too.
Well, at least one of them.
"Good teams play hard and smart, and we didn't do that tonight," Cardinal coach David Shaw said.
So the word is out: at Stanford they're not all geniuses all the time.
Considering the expectations for Saturday's game, things went according to script — for the first few minutes. The Cardinal easily moved downfield to score on its first possession.
What few expected was that Utah would come right back. Stanford scored on its next possession, too, but missed a chance to go up 17-7 by failing on a field goal.
It was enough to get the Utes thinking "What if …"
What if, for instance, Bubba Poole did his best Adrian Peterson imitation and rushed for nearly 100 yards — in the first half? What if Utah's offensive line was opening holes as wide as Foothill Blvd. and kicker Andy Phillips was still improbably, impossibly perfect (11-for-11)? And what if the Utes were ahead 21-14 at the midway point?
To start the second half, Utah rolled to the Stanford 13 before an interception ended the drive. Not to be deterred, the Utes next drove to the Cardinal 3 before settling on a field goal.
Flawed, yes, but oh-so-bodacious.
Soon Utah was ahead 27-14 with 14 minutes left.
Stanford came back and almost won. But unlike the Oregon State and UCLA losses this year, Utah didn't budge. OK, it budged but didn't' break. The Cardinal got to the 6 but that was the end of that. The rushes stopped and the passes fizzled.
Yes, Utah knew it was just one (humongous) game and the road loomed. But like Anderson's earrings, the Utes still couldn't be denied their moment to shine.
Email: [email protected]; Twitter: @therockmonster; Blog: Rockmonster Unplugged