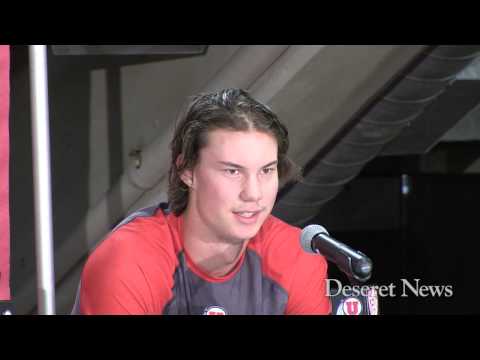 View 79 Items


He's a resilient kid, he's tough as nails. We had a feeling that he was going to come back and play like he did tonight. He bounced back and he has a lot of competitive spirit and it showed up tonight.

—Utah coach Kyle Whittingham on quarterback Travis Wilson
SALT LAKE CITY — From the first offensive play of the game, it was apparent what the Utah game plan was against No. 5-ranked Stanford on Saturday night.
The Utes came out with a two-back set, featuring Bubba Poole and Karl Williams and on that opening play, quarterback Travis Wilson hit Poole in stride with a swing pass in the flat. Poole saw some open field and worked his way down field for a 35-yard gain.
The Utes used the same "comet swing" pass over and over again with Poole catching a team-high seven passes, while Williams caught five and Dres Anderson three of his four receptions out of the backfield.
With their two tight ends, Jake Murphy and Westlee Tonga, both out, the Utes had to do something different and the game plan they came up with worked well all night. The Utes produced 415 yards of offense, which was balanced with 234 through the air and 181 on the ground.
Utah coach Kyle Whittingham gave credit to co-offensive coordinators Dennis Erickson and Brian Johnson for the offensive production.
"We're out of tight ends, so we had to put some things in to maximize the personnel we have,'' Whittingham said. "Bubba — he's a weapon out there. He ran the football and caught the football with that comet swing route that we run. Karl Williams is one of our better players and he figured heavily in that two-back stuff. Nice job by Dennis and Brian and making it work.''
Erickson, who joined the Utes this year after a successful head coaching career, explained that the Utes watched a lot of film and saw how UCLA opened up the field on the Cardinal in last year's Pac-12 championship game and how Washington was similarly successful last week.
"We felt against them we couldn't just sit there, because they're so downhill all the time, so hard and so physical,'' Erickson said. "So we felt we had to motion guys and move guys out of the backfield and throw that stuff out there and try to get some plays in space. Then, once we starting doing that, we were able to run it. That was the plan by us gong in and it worked for the most part.''
While Poole led the Utes with 111 yards rushing and the seven catches for 75 yards, Wilson bounced back from last week's six-interception nightmare with a strong game.
Wilson completed 23 of 34 passes for 234 yards and two touchdowns with just one interception, in the third quarter when the Cardinal grabbed a pick on a deflection.
5
comments on this story
"He's a resilient kid, he's tough as nails,'' said Whittingham. "We had a feeling that he was going to come back and play like he did tonight. He bounced back and he has a lot of competitive spirit and it showed up tonight.''
Whittingham also praised the offensive line of Jeremiah Poutasi, Jeremiah Tofaeono, Vyncent Jones, Junior Salt and Siaosi Aiono, which opened holes for Poole and Lucky Radley all night and had its best overall game.
"The offensive line came to play tonight,'' said Whittingham. "The way they were opening holes in the run game ... we talked about Bubba and Lucky, but it all starts up front. That line is really starting to come together and we need to see that the rest of the season.''