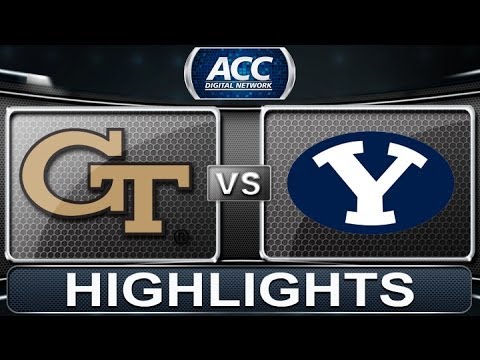 View 69 Items



It gave us some breathing room. The game was a defensive struggle in the second half. "Alani's interception was huge.

—BYU coach Bronco Mendenhall on Alani Fua's pick-six
PROVO — In recent years, and in recent weeks, BYU's best offense, at times, has been its defense.
A Kyle Van Noy pick-six kick-started a Cougar win last week against Utah State, and then Saturday at LaVell Edwards Stadium, Alani Fua duplicated the feat, intercepting a pass and returning it for a touchdown in the fourth quarter against Georgia Tech.
The junior linebacker leaped up and snatched a Vad Lee pass out of the air and sprinted 51 yards for a key TD in BYU's 38-20 homecoming victory over the Yellow Jackets.
It certainly was timely, considering it happened during a miserable second-half drought for the Cougar offense, which rolled up 345 yards in the first half, but had only 76 yards and five first downs over the final two quarters.
At the time of Fua's heriocs, BYU led by a relatively narrow 24-13 margin.
"It gave us some breathing room," said coach Bronco Mendenhall. "The game was a defensive struggle in the second half. "Alani's interception was huge."
"It was two-possession game at that point," said Cougar quarterback Taysom Hill. "They got close to scoring and could have cut it to a one-possession game. Then Alani made that pick. Once that happened, you could tell that Georgia Tech's demeanor changed. It really allowed us to get the running game going to run the clock out."
With the win, the Cougars improved to 4-2 on the season. The Yellow Jackets fell to 3-3. It was BYU's third consecutive victory — and marked Cougars' first three-game winning streak since the 2011 season.
"We're gaining momentum," Mendenhall said. "I like the direction we're going."
Hill and the BYU offense started out on fire, as Hill completed his first seven pass attempts for 104 yards and a touchdown — a 45-yard diving catch in the end zone by Cody Hoffman.
Hill ended up completing 19 for 27 for 244 yards and no interceptions. He ran 15 times for 65 yards and a touchdown.
"I though Taysom played really, really well," Mendenhall said. "He made great decisions and had accurate throwing."
Despite the strong first-half performance, Hill was disappointed in the way the offense played overall in the second half.
"You've got to give credit to Georgia Tech. They blitzed us a lot," Hill said. "We tried to do a little too much. We didn't keep to our keys. We need to get better at that. Georgia Tech made some good second-half adjustments. We need to be better at adjusting at what they do."
The Cougar defense gave up 400 yards — including 158 through the air — to the Yellow Jackets. Georgia Tech went 10 for 20 on third-down conversions this time, much improved over the 0-for-10 effort last season, when BYU blasted the Yellow Jackets, 41-17, in Atlanta.
Linebacker Spencer Hadley gave the defense a boost, having returned from a suspension that was reduced from five games to three games. Hadley recorded a sack in the second half.
But Fua changed the game with his huge turnover.
"Our defense is elite. They help us out, even with scoring," said BYU running back Jamaal Williams. "We have full confidence in them to get a three-and-out or get a turnover to help us out. It's just a great to have a great defense."
Under Mendenhall, the Cougars are 15-0 when the defense scores a touchdown.
BYU scored its first TD on Hoffman's first TD of the season — an acrobatic grab just over the goal line with a Georgia Tech defender draped over him.
Georgia Tech tied the score on its ensuing possession with a touchdown on a 2-yard run by Lee, the Yellow Jackets' quarterback. The drive was highlighted by a 52-yard completion.
The Cougars answered with a touchdown drive capped by a 2-yard run by Williams.
Georgia Tech scored a 37-yard field goal by Harrison Butker early in the second quarter on a 16-play, 55-yard drive that consumed 7:15 off the clock to make it 14-10 for BYU.
On that drive, Georgia Tech converted 4 of 5 third-down opportunities. Two of those came on third-and-17 and third-and-14.
Hill appeared to give the Cougars a 21-10 lead, but his 13-yard touchdown run was negated by a holding call on wide receiver Ross Apo at the goal line. BYU settled for a 23-yard field goal by Justin Sorensen.
On BYU's next possession, Hill scored a 1-yard touchdown as the Cougars seized a 24-10 advantage. With 59 seconds before halftime, Butker drilled a 44-yard field goal for the Yellow Jackets.
After the Cougars drove into Georgia Tech territory, Sorensen missed a 52-yarder as time expired before halftime.
In the third quarter, both teams struggled to generate much offense, and the teams were scoreless in that period.
A blocked punt late in the third quarter put Georgia Tech in position to cut into BYU's lead, but the Yellow Jackets ended up missing a 42-yard field goal attempt.
Fua's interception return then gave the Cougars a cushion with 11:01 left in the game.
"We were killing ourselves," Lee said. "BYU has a good defense, and you can't kill yourself against a good defense. They played the same as last year. Their defense doesn't change. They just line up; they outman you; and that's what they did to us."
Both teams scored touchdowns in the final three minutes, including a 15-yard run by BYU's Algernon Brown.
The Cougars visit undefeated Houston (5-0) Saturday.