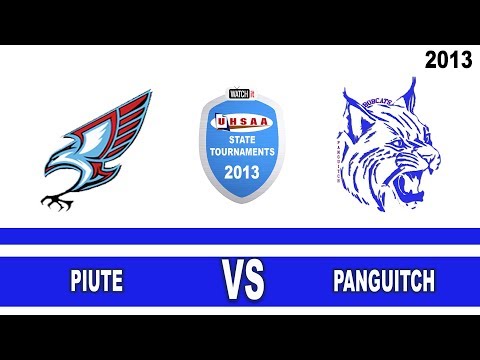 View 7 Items

OREM — For most ballclubs, finishing a season undefeated is nothing more than a pipe dream. But for the Panguitch baseball team, it is more of an expectation and way of life.
With a narrow 2-0 victory over a quality Piute squad Saturday afternoon, the Bobcats captured their third 1A state title in the last three years, extending their dominant winning streak to 51 games.
Panguitch hasn't suffered a loss since falling to Wayne at home back on Sept. 23, 2011, and shows absolutely no signs of slowing down anytime soon.
"We try really hard not to dwell on the winning streak, but it's our third championship in a row and we've won 51 straight games," said Panguitch head coach Clint Barney. "It feels awesome. It really makes you reflect. It makes me really proud for these guys and for this program."
Panguitch southpaw ace Chance Campbell got the nod and hurled another impressive complete-game shutout — his second in less than 24 hours — and still looked fresh enough to throw another seven innings. Campbell gave up just three hits and two walks while striking out seven batters on the mound.
"He's our stud. He's the man," Barney said of Campbell's performance. "We felt like if we were going to win another state championship, he had to be on the mound."
The Bobcats struggled offensively for most of the game and finished with only three hits. Luckily for the state champs, their offensive production was just enough to take home the title.
"We just didn't hit the ball the way I felt we would today, and I think (Piute) had a lot to do with it," Barney said. "It was just one of those games when you feel like whoever scores first will be the difference, and we were fortunate enough to score first."
The Bobcats' bats finally gave Campbell some run support in the bottom of the third when Dason Houston smacked a sacrifice fly and Parker Palmer crossed home plate on a wild pitch thrown by Piute's Tanner Gleave to go up 2-0.
"The two guys that got on (Houston, Palmer) were our eight and nine batters, so that's huge," said Barney. "The top of our lineup struggled all game, and to get our eight and nine guys on and to find a way to get them in was big."
With Campbell on the hill, the home team did just enough damage for the lefty pitcher to close out the game and bring home another state title for the Bobcats.
Despite not scoring, the Thunderbirds were presented with plenty of opportunities to get on the board. In the top of the fifth, Ryan Westwood and Braden Brian each singled to give Piute a fighting chance.
The T-Birds loaded the bases with two outs as leadoff batter Zack Allen stepped to the plate. Allen grounded out to end the inning, however, as Campbell and the Bobcats got out of the jam unscathed.
"I knew I had to get that last guy out and not let him score. If they would have scored, I knew they would have gone on a run," Campbell said of the Thunderbirds' late fifth-inning rally.
2
comments on this story
Following a quick three-up, three-down half-inning, Panguitch took the field one last time to bring its amazing postseason run to a successful end for the third straight year.
"These guys' accomplishment is this season. But for the program, it makes me feel really good that we've had that many kids come through and be able to play in these big games and win," Barney added. "For this year, I'm really happy for these guys. But for the streak, I'm really proud of the program and the community, because it's a community thing.