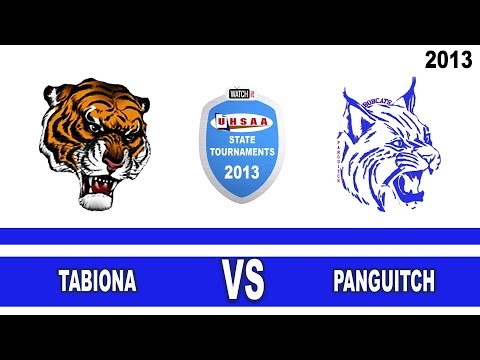 View 2 Items


OREM — Throwing a four-hit, complete-game shutout is hard enough, but doing so while your team is clinging to a narrow one-run lead in the semifinals of the state tournament deserves an extra tip of the hat.
For Panguitch ace Chance Campbell, that ambitious task was conquered Friday afternoon against a tough Tabiona squad.
Campbell fanned 10 Tigers batters in seven innings as the Bobcats (23-0, 10-0) edged Tabiona 3-0 to advance to the 1A championship game against Region 20 foe Piute (9-6, 3-3) for the second straight year.
"Chance has been doing that all year. He's thrown numerous shutouts and has been really consistent all yearlong," said Panguitch coach Clint Barney. "He's a kid that really doesn't get too nervous and is calm and confident in his ability. He pitched a great ballgame and I wouldn't expect anything less from him. (Saturday), hopefully his mental toughness will overcome his physical fatigue and he can have that kind of performance again."
Panguitch took an early 1-0 lead in the bottom of the first inning off Troy Bagy's RBI single to right-center field. Bagy finished the night 2 for 3 at the plate with two RBIs to spark the home team.
"(Bagy's performance) was absolutely huge. (Tabiona pitcher) Bailey Hogan kept us off the bases and we didn't get a lot of scoring opportunities," Barney added. "But when Troy came up in a RBI situation, he delivered both times. It was absolutely huge."
Campbell's dominant performance over the course of the game put the home team in position to close out the contest in the bottom of the sixth when Panguitch put two more insurance runs on the board to ice the game.
Earlier in the day, Piute battled Wayne in the first of two semifinal games and found itself falling behind 4-0 through 3 1/2 innings of play.
In the bottom of the third inning, following a sacrifice fly by Zack Allen, Dalton Steed stepped up to the plate and sent a towering shot over the left-field wall to bring the home team within one run.
"That was probably the turning point of the game. He (Steed) has hit well for us all year. He doesn't usually hit the long ball, but we sure liked it at that point," said Thunderbirds head coach Kennedy Sylvester.
Piute's Kaden Blood eventually strolled out to the mound to shut the Badgers down, and meanwhile, the home team added a few more runs in the fourth, fifth and sixth innings to wrap things up for the T-Birds.
"Blood came in and pretty much controlled the game after we finally brought him in for pitching," Sylvester added. "We were trying to save a few innings for him because he has 14 a week. We used a few the other day and a few today, so we were trying to save a few and gambled a little bit, but I thought he did really well."
The first three times Panguitch and Piute met this season, the Bobcats easily came out on top every time, winning by a combined scored of 20-1.
"These guys have played each other since they were 8 years old," said Barney. "We have had to have played these guys 100 times since they were 8 years old. There are no secrets left.
2
comments on this story
"Hopefully, we can just have some better at-bats (Saturday) and not put so much stress on outpitching (them). We're going to ask Chance to come back and pitch (Saturday). He's a big, strong senior and he should be able to do that. We need a pitching effort like we got today, and a little bit better hitting and we should be fine."
"No. 1, we are hoping to have a little bit of luck on our side. Luck always helps a little bit," joked Sylvester. "I think the biggest thing is just coming ready to play (Saturday). We've got to have a good effort from our hitters and pitchers and just take it one pitch at a time. These guys are focused."
The two Region 20 powerhouses will square off Saturday morning at 11 a.m. at Brent Brown Ballpark.