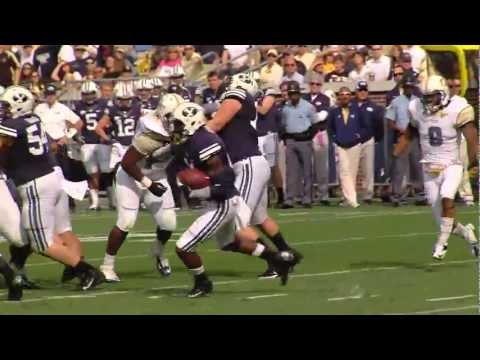 View 7 Items

PROVO — If you think BYU running back Jamaal Williams is tough, you should meet his mother.
Nicolle (her maiden name is Thompson) was a sprinter at UCLA and competed in the NCAA track and field championships. She works as a Riverside County sheriff in California. She tore the MCL and ACL in her knee while going through the sheriff's academy. She rides motorcycles.
When she saw her son on his back, motionless, on the turf at LaVell Edwards Stadium during the Cougars' loss to Utah last month, her maternal instincts kicked into high gear.
"As a mother, it was breathtaking to me," Nicolle recalled. "I was concerned that he would be all right. I know football is physical. He's been hurt before. Normally, he bounces back up. I just thought positive thoughts and started praying. I hoped that whatever the outcome, he would be OK and be able to live a normal life after football. That was my main concern."
Jamaal, meanwhile, was thinking about his mom.
"The one thing that was on my mind while I was on my back was, 'Is my mom OK?'" he said. "Personally, I felt like I let her down for getting hurt."
Williams had put his head down and surged through the line on a third-down play and got a first down against the Utes. But his helmet slammed violently into the ground as a pile of humanity settled on top of him.
Nicolle noticed Jamaal wasn't moving. Worried, she hopped down from the stands and onto the field, trying to gauge the reactions of doctors and trainers that were attending to her son.
"When they got the board," Nicolle said, "that's when I knew something was seriously wrong, and I walked out there on the field."
While the 64,000 fans at Edwards Stadium sat in eerie silence, Jamaal was strapped to a backboard to secure his neck, then carted off the field.
What comforted him at that time of anxiety was the sound of his mother's voice.
"When they put him on the cart," Nicolle said, "he told me, 'Mom, I'm OK.' That's when I knew that he'd be OK. Jamaal's like, 'You don't cry when I score a touchdown, so you can't cry if I get hurt.' It's funny, because he was uplifting me when I should have been uplifting him. But that's Jamaal."
As it turned out, Williams suffered a concussion and shoulder stinger. He missed only one game before rushing 14 times for 79 yards in BYU's victory at Utah State in his return last Friday.
Jamaal dedicated that performance to his mom.
"When I came back," he said, "I felt like I was playing for her, to show her that I was going to be ready and be the same Jamaal."
Williams' workload should be increased Saturday (5 p.m., ESPNU) when the Cougars host Georgia Tech. Williams scored a career-high four touchdowns last season in a resounding 41-17 win over the Yellow Jackets in Atlanta.
Saturday marks Williams' first home game since that frightening injury on Sept. 21.
That night, he was transported to the hospital. While there, he demanded his iPad because he wanted to watch the play in which he was injured.
"I did get the first down," he told his mom.
After being released from the hospital Sunday, he slept most of the day.
"Next thing I know, he's up running around his apartment," Nicolle said. "I said, 'What are you doing?' He said, 'I want to get ready for practice on Monday.' I told him, 'Jamaal, you're not practicing.'"
Nicolle spent the week in Provo with her son, nursing him back to health. Jamaal's headache lasted about three days, and he sat out the Middle Tennessee game.
"It just killed him not to play on that Friday," Nicolle said. "They didn't put his helmet and shoulder pads out because they didn't want him showing up on the field somehow."
Nicolle has attended every BYU game, home and away, the past two seasons to watch her sophomore son play. She was in Logan last week and was thrilled when he erupted for a 44-yard gain, setting up a touchdown that gave the Cougars a 17-7 lead.
"I was so happy for him," Nicolle said of that run. "His form looked good. He had his knees up and he shifted gears nicely."
BYU coaches were concerned about overloading Williams in his first game after the injury.
"He wanted to play more," said offensive coordinator Robert Anae. "We restricted his opportunities. In my opinion, I just don't think a guy can jump back into a full burden type of deal. We're hoping Jamaal is feeling better and he can continue to grow with his role."
No, Williams — who has rushed 90 times for 457 yards this season — didn't like having his reps limited against Utah State.
"He was jumping up and down, wanting to get back in at the end," said coach Bronco Mendenhall.
"He thought he was going to play, then they called him back from the field and he was on the sidelines pouting like a little baby," Nicolle said. "I said, 'Oh my goodness.' He just loves football. … Last week, he probably wanted to show everybody that he got injured, but it wasn't as bad as it could have been, and show that he's still the same Jamaal. He doesn't want anyone to treat him any differently. He wants to be the same Jamaal as before the injury."
Nicolle raised Jamaal and his 16-year-old sister, Jaela — who is a track athlete and honor student — on her own.
"Jamaal and his sister, I just want them to know that even though I'm tough on them, I love them," Nicolle said. "To this day, I make sure Jamaal's doing what he supposed to do. I tell him, 'If you don't keep a 3.0 (GPA), you have to move back on campus.' I am a mother. I was a single parent. I want Jamaal to be a man and take responsibility. We have a really special bond. It's something that has grown over the years. I was the first female T-ball coach in our league. I've been there for him from the time he started playing sports. We're a pretty competitive family."
When Nicolle injured her knee during her stint at the sheriff's academy, Jamaal and Jaela watched her rehab and bounce back.
"I kept going because it was something I wanted to pursue," Nicolle said. "They always look at me as never stopping. That's their mentality."
She said Jamaal learned important lessons from his injury.
"I think it will make him a better running back," Nicolle explained. "He's going to run with more power and he knows not to put his head down. I told him, 'I don't know what it is, but God is watching over you.' He's a very strong person. Anytime he has a setback, he comes back even stronger. He's a tough warrior."
Like mother like son.