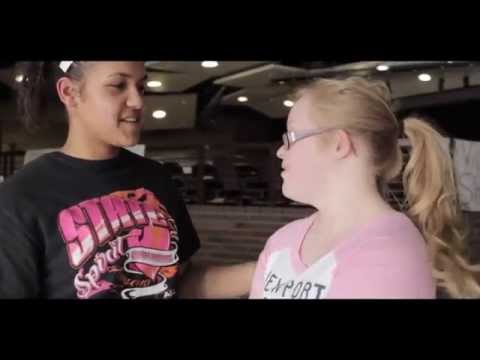 View 6 Items

This school has never had this type of spirit and energy. Today, you can almost hear it buzzing.

—Mike Bowers, Springs High School broadcast journalism teacher
Megan Squire, 18, is nothing but smiles when asked how she feels about being the star in Verrado High School's music video that was selected as a finalist in Katy Perry's high school competition.
The Arizona high school has received much attention for Squire's story of joining the school's cheer team highlighted in the video, which is one of many submissions in response to Perry's contest for high schools to create their own version of her hit single "Roar."
But with more than 124,000 views, Squire's video stuck out above the rest because of the message it shares. Born with Down syndrome, Squire always dreamed of being a cheerleader, and for the past four years has had her dream come true, this year as a member of the varsity squad.
Writer and director Clayton Mueller originally approached Squire when contemplating the idea of the video because he was inspired by her story.
"She has overcome everything in the past four years," Mueller told AZfamily.com. According to the article, Squire is not enrolled in special-education classes and is looking forward to attending college.
"I was super excited when Clay wanted me to be in the video," Squire told "Good Morning, America."
So they went for it. Mueller created a video that told how Squire had wanted to join the cheer team and how one friend's kindness made it happen.
"It's just a simple chain reaction how this one simple girl can spark a revolution," Mueller told "Good Morning, America."
Squire's mother, Kimberly Squire, expressed her happiness to TV station NBC12 regarding her daughter's acceptance at school and the message the video shares.
"It's a true story and that's probably why I'm OK with it being out there," she told NBC12. "No matter what happens in your life, you can overcome anything and be able to do anything you want. They've so won in my eyes and in my husband's eyes."
Since posting the video, many have shared and commented on the video, commending Mueller for the idea to share Squire's story. Mueller's father even commented on the video:
"These last few weeks have made me very proud to be Clay's father," Clint Mueller wrote. "His creativity and genuine concern for his fellow Vipers is inspiring and win or lose they have made quite an impression on the entire country!"
The school has also been supported by the Arizona State Special Olympics, who also commented on the video:
"Awesome video! We are so happy to see the inclusion and respect for people with intellectual disabilities you displayed in this video! Keep up the great work; we are rooting for you guys!"
Although only one school will receive the grand prize of a private concert from Perry herself, many also already feel like they've won the jackpot because of the way it has brought students together and taught important life lessons.
Springs High School from Sparks, Nev. is another high school that has been selected as a finalist. In their version of Perry's "Roar" three students highlight different issues that many high school students face: bullying, cheating and family problems.
Throughout the process, the students not only created a finalist video, but many of these issues seem to have diminished.
"This school has never had this type of spirit and energy," said Mike Bowers, the school's broadcast journalism teacher. "Today, you can almost hear it buzzing."
Other schools nominated as finalists also addressed the topic of bullying and the importance of being kind to one another. Deseret News reporter, Lois M. Collins has addressed bullying in several articles, raising the question of how this issue can be solved.
"You can't ignore bullying," Collins wrote. "But if rewards and accolades were handed out for examples of excellent behavior — the random acts of kindness, the examples of making sure that others are included, the nice things that some children seem to do instinctively — that might turn the tide."
Email: spetersen@deseretnews.com