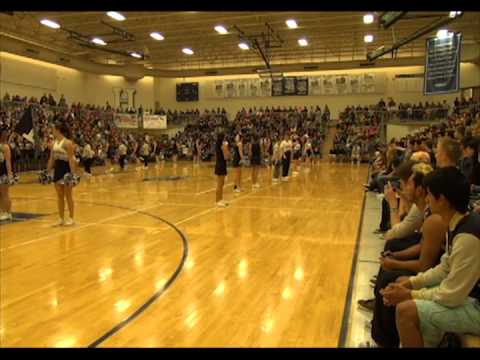 WEST VALLEY CITY — There is no bigger event at a high school than homecoming.
And usually it's the cheerleaders who are center stage during the highly anticipated festivities.
Hunter High is no exception to this formula, but its cheerleaders decided to do something exceptional when they chose to share the spotlight of this memorable week with a group of students who are often overlooked and ignored.
They invited Hunter's special education students to participate in the homecoming assembly with them, even changing their regular routine to the school song to accommodate the special needs students.
"I was way excited," said one of the squad's two senior captains, Sydnee Moser, 17. "We wanted to do something different this year, something Hunter has never done."
Inviting the special education students to practice and perform with the cheerleaders was actually their coach's idea. Jo Thompson despises the stereotypes that accompany cheerleaders, and so she works hard to shatter them.
"Cheerleaders have a reputation that they're cliquish and snobby," Thompson said. "We do a lot of things to try and change the image of cheerleaders. … I talked to the captains about this over the summer, and they loved the idea."
The only question was how to include the students.
Moser and fellow captain Melanie Chhin said someone suggested homecoming because it was when they are most visible.
"The special ed kids come to every assembly, but they sit at the top so they can take kids out if they need to," said Thompson. "Homecoming is one of our biggest assemblies."
Moser said she understands that when she wears that uniform, she enjoys a special status among her classmates.
"You make a lot of new friends," she said. "People come up to you, ask you questions, ask for help, you're just involved in things a lot more instead of being an outsider."
Including the special education students allowed them to feel the warmth of the spotlight, even if it was just for a few minutes.
"I thought it was a good idea to reach out to them because they don't always get noticed," Chhin said. "I was really excited to have them do it with us. They may not get to go to many assemblies or games, and don't really get to just hang out with everyone else in the school."
Leading the school song is a time-honored tradition, and Moser and Chhin said it was a thrill to have the special education students stand alongside them this year.
"They showed me some things that I took for granted," Chhin said. "When they came and learned it, they were so positive, so happy to see all of us. Even today they came and asked me if they can do it again."
1
comment on this story
Moser added, "I think it just gives us inspiration to do what we can do. Some kids don't have the opportunity to do things (like cheer), so it's important to be grateful. … The kids loved it and they caught on really quickly. They're always happy, and no one ever had a negative attitude." Moser, Chhin and the coaches are convinced this type of collaboration should become a regular occurrence.
"I would love to see Hunter make a tradition of this," Moser said.
The coaches and cheerleaders have been overwhelmed by the response from other students and staff.
"I was amazed," Thompson said. "Teachers told me they cried. Students started tweeting that it was the best homecoming assembly ever. It accomplished what I wanted. We need to be inclusive with everyone. I was very happy with what happened."
Twitter: adonsports
Email: adonaldson@deseretnews.com