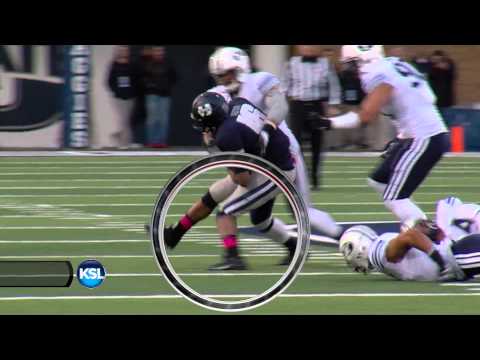 View 2 Items

Having Taysom throw the ball like that makes us a double threat. Now teams have to watch for us throwing and it (isn't) all about running anymore. It's going to open it up for everyone and make the offense better.

—Jamaal Williams
PROVO — The most effective offenses often have an ability to beat a defense both on the ground and through the air. Five games into the 2013 season, BYU is finally showing signs of being that type of offense.
The run-heavy Cougars again focused primarily on moving the ball on the ground last week against Utah State — rushing the ball 50 times, as opposed to throwing 32 times — but had 278 passing yards as opposed to 160 rushing yards.
Ironically, it's the running backs who are perhaps the most pleased with the strides made by quarterback Taysom Hill and the passing game.
"Having Taysom throw the ball like that makes us a double threat," said running back Jamaal Williams. "Now teams have to watch for us throwing and it (isn't) all about running anymore. It's going to open it up for everyone and make the offense better."
The offense averaged 9 yards per pass against the Aggies — boosting its season average to 6.21 yards per attempt. While opposing defenses have sold out to stop BYU's rushing attack in recent weeks, coach Bronco Mendenhall feels they'll now have to at least acknowledge a potential to get beat through the air.
"I think most teams are recognizing our focus on the ground game, but the last two weeks without any dropped passes and more consistency throwing the ball, I think most teams will have to acknowledge that," Mendenhall said. "I wouldn't say they'd be fearful of it, but at least by acknowledging it should allow us to run the ball a little more effectively than we have."
HELP FOR HOFFMAN: Receiver Mitch Mathews had a breakout game against Utah State with five receptions for 112 yards and three touchdowns. It was a surprise performance for a lot of fans, but not for Mendenhall, who has seen the 6-foot-6 sophomore stand out in practice sessions.
"Mitch really emerged during spring and fall camp," Mendenhall said. "He's been the most productive and the most consistent (receiver) because of just practice. He's been healthy and there's been no other issues."
Teams have generally focused on stopping senior Cody Hoffman, but that may change moving forward.
"It's a chance for Cody not to be singled out as much," Mendenhall said. "Any time that happens you have a chance to be more effective."
NOTES: Officials announced Monday that BYU's game vs. Houston will kick off at 1:30 p.m. MDT. The game will be held at Reliant stadium — home of the NFL's Houston Texans. The contest will be carried by either ABC, ESPN, ESPN2 or ESPNU. ... Mendenhall stated that things look "clean" on the injury front for Georgia Tech. Players who sat out last week, such as offensive linemen De'Ondre Wesley and Brock Stringham, are expected back, along with linebacker Tyler Beck and running back Adam Hine.
Email: [email protected]
Twitter: @BrandonCGurney