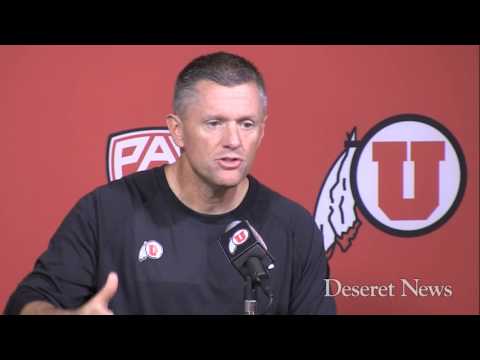 View 2 Items

Very few were on Travis. He got hit a couple of times as the ball was coming out, just as the ball was coming out, which changed the direction of the football and the flight.

—Kyle Whittingham
SALT LAKE CITY — Utah quarterback Travis Wilson may not have been himself in last week's 34-27 loss to UCLA. The sophomore, who threw six interceptions in the setback, was under the weather with an undisclosed illness.
Turns out, he has been for several days.
Wilson did not participate, as he usually does, in the team's weekly press conference. The media was told that Wilson was sick.
"Well, he's not feeling good. He was in bed the whole game day leading up to the game. He got sick actually the night before that and hasn't gotten over it yet," said Utah coach Kyle Whittingham. "He's under medical care, obviously, and they gave him — from what I understand — a new dose of different antibiotics to try to get rid of this thing.
"So we think he's going to be OK," the coach continued. "He should be at practice later on today, hopefully, but he's been pretty bad for the last few days."
Wilson completed 22-of-44 passes for 288 yards and two touchdowns against the Bruins. He was picked off six times.
"Very few were on Travis. He got hit a couple of times as the ball was coming out, just as the ball was coming out, which changed the direction of the football and the flight," said Whittingham, who noted that a couple of the interceptions were right off the receivers' hands. Others, he explained, involved great play by the defense and a broken route structure.
"It was not all Travis," Whittingham said. "In fact, very few were on Travis — one or two."
Even so, Whittingham declined to say if illness was a factor in Wilson's performance against UCLA.
"No excuses. He was there, he was playing, and so if you're playing you've got to produce," Whittingham said. "So the answer is no."
In Utah's previous outing — a 20-13 win at BYU on Sept. 21 — Wilson earned player-of-the-week honors from Athlon Sports (national) and the Pac-12. He completed 24-of-35 passes against the Cougars with two touchdowns and no interceptions.
The Utes had a bye before returning to action against UCLA. Center Vyncent Jones said he didn't really see anything from Wilson that would indicate illness being a variable.
"You've still got to produce if you're out there — like coach said," Jones noted.
Although concerned, Whittingham is confident Wilson will be ready to go Saturday against fifth-ranked Stanford at Rice-Eccles Stadium.
"The doctors think we're finally starting to get out in front of it," Whittingham said.
Wilson, who is 6-foot-6 as Utah's starter, currently ranks in the top 25 nationally in several categories. He's second in pass plays of 50 yards or greater; 12th in total offense (330.8 ypg) and points responsible for per game (19.2); 15th in passing yards per completion (14.65); and 21st in passing yards per game (281.2).
Email: [email protected]
Twitter: @DirkFacer