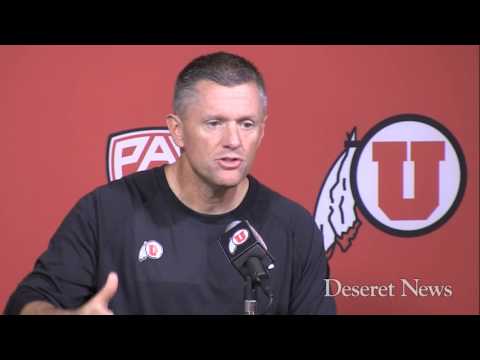 View 2 Items

He's not feeling good. He was in bed the whole game day leading up to that game. He got sick, actually, the night before that, and hasn't gotten over it yet. He should be ok. He should be at practice later today, hopefully, but he's been pretty bad for the last few days.

—Kyle Whittingham, Utah head football coach
SALT LAKE CITY — Utah football head coach Kyle Whittingham addressed the media prior to Saturday night's game against the No. 5 Stanford Cardinal.
On mobile? Watch the press conference on YouTube.
Don't have time to watch the video? Here's the audio.
Here is a full transcription of today's press conference.
Kyle Whittingham (KW): OK, there were a lot of positives in the UCLA game, except obviously we weren't able to overcome the six turnovers, and that was the real storyline of the game. I don't think I've ever been a part of a game where we turned it over six times and won, so that's something that was our biggest liability on Thursday night.
Our guys played hard — did some good things particularly on defense. I'm proud of the way the defense hung in there in the second half. The sudden-change defense was very good. With the amount of turnovers that we had, we should have given up more points, but I'm really pleased with the way the defense responded in those situations.
We're looking forward to Stanford — heck of a football team. They're physical— probably the most physical team in the conference. They're a very balanced team, offensively — 50 percent run, 50 percent throw. They're doing a nice job defensively, as usual. They've been good on defense for a lot of years now, but just like I said last week with UCLA, these guys are very deserving of their No. 5 ranking.
They had a tough game against Washington and pulled it out. Washington statistically beat them up, but not in the final score, which obviously is all that matters.
We're looking forward to another opportunity on Saturday, another home game, and we're looking forward to another packed house and a rowdy crowd at Rice-Eccles.
Questions?
Reporter: Liz (Abel, Utah athletic communications director,) just said Travis (Wilson) isn't here because he's sick. I know that it was mentioned that he was sick in that game. Can you kind of expand on that a little, how he's feeling and where he's at?
KW: He's not feeling good. He was in bed the whole game day leading up to that game. He got sick, actually, the night before that, and hasn't gotten over it yet. He's under medical care, obviously, and they gave him, from what I understand, a new dose of some different antibiotics to try and get rid of this thing.
He should be OK. He should be at practice later today, hopefully, but he's been pretty bad for the last few days.
Reporter: When you look at Kevin Hogan, the Stanford quarterback, where does he stand as far as guys that you've seen and maybe some quarterbacks you've compared around the Pac-12?
KW: Well, he's a lot like (UCLA quarterback Brett) Hundley in his stature — he's a little bit bigger, 6-4, 230-ish. He runs the ball very effectively. He's up in the top half of the league in pass efficiency. He's another dual-threat guy just like almost everybody in this conference is. There are a few exceptions, but the weeks you play a guy that's not a dual threat. … It's not very often anymore. It's almost every week where you've got a guy that can run and throw, and he's another one of those guys.
Reporter: Stanford's defense has been widely regarded as not just one of the best of the Pac-12, but one of the best in the country, especially their front seven. Do they do anything exotic, or are they pretty straightforward with their defensive looks?
KW: They have a few nice blitz packages, but pretty much straight defense, a lot of split safety looks. The front seven is physical, and statistically they're not as good this year as they have been in the past. They're somewhere toward the middle of the league in a lot of the categories, whereas in years past they've been right there at or near the top. But still, they got all the respect, and it's going to be tough to move the ball on them.
Reporter: You watch that Stanford-Washington game, and Stanford stayed on top of Keith Price. I think they sacked him five times. They watch the edge pressures, where last weekend they gave up some pressures off the edge, a couple sacks, a couple bit hits, those things. What kinds of things can you do to shore up that protection as you take on a really tough front seven against Stanford?
KW: A lot of it is just technique. We got beat physically at times. We didn't turn a whole lot loose against UCLA as far as just unblocked, but we've got to do a better job of getting the ball out a little bit quicker and just doing a better job of our fundamentals and techniques up front. That includes the backs as well. The backs have got to contribute in pass protection.
Reporter: This will the fourth time a top-5 team will be coming in. Just your thoughts on that and how big the possibility of what this game is for your team?
KW: Well, it's a great opportunity. Anytime you have a team with that lofty of a ranking, then obviously it presents an opportunity for you and a big challenge at the same time, but our fans are going to be getting used to that in the Pac-12. That's just how it is, and we're excited about the chance to line up against a quality team like Stanford on Saturday, and our guys will be ready.
Reporter: Coach, to build off that, how much does it help you guys, despite the loss, knowing you went toe to toe, overcame the six turnovers and still had a shot against UCLA in getting another top-25 team?
KW: Well, there are no moral victories — I firmly believe that — but as I mentioned, there are a lot of positives to build on, and as you said, to have a chance to win at the end, given the circumstances, was pretty remarkable. I think that is a credit to our players and how they continue to fight. That's been the M.O. of this team all season long. These guys have been extremely tough mentally. We hope that continues, because if that continues, we're going to have a chance every week.
Reporter: Coach, as you went back and look at the film, how many of those interceptions graded out to be on Travis (Wilson), and how many were just circumstantial?
KW: Yeah, very few were on Travis. He got hit a couple times as the ball was coming out, just as the ball was coming out, which changed the direction of the football, and the flight. A couple of them were right off receivers' hands.
One was a great play by the defense, a play that the ball just kind of bobbled around and (the defender) ended up making the play at the end before it hit the ground. A broken route structure … one time you would have a slant and go dialed up, but didn't get the whole signal on the outside, so we just ran the slant aspect of it and put the ball up. That was the one the safety intercepted in the half.
To tell you, if it's bad decisions, bad throws, it's one thing. You still say, "There were six interceptions," which is a huge negative, but it was not all on Travis, in fact, very few were on Travis. One or two.
Reporter: Coach can you talk to me about the halfbacks — Bubba Poole — kind of a rotation that feels like it's a heart rotation. What's going on there?
KW: Yeah, we're trying to find out if one of the three will separate themselves, and right now they're all giving us good production. Lucky's over six yards a carry; Bubba's over five yards a carry; Kelvin's around four yards a carry. It's not a situation where we're searching for someone to give us some production because we're getting production. It's we're searching to see if anyone's going to separate themselves, and if not, then they'll all continue to get carries.
They're all producing, they're all contributing, they're all doing a nice job in pass protection. I don't see that as a negative. I see that as something that if it happens, great. If not, it's not a big problem as long as we're getting production from each guy, and I don't view that like, you know, you say when you have more than one quarterback, you don't have any. I don't think that applies to other positions like it does a QB.
As long as they're all three contributing and none of them are separating themselves, it'll probably continue like that. If we get a guy that starts to become more productive than the others, then that particular guy will be the lead ball carrier, but right now that hasn't happened.
Reporter: Coach, you've been so close so many times. What's it going to take to get over the hump and get a win — a big signature win?
KW: Well, we've had two close games that we lost. We're 3-2, obviously, and the two losses, the overtime loss against Oregon State and the one on Thursday. I think we're knocking at the door.
We've got to make a few more plays — that's the short version. When you're close like that, it usually comes down to a play or two or three plays that's the difference, which has been the case in those two games. The opponents have made those plays, and we haven't. We've got to find a way to make those plays.
Reporter: Coach, just trying to get a gauge for how good you think this Stanford team is, where do they rate among the teams that you've had to prepare for as a coach? Are they right up there with someone maybe like an Alabama back in 2009?
KW: Maybe not quite at that level. Alabama, I mean, they had unbelievable talent, and you can see what they did the next four years or however long it's been since we played them. They've just been on a tear, and that essentially was the nucleus of their team.
Maybe not to that level, but certainly, like I said, very deserving of their ranking. They're the most physical team that we've played to date, without a doubt, and as I mentioned, the most physical team in the Pac-12 in my estimation at least to this point in time.
They're good. Where do they rank? Maybe like, I can't remember who the other ones that were … TCU came in with a highly-ranked team that one time, probably like that, around that level, just going off the top of my head.
Reporter: Coach, Andy Phillips. It seemed like a lot of his kickoffs have been short. Is that strategy? And if so …
KW: If it's strategy, it's bad strategy …
Reporter: So it's not then? You'd like touchbacks every time then?
KW: We'd like them deeper, and touchbacks would be great. We prefer touchbacks. The Montgomery kid is a tremendous kickoff returner for Stanford. He's a real weapon, and you saw him take the opening kickoff against Washington Saturday night. So, we've got to try to keep the ball out of his hands.
But to answer your question, no. Our kickoffs have been not what we need them to be, and we're continually working on that and hopefully can get them a little more hang time and a little more depth.
Reporter: As for the secondary, that was a concern earlier in the year. Talk about how that's been improving in the last few games.
KW: It's taken steps forward, without a doubt. We've still got a lot of work to do. I'm not going to say that we're there yet, because we're not there by a long shot. But you know, Keith McGill — the play he made on the interception pick six — if we had won that game that would have been the play of the game in my estimation. We didn't win the game, so that's a moot point.
Keith is second in the league right now in passes defended. The other corner, Davion Orphey, has been a little banged up, but he's progressing as well. Justin Thomas, Mike Honeycutt at the nickel spot, so we're pleased with the progress, but we've got to continue to get better. As long as they keep the work ethic and the focus that they've had the last few weeks, then I think we're going to be on the right track. Hopefully that continues.
Reporter: Kyle, any theme or a common thread of what's happening on third down offensively?
KW: That's two games in a row that that's showed up, and it's a problem. We're paying close attention to it and trying to get it solved. I think we're 3-of-27 in the last two games, which is awful, on third down. It's one of our primary issues right now. The biggest issue is there's been too many third-and-longs in those third downs, which means we've got to be better on first and second down at getting ourselves in third and manageable instead of third and nine-plus. That's the first step, but yeah, that's been a huge point of our focus of the last three days is to try to remedy that.
Reporter: Kyle, Jared Norris has led you in tackles the last two games. Could you just talk about his development?
KW: Yeah, he's been a positive for us. He's just a sophomore, and between him and Jason Whittingham at that inside linebacker spot — Jason's really played well the last couple games also. That's been a big plus for our defense. As we know, last year we struggled at that position, so to have those guys step up and start to be consistent playmakers has really helped. That's another trend we hope continues.
Reporter: Coach, I know you hate to look ahead beyond …
KW: Yeah, I hate to, so I don't.
Reporter: After Stanford, only two more home games. Are you getting to the point with such a front-loaded schedule that you start to feel that pressure creep up where it gets harder to not look ahead?
KW: No, we just focus in on the next one, and the next one is Stanford here. Somewhere in the back of my mind, I'm sure that thought is pestering me, but right now it's not. We're just worrying about the Cardinal and trying to find a way to match up with them.
Reporter: Coach, do you know if Travis is going to be able to practice today, and are you concerned about that at all?
KW: Concerned, yes, but the doctors think we're finally starting to get out in front of it, so we think that he'll be able to be at practice, but I can't guarantee that. We'll see what happens. You'll never know, though, because you're not here today after practice, huh?
Reporter: I assume you're familiar with the All-Access show that Pac-12 Network is doing with Cal and Arizona State. You're not at all?
KW: Not at all. Is it like the hard knocks stuff?
Reporter: Sort of, but I guess you might say it's more promotional. I guess my question is did you have any opportunity to get involved in anything like that?
KW: Not to my knowledge. Nobody presented, unless I'm forgetting about something, nobody presented that. Liz? No? No. So I'm not forgetting. No, we didn't have that opportunity.
Reporter: Kyle, was Travis affected at all illness-wise during the game?
KW: No excuses. He was there. He was playing. So if you're playing, you've got to produce. So, the answer is no.
Thanks, guys!
Follow Deseret News Sports on Facebook.com/DesNewsSports and Twitter.com/DesNewsSports