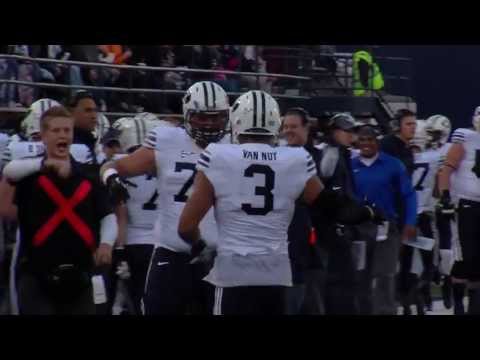 View 75 Items



That's a great way to start a game. It gave us a lot of momentum starting the game off.

—BYU senior safety Daniel Sorensen, on Kyle Van Noy's interception for a touchdown to start the game
LOGAN — BYU's offense exploded in the Cougars' 31-14 win over Utah State Friday night, but once again, it was the defense that led the charge.
The Cougar defenders dictated the tone early and often, starting with the game's very first snap, which resulted in a pick-six. Senior linebacker Kyle Van Noy read Utah State quarterback Chuckie Keeton's eyes, leaped high for the ball, and returned it 17 yards untouched into the end zone.
"That's a great way to start a game," said senior safety Daniel Sorensen. "It gave us a lot of momentum starting the game off. He's the kind of impact player that does that consistently, and it was great to see him do it in a game. It was all preparation and film study, so he knew it was coming and he made a great play."
Van Noy's teammates followed his lead from that point on.
Defensive lineman Bronson Kaufusi contributed some key hurries and knocked-down passes. Linebacker Uani Unga stripped the ball and recovered the ensuing fumble to stunt an early Aggie scoring threat. And Sorensen himself blocked a would-be field goal to thwart another.
"To start off a game with that momentum is huge for us," Sorensen said. "We always want to set the tone for the offense and get a good start on our defense. We have a lot of confidence in our defense — that we can stop anybody — and we fed off of the big plays we made tonight."
Overall the Cougars forced three turnovers, which is a major improvement over what they had managed earlier in the season. Creating turnover opportunities was stressed all week leading up to the game, and the players responded.
"We're always trying to get our offense in a good position to score, to get good field position. That's our whole goal," Sorensen said.
The Aggie offense was dealt a huge blow when Keeton left the game late in the first quarter with a knee injury. Backup Craig Harrison had his moments, but was an obvious downgrade to the prolific Keeton.
Utah State managed 14 points on the game, but seven of those points came late against BYU's second- and third-team defenders. The seven points scored early came on a short field because of a Taysom Hill fumble deep in BYU's own territory.
Time and again the Cougar defense snuffed out everything thrown at it in what was a complete team effort.
"We really focused on the ball not going around us or over the top of us," said coach Bronco Mendenhall. "We tried to be patient and knock down as many balls as possible against (Utah State's short-passing) game and Kyle got us off to a quick start."
Email: bgurney@desnews.com
Twitter: @BrandonCGurney