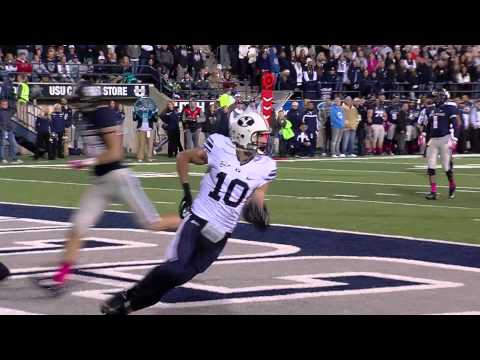 View 74 Items


LOGAN — Time has come to commend Taysom Hill.
Criticized and pigeonholed as a pass-impaired quarterback throughout the entire preseason and BYU's first four games, the sophomore came of age Friday night inside Romney Stadium during the Cougars' mild 31-14 upset of Utah State.
The impressive thing is it came against one of the best defenses he's seen this year on the road.
Improvising with a young offensive line, Hill elevated when the game's billboard star, Chuckie Keeton, limped off the field with a knee injury.
Hill completed 17 of 31 passes for a career-high 278 yards, three touchdowns and one interception in helping break a nine-game Aggie home win streak.
Load the box on run-happy Hill? Well, pay.
Hill had a pass efficiency rating of 155.65. If not for a jump-ball interception by USU's Quinton Byrd in the end zone after the game had been decided in the fourth quarter, Hill's rating would have been 162, an impressive figure.
Before kickoff, USU's defense, led by linebacker Kyler Fackrell and corner Nevin Lawson, ranked No. 28 in pass efficiency defense, just between UCLA and Florida State. The Aggie defense ranked No. 22 in total defense right after Michigan and just ahead of No. 23 BYU. In those stats, USU was better than Utah, which beat BYU two weeks ago.
That is what Hill faced on the road.
BYU's offensive coaches tried to give him easy throws. They tried to build up the run so he could get to play-action passes. They moved the pocket and sprinted him out, trying to help an offensive line that has struggled.
In the face of all that, the Aggies came. They blitzed up the middle, came from the edges, twisted and stunted and chased him from hash mark to sideline. They sacked him again and again.
But still, Hill made plays. With his arm.
For most of the night, USU's defense took away Hill's greatest strength, his escapability and run speed, a talent that made him one of the nation's top 10-ranked rushers.
So, he passed.
When he had time, Hill looked every bit like a BYU QB.
Two first-half bombs to Mitch Mathews were perfect strikes deep at USU's third-tier defense. The second, a 30-yard touchdown toss, was perfect. When he had time, set his feet, he looked every part of what critics expected him to be.
On BYU's opening drive of the second half, Hill completed 4 of 5 passes and marched the Cougars 75 yards for a score and a 24-7 lead. His TD strike on that one was a perfectly executed fade to the 6-foot-6 Mathews.
Again in the third period, he calmly surveyed the field and found Ross Apo in broken coverage for a big gain. Then, on the next play, he repeated that act by hitting Mathews for a 43-yard touchdown pass. BYU 31, Utah State 7.
His trio of touchdown passes were spot-on accurate. His 60-yard fourth-quarter post bomb to Kurt Henderson was perfect.
Progress on roller-skates for Hill.
It hasn't come easy for the guy.
In a world where fans, media members and faceless judges on social media chew and gnaw over those who struggle, Hill had teeth marks all over him in September. Could have been "The Walking Dead."
But Friday, backed and protected by a stellar playmaking Cougar defense, Hill rose up.
A year ago against the Aggies, Hill lost the rest of his freshman season to an inexplicably and totally avoidable knee injury at LaVell Edwards Stadium. At the time, he was 2-0 as a starter, running a different offense for a completely different coaching staff. He spent the rest of the season, winter and spring recovering from knee surgery.
His year began by shaking hands with a new offensive coordinator, quarterbacks coach, running backs coach, receivers coach and offensive line coach. His best receiver, Cody Hoffman, also spend the offseason mending from surgery to his shoulder.
Mr. Hill, they said, we're going to make you go fast and go hard. Never mind that your offensive line will be piecemeal, picked from among the injured and transferred fodder gathered in a mad rush for help. Just do it, they said.
Well, Hill struggled with everything but the run.
The passing thing lagged. It lacked volume, timing and experience. But Friday, the baby steps Hill and his offense were making in September turned into long strides.
The pass as a BYU weapon?
This is what Hoffman returned for. It is what Kurt and Lisa Mathews spawned Marcus for and what Apo hoped for. It had to be what top junior college commit, receiver Nick Kurtz, tuned in to CBS Sports to see.
More importantly, Hill silenced some critics big time.
Dick Harmon, Deseret News sports columnist, can be found on Twitter as Harmonwrites and can be contacted at dharmon@desnews.com.