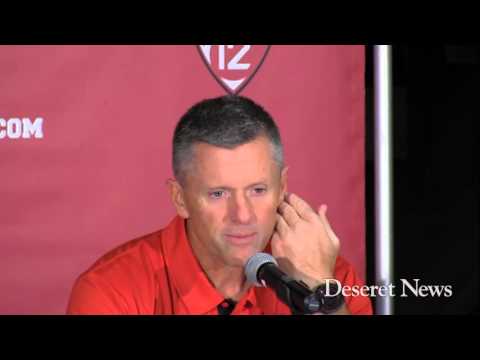 View 100 Items


We've got to keep our heads up, not feel sorry for ourselves, and just keep fighting. That's one thing this team does. They've got a lot of toughness, a lot of character, a lot of resiliency, and they fight to the bitter end. That was very evident again tonight.

—Kyle Whittingham, Utah head football coach
SALT LAKE CITY — While acknowledging that a second close Pac-12 loss is frustrating, Utah coach Kyle Whittingham summed up the situation succinctly following Thursday's 34-27 setback to 12th-ranked UCLA at Rice-Eccles Stadium.
"We've got to find a way to make a couple of more plays," he said. "If we can do that, then we'll find a way to win."
As was the case with a 51-48 overtime loss to Oregon State last month, the Utes came up short in their bid to avoid a third consecutive slow start in conference play. They're 0-2 entering next week's home game against fifth-ranked Stanford. Utah lost its first four league games in 2011 and 2012.
Playing catch up isn't what a team determined to compete for the Pac-12 South title planned to do once again. However, it is what it is and now the Utes have to handle the situation.
Whittingham said there's no choice to be made. It's all about continuing to work.
"We've got to keep our heads up, not feel sorry for ourselves, and just keep fighting," Whittingham said. "That's one thing this team does. They've got a lot of toughness, a lot of character, a lot of resiliency, and they fight to the bitter end. That was very evident again tonight."
Despite throwing six interceptions against UCLA, quarterback Travis Wilson and the Utes remained in contention right down to the wire. Wilson's final pick came on the second-to-last play of the game, extinguishing Utah's comeback bid.
"We showed that we have heart," said wide receiver Dres Anderson. "But we have to make sure we make plays at the end."
The offense, though, was bogged down by the turnovers.
"We had way too many mental errors. But ultimately they were my fault," said Wilson, who completed 22 of 44 passes for 288 yards and two touchdowns. "Some were deflected; some were off receivers' hands; but it happens so we just have to keep on playing."
UCLA coach Jim Mora noted that it was a real hard-fought game and would up being the slugfest that the Bruins anticipated. Utah's defense made things difficult, holding UCLA to 404 yards of total offense — 210 below its average.
Whittingham was especially pleased with the defense in the second half, which he called dominant.
In the end, though, it wasn't enough. Even so, Whittingham did find a silver lining, of sorts.
"I was very proud of the effort," he said. "We've just got to be better and do things better."
22
comments on this story
EXTRA POINTS: Linebacker Jared Norris led the Utes with 12 tackles and two sacks. ... Trevor Reilly, Jason Whittingham and Nate Orchard also had career highs in tackles with 11, 10 and nine stops, respectively. ... Kelvin York topped Utah with 51 yards rushing. Starter Bubba Poole was second with 26. Lucky Radley finished with 25. ... Anderson had a game-high six receptions for 106 yards, topping 100 for the fourth consecutive outing. ... Kicker Andy Phillips made two field goals and is now 9 for 9 on the season. He's also perfect in PATs (24). ... Senior cornerback Keith McGill's 19-yard interception return for a touchdown in the fourth quarter was his first career pick with the Utes.
Email: dirk@desnews.com
Twitter: @DirkFacer