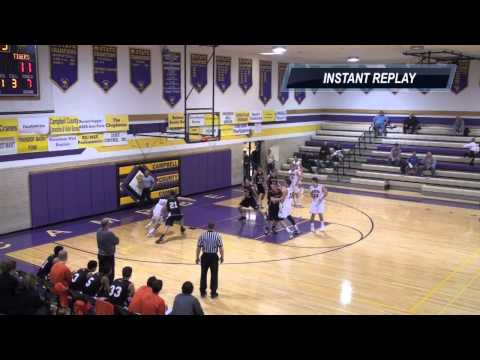 View 2 Items

He has a 3.97 GPA; everything about him is attractive. He fits the prototypical Gonzaga guard. I think it'll be a great fit for Jesse going into that type of program.

—Davis coach Jay Welk
KAYSVILLE — Davis High's touted guard Jesse Wade knew Gonzaga wanted his services and would offer a scholarship if he visited the campus.
"I've been on a visit Thursday and (Friday). Their assistant coach told me that if I got down on campus that they would," Wade said. "So, me, my mom and my dad flew down, and they did it."
After praying about the decision, Wade committed Friday afternoon to the Bulldogs, who finished the 2012 season ranked No. 1 in the nation.
"Gonzaga isn't a program that throws scholarships out there," Davis coach Jay Welk said. … "I think they're getting a pretty complete player. They're getting a guy that can do a lot of things on the basketball floor. He can handle the ball; he can shoot the ball; he can defend; he can pass; he's just a really complete player."
Considered a three-star prospect from the Class of 2015 on most recruiting outlets, Wade maintained offers from UC Riverside, Utah State and San Francisco in addition to Gonzaga.
Wade led the Darts to a 17-6 record during his sophomore season before losing to the eventual national champions, Lone Peak, in the 5A quarterfinals. At 6-feet, he averaged a team-high 14.83 points per game along with 2.43 assists, 2.0 steals and 2.35 rebounds.
"Off the court he's a pretty unassuming guy, but you get on the floor with him he's an outstanding player," Welk said. "He has a 3.97 GPA; everything about him is attractive. He fits the prototypical Gonzaga guard. I think it'll be a great fit for Jesse going into that type of program."
2
comments on this story
The success of the Gonzaga program, which has earned 15-straight NCAA berths dating back to its famous Elite Eight run in 1999, ultimately swayed Wade to commit while on campus.
"Their winning tradition, their coaches and the campus is amazing," he said. "The people there are so nice, and the players are great people. It just felt right."
Gonzaga has a longstanding tradition of producing guards including John Stockton, Dan Dickau, Jeremy Pargo and Matt Santangelo. When asked if his name was next, Wade said, "Well if everything goes as I see it — one day hopefully. That's the plan."
Email: tphibbs@deseretnews.com
Twitter: @phibbs_