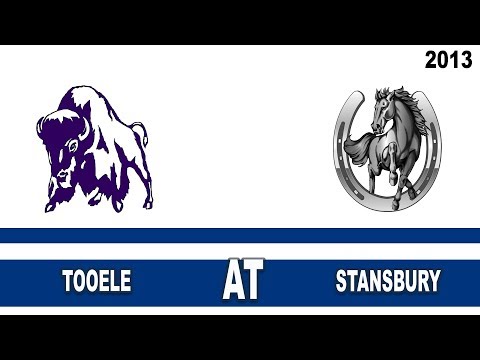 View 7 Items

We were just able to get the job done tonight. We were able to push through it, and we did just enough to win.

—Alex Mackay, Stansbury running back
STANSBURY PARK — Rivalry games can be very interesting. Friday's matchup between the Stansbury Stallions and the Tooele Buffaloes was one of those nights. Stansbury came in at 4-2 on the year and ranked fifth in 3AA, while the Buffs were 1-5 and struggling. Tooele played its best game of the season, but fell just short, losing to the Stallions 21-13, and dropping to 1-6.
"Tooele played a great game tonight," said Stansbury coach Clint Christiansen. "They came out and played with a lot of emotion, and we just kinda showed up."
Tooele was able to capitalize after a stand by its defense midway through the first after quarterback Jake Brady found the end zone from four yards out to put the Buffaloes up 7-0. Brady faked it up the middle, and took it outside for the score, shocking the Stallions home crowd.
Stansbury was able to answer in the ensuing drive after Hudson Conrad scored his first touchdown of the night, knotting it up at 7-7.
"Alex Mackay, Austen Kincaid, Tyler Jensen all blocked really well on the edges, and I just followed them to the end zone," said Conrad. The speedy running back finished with seven carries for 63 yards and two scores.
After an interception by safety Zayne Anderson, the Stallions were able to take their first lead of the night.
Alex Mackay found a hole and raced 50 yards to the end zone, giving Stansbury a 14-7 lead early in the second quarter that they were able to carry into halftime.
"We were just able to get the job done tonight," said Mackay who rushed for 151 yards and a TD on 17 carries. "We were able to push through it, and we did just enough to win."
Tooele's Brady found the end zone, this time on a quarterback sneak early in the third quarter, but Nathan Fisk missed the PAT, and the Stallions led 14-13.
Conrad found the end zone again shortly after, this time from two yards out to give the Stallions a 21-13 lead, and the Stansbury defense would do the rest, holding Tooele scoreless for the rest of the game to secure the victory.
Tooele had the ball with just over two minutes to play from its own 40, but turned it over on downs after the Stallions secondary made some crucial plays.
"We had a couple defensive stands where we really stepped up and played," said Christiansen. "We're bending, but we're not breaking, which is great to see."
Stansbury will host number one ranked Juan Diego in what will be the biggest regular season game in the history of its program next Thursday, and Coach Christiansen knows his team has a lot to work on before next week.
"We've got to try and find a way to match them up front," said Christiansen. "Their offensive and defensive lines are outstanding, and if we don't match them in the trenches it's going to be a long night for us.
"They're very well coached, very disciplined. If you can't get up for this game, you're probably not breathing."
Notes: Spencer Wihonghi had a fantastic night for Stansbury, recording 19 tackles, and Landon Stice finished with ten tackles and a sack for the Stallions as well.
CJ Pronk is a Deseret Digital Media intern and a Stansbury High School graduate. After serving an LDS Mission to the Dominican Republic, CJ will attend Southern Utah University. Follow CJ on Twitter @BigCeeJ3113.