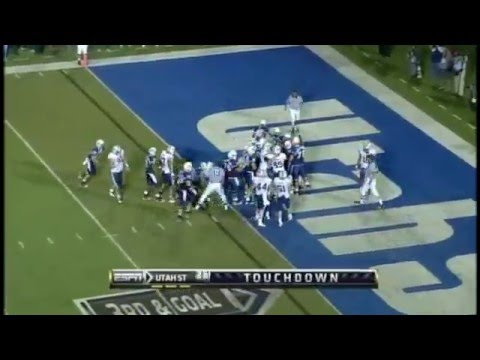 View 4 Items

(2010) was probably one of funnest games we have played, just having that atmosphere around. Half the stadium was full of BYU people — and then people were rushing the field. Absolutely crazy, knowing what we did for the first time in 17 years against those guys. That was huge, knowing that we were making history.

—USU center Tyler Larsen
Don't be deceived.
The past two BYU-Utah State games have gone down to the wire.
If history means much, however, you shouldn't get used to it.
Overall, BYU leads the series 45-34-3. But those contests have been bridged by eras where one team has routinely handled the other.
Before the Old Wagon Wheel came into play in 1948, USU won 12 of the first 19 contests, with three ties. That included 10 wins in the first 14, with one tie. (In the first matchup on Oct. 7, 1922, Utah Agricultural College beat BYU 42-3.) Then, the Aggies beat the Cougars 18 times in the first 27 battles for the Wheel.
But since 1974 — in 35 contests — BYU's dominance has been greater. USU has won this rivalry game just four times (1978, 1982, 1993, 2010) since the year Richard Nixon resigned due to the Watergate scandal.
OCT. 7, 1978: UTAH STATE 24, BYU 7
When the former Soviet Union was performing an underground nuclear test, the Aggies were organizing destruction of an innocent kind.
With a second-quarter touchdown run and toss from Eric Hipple, USU jumped to a 21-0 lead by halftime. BYU never made a push after intermission; the Cougars only got on the board in the third quarter with a 4-yard run from Casey Wingard.
Hipple was 18-26 with a quarterback rating of 138.5 in BYU's homecoming game. Meanwhile, Cougar quarterback Jim McMahon (5-11, 74.6 rating) struggled, and replacement Marc Wilson (7-18, 54.4) didn't do better. McMahon was at work elsewhere: He was BYU's punter, with eight kicks for a 37.6 yard average.
The Cougars never gained momentum as Brent Johnson missed both his field goal attempts. Rick Parros led the Aggies with 75 yards rushing on 15 carries. BYU's Glen Rudd led all tacklers with 12 stops.
The ABC-televised game was USU's last on the network until it played earlier this season at USC.
It also remains the last time the Aggies won in Provo. USU has since come closest to winning in Utah County in 2011 and 2012. Prior to BYU's three-point win in 2011, the Aggies lost by an average of 24.8 points since the 1978 victory.
OCT. 30, 1982: UTAH STATE 20, BYU 17
International East-West trade issues were discussed in Washington that day by Lawrence S. Eagleburger, undersecretary of state for political affairs, and the ambassadors from Japan and key Western European countries.
At Romney Stadium, the Aggies and Cougars were having their own tussle.
A stellar day from USU signal-caller Doug Samuels (19-31, 326 yards, three touchdowns) and receiver Eric McPherson (eight catches, 84 yards) lifted the Aggies over BYU and their struggling quarterback, Steve Young (17-38, 223 yards). USU led 14-3 late in the second quarter before Young twice brought the Cougars within one score via touchdown tosses to Mike Eddo and Gordon Hudson. The Aggies found the win despite two turnovers. Thomas Bates led the USU defense with 11 tackles.
The Aggies won after losing by 24 points in two of their previous three games against BYU, both of which were played in Logan. The previous year, USU had lost by just six in Cougar Stadium.
OCT. 30, 1993: UTAH STATE 58, BYU 56
In an effort to get Americans behind the North American Free Trade Agreement, U.S. President Bill Clinton said John F. Kennedy would have supported it.
In their first win over BYU in 15 years, the Aggies invoked some history themselves that day.
"The game itself was remarkable for many reasons," Deseret News BYU beat writer Jeff Call wrote the day before USU's 2010 win over the Cougars.
Among them:
After the game, the goalpost was torn down by jubilant Aggie fans. Later, then-USU athletic director Chuck Bell cut the goalpost up into 9-inch pieces and sold them for $58.56.
At the time, BYU's 56 points tied an NCAA record for most points scored in a loss.
BYU quarterback John Walsh passed for 619 yards, a single-game school record that still stands today.
The game marked BYU's fourth-straight loss that season, the last time that happened until BYU lost four straight after losing to USU in 2010.
The Cougars had won 10 straight games in the series before that defeat. BYU was also enjoying a 10-game winning streak before their 2010 game against the Aggies.
USU head coach Matt Wells was on the sidelines for that game as a backup quarterback.
"I was holding the clipboard for Anthony Calvillo while watching him throw the ball up and down the field," he said. "There was a lot of writing for me on the clipboard that day. We won 58-56 and that was a big win for the Aggies that day."
Wells said he may remember back-to-back-to-back touchdowns only in that game — a strike from Calvillo (472 passing yards, five touchdowns), a BYU kickoff return and an 80-yard pass from Calvillo the next play.
Oct. 1, 2010: UTAH STATE 31, BYU 16
Fueled by ballcarriers Diondre Borel, Derrvin Speight and Kerwynn Williams, USU raced to a 17-0 lead and held on for its first win over the rival Cougars since 1993. The Aggies compiled 242 rushing yards against the Cougars and Borel completed 10 of 13 passes, prompting BYU head coach Bronco Mendenhall to fire defensive coordinator Jaime Hill the next day. Hill cleared his office at the start of the following week.
In the stands that evening was a high school senior named Chuckie Keeton. Now a member of the Heisman Watch List, Keeton has said that the win helped convince him to commit to USU.
9
comments on this story
"I can't even explain it," said center Tyler Larsen, the only starter from that game still on USU's roster. "It was probably one of funnest games we have played, just having that atmosphere around. Half the stadium was full of BYU people — and then people were rushing the field. Absolutely crazy, knowing what we did for the first time in 17 years against those guys. That was huge, knowing that we were making history."
"Words can't describe," said safety Cameron Sanders, who had two tackles in the game. "Weight off of our shoulders."
It was USU's largest win over BYU since a 42-19 victory on Sept. 23, 1972, and the largest in Logan since a 29-7 win the fall before that.
Rhett Wilkinson is a project manager for UtahPolicy.com and hails the true-blooded Aggies from Utah. The co-founder of magazine Aggie BluePrint.com, he's been an intern for the Deseret News and other publications. rhett.wilkinson@usu.edu | @wilklogan