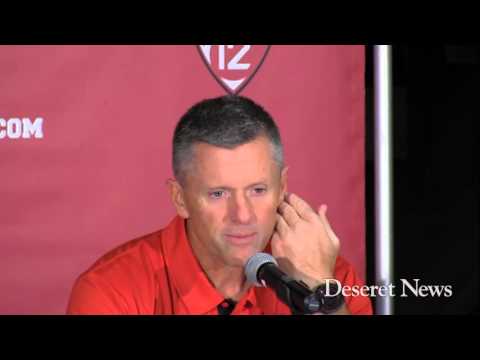 View 99 Items


I want to commend Utah. We knew coming in that the were an excellent football team, and that certainly proved to be true. ...They're disciplined, they're tough, they played inspired. It's the type of team you love to compete against...

—UCLA head coach Jim Mora
SALT LAKE CITY — When the nationally ranked UCLA Bruins arrived in Salt Lake City, most of the talk swirled around the Bruins' impressive offense.
Turns out it was the Bruins' defense that kept the team undefeated with a 34-27 victory over Utah Thursday night at Rice-Eccles Stadium.
"It was a great win," said running back Paul Perkins. "The defense played awesome. Offense, we need to work on some things, but it was a great team victory."
The Bruin offense entered Thursday's showdown ranked first in the nation in third-down conversions and second in total offense. It also ranked third in scoring, mostly because of a 692-yard performance against New Mexico State. UCLA's offense is led by redshirt sophomore quarterback Brett Hundley and senior wide receiver Shaquelle Evans.
UCLA finished with 404 yards of offense, but it was the defense's six interceptions that secured the victory. Utah finished with 387 yards of offense, but didn't complete some promising drives because of the Bruins' defense.
"First of all, I want to commend Utah," said Bruins head coach Jim Mora. "We knew coming in that the were an excellent football team, and that certainly proved to be true. ...They're disciplined, they're tough, they played inspired. It's the type of team you love to compete against because you know that you are going to have to give everything that you've got, and they did a heck of a job."
Hundley looked every bit the superstar on the Bruins' first drive, thanks in large part to a 44-yard pass play to Paul Perkins that took UCLA to the 1-yard line. Four plays later, Jordon James rushed for a 1-yard touchdown to give the Bruins a 7-0 lead.
Utah answered with a Travis Wilson pass to Dres Anderson for a 54-yard touchdown, and it looked like fans were going to be enjoying a high-scoring show. The Utes scored again just before the end of the first quarter on a Wilson pass to Sean Fitzgerald.
Meanwhile, the Bruins scored again when Priest Willis intercepted a Wilson pass that would have been a touchdown were it not for a penalty on the Bruins during the return (illegal block). Then Hundley hit Jordan Payton for a 17-yard pass play and a 21-14 lead. Utah hit a field goal just before halftime, which gave UCLA a 21-17 lead.
As it turned out, the third quarter showed off the Bruin defense. Unfortunately for UCLA, the Utah defense was almost as impressive. The Bruins managed three interceptions — by Ishmael Adams, Anthony Jefferson and Eric Kendricks. Only Jefferson's pick led to points — a 33-yard field goal by Kaim Fairbairn. He also hit a 47-yard field goal at 8:28 left in the fourth quarter to give UCLA a 27-24 lead.
The Bruins were held to 20 yards of offense and one first down in the third quarter, but luckily for them, the fourth quarter was a different story.
"We definitely have to work on capitalizing when the defense does such a great job," said Perkins. "We need to go in the film room and work on some stuff. ...The defense played tremendous."
That's when the offense did just enough to earn the win. Hundley's ability to turn nothing into something gave the Bruins what looked to be the touchdown that put the game out of reach when he ran 36 yards and put the Bruins up by 10.
Utah made the final few minutes tense after kicker Andy Phillips stayed perfect on field goal attempts, bouncing the ball through off the uprights to put Utah within a touchdown. Then Fitzgerald recovered an ensuing onside kick at the 50-yard line to give Utah one last possession.
6
comments on this story
That ended as so many promising Utah drives did — with a Bruin interception. On fourth down, Myles Jack intercepted Wilson with less than a minute to go to end the game in the Bruins' favor.
"I'm very proud of our football team tonight," Mora said. "We knew it was going to be a real hard-fought game. And we came in with the mindset that it was going to be kind of a slugfest, and it was. ...It wasn't a beautiful thing offensively. I think defensively we played very, very well. But I think there's a lot we can learn offensively from what transpired. ...Overall, we came up with some plays on defense, got some stops on defense."
Twitter: adonsports
Email: adonaldson@deseretnews.com