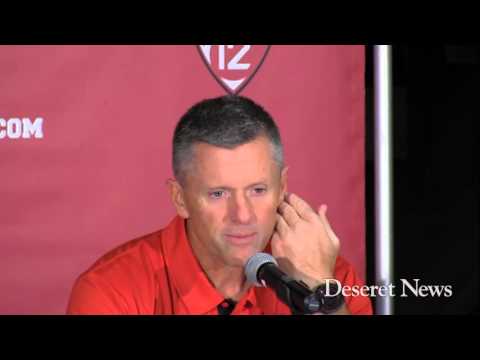 View 100 Items


We just had way too many mental errors. Some balls were deflected, but ultimately it was my fault.

—Travis Wilson, Utah quarterback
SALT LAKE CITY — The first four interceptions weren't really Travis Wilson's fault, seeing as how they were all the result of tipped passes. But Wilson's fifth and sixth picks, in the final minutes, killed Utah's chances for a big upset against No. 12 UCLA Thursday night at Rice-Eccles Stadium.
Throwing six interceptions, three weeks after tossing three picks in a loss to Oregon State, wasn't exactly what Wilson hoped for in a game that had a lot of meaning for him.
It was a year ago in Los Angeles that the Southern California native made his first collegiate start, only to come up short in a 21-14 loss at the Rose Bowl.
Then last month, his good friend Nick Pasquale, a UCLA receiver, was killed in an auto-pedestrian accident. Wilson hoped to play well against the Bruins to honor his friend, and his parents flew up for the game with Pasqueles's parents.
Wilson played well for the most part, completing 22 of 44 passes for 288 yards and two touchdowns. But all anyone will remember will be the six interceptions he threw, the second-most in Ute history. (Pat Degnan threw eight against Arizona State in 1975.)
"We just had way too many mental errors,'' said Wilson. "Some balls were deflected, but ultimately it was my fault.''
"The six interceptions — I can't remember how many were on tipped balls — they weren't necessarily six bad throws. I can tell you that,'' said Utah coach Kyle Whittingham. "I know a few of those interceptions were fluke circumstances — balls being tipped, off receivers' hands — so it wasn't all on Travis.''
The first interception, in the second quarter by UCLA's Priest Willis, came on a tipped pass intended for Dres Anderson. Willis returned it 84 yards for an apparent touchdown, but it was called back because of an illegal block. However, the Bruins marched for the go-ahead touchdown to make it 21-14.
On Utah's first drive of the third quarter, Wilson's pass was intercepted by Ishmael Adams on a ball that actually bounced up off Ute receiver Anthony Denham and into Adams' hands
On Utah's next possession, Wilson's pass was tipped and floated high enough for Anthony Jefferson to grab it. At first the Utes were allowed to keep the ball, but after a UCLA timeout, the play was reviewed and because of a tip, UCLA took possession. It seemed like a key play, but the Utes held the Bruins to a field goal, making it 24-17.
Later in the quarter, the Bruins picked off Wilson again and once again it came on a tip as it went off the fingers of Ute receiver Geoff Norwood and was corralled by Eric Kendricks
The fifth was a killer, however, as Wilson overthrew his receiver and it was picked off by Jefferson at the 40. Three plays later Brett Hundley got loose for a 36-yard touchdown run to make it 34-24.
The Utes made it exciting late with a field goal by Andy Phillips and a successful onside kick and a drive to the UCLA 24-yard line. However on fourth down, Myles Jack picked off Wilson's last-gasp pass to end the Utes' hopes.
Whittingham said he told Wilson "to keep his head up'' and added, "He's played great football for us this year.''