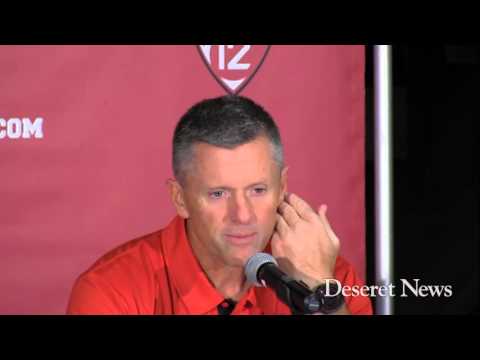 View 99 Items


In Utah's annual blackout game, the Utes were deep in the red in one critical category. Utah had a minus-five turnover margin Thursday against No. 12 UCLA. Its offense hardly generated anything throughout the entire second half as it fell to 1-7 against top 25 opponents since losing to TCU in 2010.
OFFENSE
Travis Wilson (22-43, 288 yards, two touchdowns) threw six interceptions, including three in the third quarter. Some weren't on him, however, as several passes went through his receivers' hands. Geoff Norwood let one get past him late in the third stanza, after the Utes were on the move following a fourth-down conversion.
6
comments on this story
Later, however, Wilson had his own problems. With his team down one score, Wilson's pass sailed and was intercepted. Then he threw another pick on his offense's final play, when it was within sight of the end zone.
The Utah offensive line struggled against UCLA linebacker Anthony Barr and a mighty Bruin defensive line. It gave up a sack on third down late in the third quarter. Ultimately, the entire unit lacked firepower for almost the entire second half against the nation's 29th-best scoring defense. GRADE: C-
UP NEXT: The Utah defense
Rhett Wilkinson is a project manager for UtahPolicy.com and hails the true-blooded Aggies from Utah. The co-founder of magazine Aggie BluePrint.com, he's been an intern for the Deseret News and other publications. rhett.wilkinson@usu.edu | @wilklogan