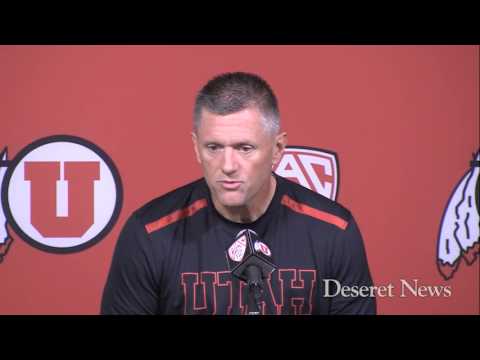 View 2 Items

It's probably the second biggest game we will have played in the conference since I've been here — next to the Colorado one a couple of years ago. So it's a big game.

—Utah senior captain Trevor Reilly
SALT LAKE CITY — It's not exactly a crossroads, though it could be for the Utah Utes.
Thursday night's home game against UCLA does carry a lot of importance for a team that head coach Kyle Whittingham says is settling in with who they are, what their strengths are, and what their identity is.
"That's all fine and dandy but we're playing a heck of a football team," Whittingham said while opting to look at the task at hand instead of the overall big picture.
The 12th-ranked Bruins (3-0), he noted, are very good and quite deserving of their ranking.
"In fact, I think they should be ranked higher," Whittingham said. "I think they're a top 10 football team."
Whittingham added that UCLA is doing everything right, pointing out that the Bruins have punted just three times this season.
"That's unheard of," he said before emphasizing that they've "got all our respect."
Likewise, UCLA coach Jim Mora is also expecting quite a battle at Rice-Eccles Stadium.
"We've got to go up there and perform. We've got to go up there and compete," Mora said. "We've got to accept the challenge, and it's a great challenge."
For Utah, though, quarterback Brett Hundley and defensive end Anthony Barr represent more than just a hurdle.
"It's probably the second biggest game we will have played in the conference since I've been here — next to the Colorado one a couple of years ago," said senior captain Trevor Reilly. "So it's a big game."
The Utes, obviously, aren't playing for a spot in the Pac-12 Championship Game as they were in 2011 against the Buffaloes. However, they are determined to avoid a fourth straight 0-4 start in conference play.
And there's more. Even more than improving on a 1-6 record against top 25 opponents since losing to TCU in 2010.
"This is basically to be the front-runner in the Pac-12 South," said wide receiver Dres Anderson. "So it's a big game for us. We've got to make sure we start off on the right foot."
Whittingham, though, is maintaining a perspective on the situation.
"I think every game is pivotal. Every game in the conference is important," he said. "With already being down 0-1 after the Oregon State loss, you don't want to dig yourself too deep of a hole. So every game from this point forward is important."
Things don't get any easier with Stanford coming to town next week. Whittingham acknowledged that the challenge is very high each week in the Pac-12.
Utah's focus, however, is squarely on UCLA. The Utes have won the past two meetings against the Bruins in Salt Lake City by a combined score of 75-12, prevailing in 2007 and 2011.
"The last two times they've been here we've done pretty well against them," Reilly said. "So hopefully history holds true and we can do well against them."
The Utes are motivated by other variables as well. Anderson's father, Flipper, and uncle, Paco Craig, are UCLA alums. Dres grew up liking the Bruins as well.
"Every game I feel motivated and I feel like I've got to go crazy. I've got to do the best I can do," he said. "It's a little more fun playing against UCLA."
Then there's Utah quarterback Travis Wilson. The sophomore made his first career start against UCLA last season in Pasadena. This time, he explained, is a totally different feeling.
Besides an increase in confidence, Wilson's emotions have also risen. He's still mourning the death of UCLA wide receiver Nick Pasquale, his best friend who was killed in an auto-pedestrian accident last month.
"It's definitely going to hurt not seeing him after the game," Wilson said. "But I know I get to play for him and I know UCLA's done a great job of playing for him as well."
EXTRA POINTS: Pac-12 Commissioner Larry Scott is scheduled to attend the game. … It's Utah's annual "Blackout Game." … UCLA's Mora was on Utah co-offensive coordinator Dennis Erickson's staff with the San Francisco 49ers in 2003. Bruins offensive coordinator Noel Mazzone worked with Erickson at Oregon State in 2002 and at Arizona State from 2010-11. … Whittingham's response when asked if tight ends Jake Murphy and Westlee Tonga, who were injured in the BYU game, would play on Thursday, was, "We don't know. We'll just see what happens."
Email: [email protected]
Twitter: @DirkFacer