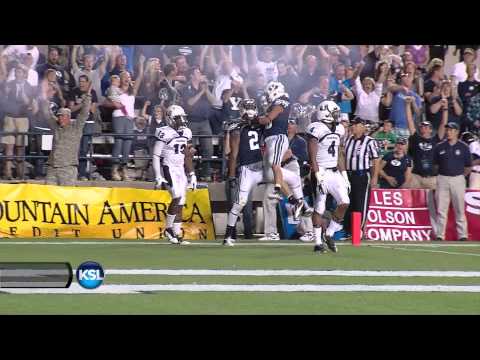 View 2 Items

It's a different kind of rivalry. I'm not saying it's better or worse. It's just different — and I think it should be. Different teams, a little bit more distance, but I think it's a great game and it has been the past number of years that it's gone right down to the end.

—BYU coach Bronco Mendenhall, on the Cougars' rivalry with Utah State
PROVO — With Utah and BYU not playing again until 2016, there's a big void in the Cougars' schedule.
How about Utah State filling that void?
"Sure, especially for the next couple of years where we don't play Utah," said BYU senior wide receiver JD Falslev, who grew up near Logan. "I think it's our biggest rivalry, to be honest. We would love to play Utah, obviously, and I know the guys are feeling bad about not being able to play them. But at the same time, we love to play Utah State every year."
The BYU-USU rivalry renews Friday (6 p.m., CBSS) at Romney Stadium in Logan.
If history is any indication, this rivalry could get a lot bigger.
In recent years, the BYU-USU rivalry has increased in its intensity, thanks to an Aggie victory in 2010, and two close games in 2011 and 2012.
While it doesn't compare to the BYU-Utah rivalry, Cougar coach Bronco Mendenhall acknowledged that the USU game is an important in-state battle.
"It's a different kind of rivalry. I'm not saying it's better or worse," he said. "It's just different — and I think it should be. Different teams, a little bit more distance, but I think it's a great game and it has been the past number of years that it's gone right down to the end."
"It's a different feel, I'd say," said senior wide receiver Cody Hoffman. "It's still a rivalry game, so it's going to be competitive and intense and everything. But it's just a different feeling. But the intensity level is still there."
One indication that the rivalry has changed came last summer. For the past several years, Utah State had a 2-for-1 scheduling agreement with BYU — which has meant two trips to Provo for every game in Logan. But that deal changed the announcement of a four-game home-and-home series.
In July, BYU athletic director Tom Holmoe and USU athletic director Scott Barnes announced that the two teams will play in Logan again on Nov. 28, 2015. The Aggies will visit LaVell Edwards Stadium on Oct. 3, 2014 and on Nov. 26, 2016.
When BYU visits Romney Stadium, it knows a hostile crowd will be on hand.
"It's one of the hardest places to play in the Western half of America, honestly," Falslev said. "The fans are so dialed in, the fans are so vigorous, the fans are so bought in to what they're doing. So it makes it tough. They're going to be loud, they're going to be nasty, they're going to be all over the place. But we've got to do what we've got to do and continue to stay together, and we'll be just fine."
The first time Hoffman played at Romney Stadium, in 2010, when the Aggies crushed the Cougars, 31-16, he was surprised by the energized atmosphere there.
"Yeah, it really caught me off-guard. It's Utah State — you don't really think they'd have a fan base like they do," Hoffman said. "It's a really hostile environment. But that's college football. I like playing there."
Falslev said playing at Utah State is similar to playing at Utah.
"They're both hostile environments. It's going to be loud, it's going to be crazy. The fans are going to be all over us. That's what we love. We love to compete in environments like that. We love to go in and play our very best when we play tough opponents. It's going to be a game that's going have a lot of emotion and we need to keep that in check."
Why do the Aggies love playing BYU?
"It's a rivalry game. The rivalry, especially in the last couple of years, has really revamped itself," Falslev said. "Utah State has had a great tradition and a great team. We respect them. We know they're going to come play hard, be a physical team and take it right down to the wire. You look at the last three or four years, it's been right down to the wire with them, just like the Utah game. I don't know if it's hate, but it's a rivalry game, and that's what happens in rivalry games."
19
comments on this story
BYU quarterback Taysom Hill said he hasn't thought a lot about the future of the Cougar-Aggie rivalry.
"We played Utah this year and we'll play Utah State and we need to get a win in Logan. But it probably will (become bigger than it has in the past)," Hill said. "Utah State is a good football program. I have a lot of respect for them, our team has a lot of respect for them. It's going to be a dogfight. That's what we expect. The team that makes the least amount of mistakes is going to win."