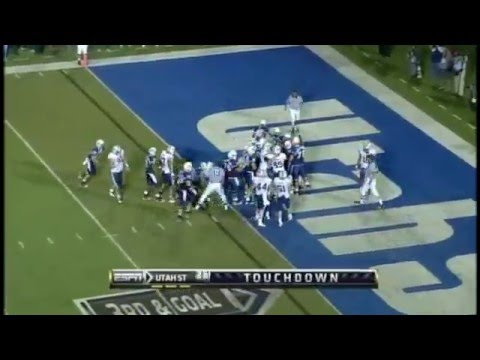 View 2 Items

Familiarity didn't do it for Eric Schultz.
"Even being from Washington, I grew up in a fairly Mormon community and everyone seemed to like BYU. I never have liked BYU, so it's big for me," Schultz said. "It's an exciting week for everyone here at Utah State. Everyone gets amped for this game – and I do, too."
The Connell, Wash., native has been motivated in an Aggie uniform several times now. An offensive lineman, Schultz has blocked in Provo the past two seasons for his quarterback Chuckie Keeton. His team has lost by a combined six points in two contests.
He also was on the sidelines on Oct. 1, 2010, while Keeton, a high school senior at the time, was watching from the stands. That night, the Aggies compiled 242 rushing yards as USU stomped BYU, 31-16, for its first win over the Cougars since 1993.
Joey DeMartino said the victory provided "one of the greatest feelings in his life."
Tyler Larsen said it was "absolutely crazy" to make history.
6
comments on this story
Safety Cameron Sanders said "words can't describe" what it meant to get "weight off of (their) shoulders."
Keeton has said the win, with its boisterous fans sensing a rising program, helped convince him to commit to take his talents to Logan.
Schultz, DeMartino, Larsen and Sanders all played key roles in that ESPN-televised win. Ten other seniors and two juniors preparing for BYU's return to Cache Valley Friday were also on the field that night. Will they replicate the magic of an evening found earlier in their careers?
Here's a look at the players on USU's roster that were in Logan in 2010 when USU last beat BYU.
Rhett Wilkinson is a project manager for UtahPolicy.com and hails the true-blooded Aggies from Utah. The co-founder of magazine Aggie BluePrint.com, he's been an intern for the Deseret News and other publications. rhett.wilkinson@usu.edu | @wilklogan