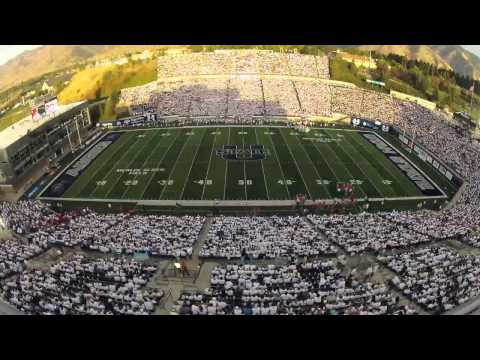 View 6 Items


I would give up fourth-row Utah Jazz playoff tickets to go to Aggie athletics just because they are so much better. The athletes are great and the crowds are better.

—Matt Anderson, USU student and Aggie superfan
This past summer ESPN released the "NCAA Bucket List Map" in which must-see college sports icons around the country were featured. Many nationwide college landmarks made it on the list, including the Rose Bowl in Pasadena; the Cameron Crazies at Duke University, and the March Madness Final Four.
Logan, Utah, also made the list.
"Utah State fans will make the Smith Spectrum one of the most hostile environments in the MWC," ESPN writer Myron Medcalf said in his bucket list article. "Their version of the 'I believe that we will win!' cheer is arguably the nation's best, but their 'winning team, losing team' cheer is breathtaking, too."
ESPN voted USU to have the best home-court advantage in the west, above not only in-state rivals Utah and BYU, but other colleges with long, rich histories like UCLA, USC, Arizona and Texas as well. The Aggie student section, known as "The Hurd," has a very well-earned reputation for intensity and intimidation.
"The Hurd is Aggie athletics. Our teams are great, but one thing that makes them so great and gives them the advantage they have is The Hurd," Aggie superfan Matt Anderson said.
The Aggie men's basketball team held a 14-4 home record last year, opposed to a 7-6 away-neutral record. During the Aggies' 11-2 2012 football season, their only losses came on the road. In fact, Utah State has not lost a home football game since Oct. 22, 2011, to La. Tech.
"There is something here that you don't get at different universities," The Hurd director Dallin Laird said. "The students make it an obligation to make it a great atmosphere every game. It's all about the students. They come, and they come early."
Sometimes it takes several hours — and sometimes days — of waiting to get to the front row of The Hurd. Skipping classes is, at times, the cost for fans who want to be in the front row at Aggie games.
"I would give up fourth-row Utah Jazz playoff tickets to go to Aggie athletics just because they are so much better," Anderson said. "The athletes are great and the crowds are better."
New students got their first taste of being a part of The Hurd when the Aggie football team hosted in-state foe Weber State Sept. 14. Students stood side by side, filling in gaps as much as possible to get good enough seats to cheer on their Aggies.
"The first thing I wanted to do ever since moving here to Logan was to get a bunch of people and paint 'USU' across our chests, and we did," said freshman Emily Orr of her first Hurd experience. "It literally made my whole night."
From students painting their entire bodies blue to fans wearing blue scream masks, and even mannequins dressed up in USU apparel, Aggie fans exhibit creativity in support of their team.
The traditional playing of the Aggie fight song, the Scotsman theme and the "I Believe" chant are crowd-pleasers. Other in-game antics include tossing students in the air, one toss for each point that has been scored.
Despite pouring rain and a commanding 49-0 halftime lead over Weber State, The Hurd faithful remained to the conclusion the game to deliver the "winning team, losing team" chant.
16
comments on this story
"The synchronization of the cheers are amazing as if thousands of fans practice over and over again until they get it right," Medcalf wrote.
For Orr, the experience solidified her choice of schools.
"It might have been a little cold, but I feel like I bonded with so many students that night," she said. "It was an amazing experience to see all of the students still there cheering on our team. Makes me happy to be an Aggie."
Members of the Hurd will get their next chance to cheer on Utah State at home when the football team hosts BYU on at 6 p.m. Friday at Romney Stadium.
Follow me on Twitter @bradyclark19