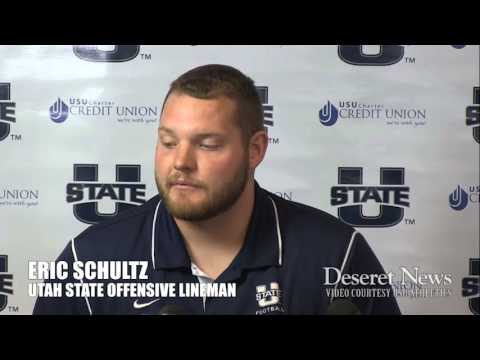 View 2 Items

Utah State football head coach Matt Wells and players Eric Schultz and B.J. Larsen addressed the media prior to Friday night's game against BYU.
On mobile? Watch the press conference on YouTube.
This is a full transcription of today's press conference:
Head coach Matt Wells
Recapping the San Jose State game:
"I thought it was a total team victory. We played really good on defense, especially in the tight red zone. I was really proud of those guys; they really bowed up. When you look at a guy like David Fales who I think has earned every bit of recognition, he deserves it, I don't think he found his rhythm all night and that's a testament to our D-Line, our pressures and our back end coverage."
"I thought Nevin Lawson played extremely well, had tight coverage all night. I'm happy for him. Both of our inside linebackers (Jake Doughty, Zach Vigil) continue to play at a really high level. They've very productive. Offensively, I thought we ran the ball well and Chuckie (Keeton) was better than the week before."
"There was a lot of yards and a lot of points, but nit-picking the stuff that we do, I think we left a lot out there. We need to be better in the red zone, we want to score touchdowns every single time and that didn't happen. There's frustration as players and coaches when that doesn't happen because we know we left stuff out there. We're always looking for that utopia performance on offense. We'll always be happy with excellence and we're always striving for perfection, which is hard to obtain. Seven possessions in the red zone, four touchdowns and three field goals, that's 82 percent of the available points. Our goal is to always have 75 percent of the available points, so we reached our goal there, although I would like to have seen it higher. I think we left some yards out there."
"I thought the O-Line did a really nice job and that our backs ran hard. I was happy with that. Travis Reynolds has played really well two weeks in a row and he was our MVP on offense. Another testament to a young man who continues to practice well, prepare well, doing all the things right there and he ends up playing well ultimately. It's a direct reflection of that. We preach that and I think we're starting to see some of the fruits of different guys' labors."
Previewing BYU:
"As I look at them, it's stop the run and run the ball. We're going to have to find ways to run the ball on offense and stop the QB run game. Taysom (Hill) is an extremely talented young man, I've got a lot of respect for him. He's a very good athlete, very tough-minded kid who has a lot of intangibles you like to coach. He's the key to that offense; he makes it go."
"As I look at them from an offensive perspective, looking at their defense, I think they are a very Bronco Mendenhall-coached defense. I have a lot of respect for him and his defensive staff. I've played against him at Tulsa, at New Mexico and every year here. Some things don't change. Schematically, they're very sound in what they do. They run to the football, they tackle well in space, and they play with high-level energy. They're high-effort guys. That is stuff that I don't believe is born into players, it's coached into them. I've got a lot of respect for them and what they do on defense. It's always been a challenge and a tough defense to go find points, find seams and find advantages. I think they do a great job."
"They're very good in the return game. Special teams wise, our coverage teams will have their work cut out for them. Our kickoff and our punt teams will have to contain those guys. I think they do a good job of that."
"It should be a great atmosphere, I'm looking forward to it. With 6,500 students and the HURD there, and the game has been sold out for a few weeks now. The atmosphere and the buzz around Logan is big-time, and fun. Internally, the way we prepare and practice, we need to stay very consistent."
On Kyle Whimpey's status:
"Kyle is going to be done for the year, unfortunately. That's a hard deal. I've got a lot of respect for Kyle. You hate that for any kid. Senior year and for it to happen going into this week, it stinks for him. It's real life and it's real emotions for us. We're not going to hide it. It's part of the game. We all know that, we all understand that and we all accept that. It's the reality of it and that stinks. He'll have surgery some time this week and be there to support his teammates. He'll be a great teammate. We'll move on."
"That's a unit that prides itself on their team. They're team guys who've got a lot of pride in that unit. I think typically most O-Line units have that, but this one's different. They'll play well, trust me."
On using the depth of the O-Line:
"They're going to have to step up. The guys around them are going to have to step up and help them. They've been preparing for this. I've got confidence in who we put out there as a unit and individually. They'll play well and hold their end of the rope. We'll be fine up there."
On Sini Tauauve'a's performance filling in at San Jose State:
"It was good. He's gotten a lot of playing time leading up to that. Now it will be extended playing time. Sini will be just fine. Bill Vavau will be just fine. Whoever we put in there next to them will play well around them. Tyler (Larsen) will play well, Kevin Whimpey will play well, (Eric) Schultz will play well. As long as they communicate and stick together, they'll play well as a unit."
On the likeness of BYU to Louisiana Tech's offense last year:
"I would assume it would be pretty similar. It's fast. Louisiana Tech was warp speed and I would expect it to be very similar."
On Taysom Hill's improvements:
"A lot of his improvements are in his receivers. A lot of passing game, the spotlight gets put on the quarterback, good or bad. When Chuckie (Keeton) has a really good game, when Taysom has a really good game or when Peyton Manning has a really good game, you say, 'Oh, he was right on.' But a lot of times, they're contested catches. The spacing and the timing is just really good on the perimeter. Then when it's not a good passing outing, everything gets pointed right back on the quarterback. Sometimes it's rhythm, sometimes it's protection, sometimes it's something flashing in front of the quarterback's face. Maybe there's penetration, maybe there's pressure on him from an O-Line or running back standpoint and pass protection. I'm sure they're getting some kinks worked out. It looked really smooth Friday night on the tape that I saw. I'm sure there are plenty of people around him who are more confident and doing a good job."
On Taysom Hill's running game:
"He's strong, he's physical, he's very confident. He's a good athlete. He's really fast. They do a good job of scheming quarterback runs from a schematic standpoint. There's some stuff just like with Chuckie (Keeton) that you can't coach and you can't scheme. When it's man-to-man a lot of times he makes those guys miss or he runs through arm tackles. He'll be a load to stop."
On JD Falslev:
"I don't know him well, I've kind of just met him a little bit since I've been here. I respect him because I think he's got mojo and a lot of moxie. He's a football player. You can't pin him down. I'd like to coach him, I know that."
On Kyle Van Noy:
"Kyle Van Noy is going to play on Sundays for a long time. He's long, he's ranging, he's twitchy and he's fast. He can go from slow to fast really quick. He can redirect. He's a really good pass-rusher against running backs and O-Linemen. He causes major match-up problems. I'll be happy to shake his hand Friday night and be done facing him. He's a really good player."
On Taysom Hill's mechanics as a quarterback:
"That's an individual thing. Just like we're trying to tweak Chuckie (Keeton) every week. I saw an interview on Peyton Manning the other day and he's talking about what he does early in the week from a mechanics standpoint — footwork, release, lowering his elbow, working on release points and different drills that you do. Those guys do it, I'm sure Taysom does it, Chuckie does it. That's a constant, daily refining for those guys to stay tight and get better from a technique standpoint. It's very similar to a golf swing in the release, your lower body, it's all timing and rhythm. Kickers, quarterbacks, golfers, those guys are always refining their mechanics. I know Chuckie does. I can't speak for Taysom, but I'm sure he does to."
On the pass rush of BYU:
"I think it's more up to us to pick up pressures and create a pocket for him, whether the pocket is moving, a five-man, six-man or eight-man, protecting him. It's a little bit more on us than on the opposition."
On BYU's ability to contain mobile quarterbacks:
"I think they contain a lot of guys whether or not they're mobile. They put a lot of pressures on pocket passers. You can see some of the stuff they do in the different quarterbacks they face. I think Bronco does a nice job of structuring game plans to who they're facing. They're always schematically sound as far as numbers are concerned with angles and leverage. To be able to create things for Chuckie (Keeton) or downfield for our wide receivers is a challenge because they do a great job with that."
On injuries/player status:
"Joe Hill is day-to-day. We've got probably 15 guys on the team who are day-to-day right now. It's been a tough opening stretch, we said that back in training camp and we're right in the heat of it right now. These guys continue to grind on the practice field and in the training room to get themselves ready. BYU is no different than us. We're all banged up right now."
On playing BYU as a player:
"I've got good memories as a backup and bad memories as a player. The 1993 game here in Logan, I was holding the clipboard for Anthony Calvillo while watching him throw the ball up and down the field. He and John Walsh had great days. The thing that stands out to me in that game, maybe the only time I've ever seen it, was back-to-back-to-back touchdowns. We threw one then kicked it off and they ran it all the way back 100 yards. They kicked it and Anthony threw an 80-yard touchdown pass. There was a lot of offense that day, not very much defense. There was a lot of writing for me on the clipboard that day. We won 58-56 and that was a big win for the Aggies that day."
On comparing BYU and USC's defenses:
"They're very good on defense. There are differences in a few of the positions, but there are better players in certain positions on BYU's defense. BYU's defense presents a really good challenge, I've said that too many times this morning."
On playing at home after four of the first five games on the road:
"It's nice to be back here this week and be in our home week routine. Playing in front of our fans more than anything, putting that Aggie Blue jersey on to play in front of our families and our friends and the student body. It will be a great atmosphere and great to be home."
Senior offensive tackle Eric Schultz
Recapping the San Jose State game:
"Reviewing San Jose State, offensively, I think we did a pretty good job. I think we showed what we could do in the run game a little bit more than we had in previous weeks. I think as a whole in the red zone we didn't do what we normally do, we need to finish our drives. One time we had a holding call on the offensive line, we put that on us and we've just got to finish our drives. I think a lot of people want to know about Kyle Whimpey, that's like losing a brother to me as an offensive lineman. We had Sini (Tauauve'a) come in and he did an awesome job. We'll have him in for practice this week and I think that's good. He's been here a year already so he knows the offense, I think he just needs to play with a little more confidence and he'll be good."
Previewing BYU:
"As far as this coming week with BYU, It's an exciting week for everyone here at Utah State. Everyone gets amped for this game and I do, too. Even being from Washington, I grew up in a fairly Mormon community and everyone seemed to like BYU. I never have liked BYU, so it's big for me. They look good and they're a good defensive team. As I look at the front, they have Kyle Van Noy and a lot of returning guys. Eathyn (Manumaleuna) came back from an injury last year and he's a good player, they've got good players."
On BYU linebacker Spencer Hadley:
"I played with him, we were on the same team (in high school), and he's been a good friend of mine. I've called him recently so we've talked a little bit. He's a good kid, I feel bad for what happened, but you live with those rules when you go there, that's the deal."
On being motivated by the injury to Kyle Whimpey:
"I think that's a big thing. Right after it happened, if you came to our O-Line huddle we were quiet, it almost had the feeling like we lost the game, but I think we all knew that meant we had to step our game up. Sini (Tauauve'a) coming in, we've practiced with Sini, he knows the plays, he knows what he's doing and he's a good player so we didn't really loose a beat. Plus, when you're playing between Tyler Larsen and Kevin Whimpey it's hard to do bad with as much experience as those guys have."
On the depth of the offensive line:
"With Sini (Tauauve'a) and then also Bill Vavau coming in, we do have some good depth to us."
On why the offense struggled with BYU last year and what they are going to do this time:
"Honestly, we obviously want some redemption for last year. That was a very big disappointment for our offense. We pride ourselves, especially the offensive line, on scoring points and getting touchdowns. I can't really say what it was last year, something wasn't right with us. I think from the top-down we just didn't perform to our best and this year we want to come out and show what we really can do."
On BYU linebacker Kyle Van Noy:
"We're definitely preparing for him. He always finds a way to make a play. We were watching film today and he's four yards away from the offensive tackle, the tackle barely sets off and he jumps up and bats the ball. He's that good of an athlete that he seems to make plays no matter where he's at on the field. We've got to account for him for sure."
On BYU linebacker Alani Fua:
"Fua has played well. From what I've seen on film, I haven't watched a ton yet with it being Monday, but he seems like a solid outside linebacker as well. I don't really know too much about him right now, but he seems like he'll be some good competition."
On Joey DeMartino:
"I think the biggest thing with Joey is that he cares and he runs hard every play, you never see him take plays off. Even when we're in practice just doing walk through, he goes hard all the time. He just shows that he has heart and he cares and he wants to win. I think that's a big deal, it helps him do well."
On improving technique as an offensive line following the USC game:
"We did a lot better, definitely a lot better as an offensive line. We worked hard, it was a short week last week, but we worked hard on getting things right last week, especially as a front. Coach (Mark) Weber is a great coach and he's getting us where we need to be."
On having back-to-back home games the next two weeks:
"Me and Tyler Larsen were actually talking about this earlier today. Just to be able to sleep in our own beds and get ready for the game is so nice. Football season has obviously already started, but it doesn't really feel like it around here as much. We haven't had the home crowd and stuff like that, it's going to be nice."
On the added motivation of playing well enough to win the last two games in Provo but end up losing:
"I think back two years ago when (Robert) Turbin had that big run at the beginning. We came out hard, but that's been the big thing for us, we need to finish these games. That's big for us this game."
Junior defensive end B.J. Larsen
Recapping the San Jose State game:
"The San Jose State game, obviously we were coming off a pretty good game last year against them. We had 13 sacks, almost an NCAA record, but we knew going into the game last week they were going to be ready for that. The quarterback (David Fales) was obviously passing a lot quicker than he had before. We did the math and it was something like 1.3 seconds that he would get the ball out, so that's quick, so they obviously were ready for us. Right out of the gate, they came out and paced us a little bit and they did a good job. They usually pass the ball a lot, which they did, but they tried some stretch run plays, they tried running on us a little bit and had some success, but we adapted to it. We were able to roll with the punches and do what we do best, stop them in the red zone and on third downs. When it came down to crunch time we were able to do what we do best as a defense and keep them out of the end zone, which you can see by the scoreboard. They are definitely a good team, they prepared for us well and they were able to scheme against us pretty good, but we were able to come out on top."
On the bad snap that led to a turnover in the red zone by San Jose State:
"A couple plays before, I noticed the center had jumped a little bit, he had an offsides before that. Maybe they were a little antsy, I'm not sure. Our defense does stunts every now and then, maybe they were thinking about that."
On returning home against BYU:
"It feels great, it feels good to be home. You don't have to travel, and you don't have to worry about getting on the airplane and into hotel rooms. It's good to be home, especially for me since I'm from Logan so it's kind of special for me to be able to be here in Cache Valley and play in front of my friends and family. There's nothing better and we have the greatest fans in the nation, I love Aggie Nation. It doesn't get any better."
On what an in-state game vs. BYU means to him personally:
"It's big, it's really big. I kind of have a sour taste in my mouth from last year and hoping to get rid of that. This is why you play sports, for rivalry games. I grew up around BYU and the University of Utah, I'm from Logan, my dad actually went to BYU, but I've converted him to an Aggie fan. I bleed Aggie Blue and I want this win more than anyone."
On having associations with BYU players and what it adds to the rivalry:
"A lot of them are from Utah and a lot of them went on (LDS) missions, as I did. It has a point of familiarity and similarity, but as soon as they put on that BYU uniform I'm not really looking at that at all. I'm just getting ready to play the Cougars."
On BYU quarterback Taysom Hill:
"He can run the ball very well. He's fast, he's athletic, he's strong, he's a good player and we got a little taste of it when we played them last year down in Provo. He's a good player, but we're going to be able to scheme to the point where we can contain him. We'll be able to do what we need to as a defensive front, as well as a front seven, to be able to stop the run. That's our number one objective, don't let anybody establish the run. That's what we do best so that's what we plan on doing."
On BYU changing up their offensive line:
"This might be incorrect, but I think it's seven or eight guys that have switched places. There have been two solid guys, the left tackle and the center, that have stayed most of the time with, but other than that they've been moving positions around, putting different people in to get the results that they want. I'm not really sure what that means, we've looked at them all and we're just going to look at each player, look at the scheme and plan accordingly."
On BYU running a lot of plays each game:
"That kind of goes with the pace, they don't really huddle. That's something we have seen before. If you remember last year, Louisiana Tech was the most hurry-up offense I've ever seen. We got in shape for that and I think with our off-season training, we do well enough as well as our in-season training that we're going to be fine cardio-wise, being able to keep up with the pace. It's nothing we haven't seen before, but they do run a lot of plays."
On how the defensive line has held up without Connor Williams:
"Connor Williams, I wouldn't count him out of what we're being able to do right now. He may not be able to be out on the field playing, but he still has a large leadership role on the defensive front. He's on the sidelines, he's at practice and he's doing his regular defensive role. He's encouraging as well as coaching, he's definitely helping us perform where we need to be, but I definitely miss him out on the field and it will be nice to get him back."
On what he's seen out of the reserves stepping up like Paul Piukala and Ricky Ali'ifua:
"Paul Piukala, he's done so well the last four or five games, his production is through the roof. Ricky has stepped up to the plate and he's done what he needed to, he's done his job and gone above and beyond the call."
On playing with a high motor:
"I would say it's my nature. Most people that know me off the field, they might say I'm a little calm, maybe a little shy, which I don't think I am, but people always say football is an emotional game and I agree with that. People say it's just a game, but as student-athletes we invest our lives into this so it does become more than a game and we really like to put everything we can into it. I guess I would be known as a high-motor guy, I just like running around. Once you get in that state of playing you kind of get lost in the game and just go play football."
On the play against Utah where he had his helmet ripped off and went and made the tackle:
"First off, that wasn't a smart play, it was a penalty. The helmet got ripped off, I didn't take it off and obviously the rule wasn't going through my mind. There's a Clay Matthews play, I believe it was two years ago, where his helmet gets ripped halfway up his face, he rips it off and goes and makes the tackle. Obviously, I'm no Clay Matthews, but I tried to go make the play. Like I said, it's an emotional play. Once you get in the game it's hard to remember the helmet rule. Like I said, it wasn't the right thing to do."
On the number of penalties the team has racked up:
"There have been a couple of games this year where penalties have killed us and we need to work on that. That's not to say you should play passive, I think you should play aggressive with a high motor. We need to work on that and stay off the quarterback."