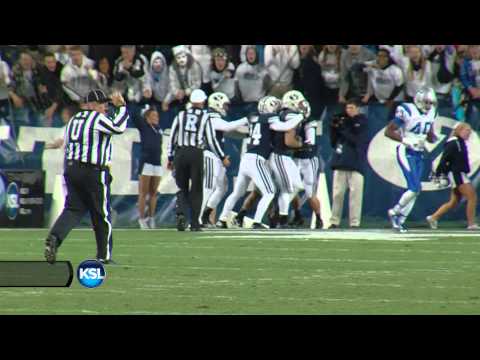 View 3 Items

I have a lot of friends there. I have a lot of family in the area. So, yeah, I have some Aggie blood in me, for sure.

—BYU senior wide receiver JD Falslev
PROVO — For the first time since his freshman season, BYU senior wide receiver JD Falslev is going to play a football game in his native Cache Valley.
As the Cougars invade Romney Stadium Friday (6 p.m., CBSS) to face Utah State, Falslev knows it's his final opportunity to compete in his hometown.
"It means a lot to me, especially being able to play in front of people that I grew up with, people that had a very big impact on my life, on my growth (and) development as a young kid," said Falslev, who is a team captain. "It means a lot to play in front of them one more time."
Naturally, he hasn't forgotten about BYU's last trip to Logan, a humbling 31-16 setback in 2010. "It left a bad taste in my mouth," he said. "We lost to a team that outplayed us that night."
Falslev grew up in Smithfield, about 7 miles north of Logan. He attended USU games as a kid.
"I have a lot of friends there. I have a lot of family in the area," Falslev said. "So, yeah, I have some Aggie blood in me, for sure."
In high school, Falslev wasn't heavily recruited by Utah State, and chose to walk on at BYU. "It came down to where I had the best chance to play," he explained.
"It's a game that I really, really want to win," Faslev continued. "Not only that I want to win, but this whole team wants to win."
Falslev's teammates know how much this game means to him.
"JD's a good leader. There's a reason why he's a team captain," said quarterback Taysom Hill. "I think there is a little more sense of urgency on JD's behalf. I've had a few conversations with him about this game, and I know he's excited to go up to Logan and get a win. I love that dude, and I'm going to do everything I can to help him out."
As his career winds down, Falslev is happy about his decision to play at BYU.
"I've been lucky to have tremendous support from family and friends in Cache Valley," he said. "Obviously, they would have loved for me to have played at Utah State, and it would have been a cool experience, but I've loved every second I've had at BYU. I've grown so much. I'm thankful to the coaches and everyone around me. I wouldn't trade it for the world. That doesn't mean I don't still have some Aggie blood, like I said, but I'm through and through a Cougar."
During the second quarter of BYU's 2010 loss at Utah State, Falslev, then a freshman, returned a kickoff 34 yards. As he was going out of bounds, the 5-foot-8, 175-pounder delivered a big hit on a member of the USU coverage unit.
That return was one of the few highlights for the Cougars in a 31-16 setback to the Aggies. BYU coach Bronco Mendenhall was so impressed, the following week, he showed Falslev's return to the entire team.
"The return I had didn't mean a whole lot in the game setting," Falslev recalled. "It was one of the better plays in the game, but we weren't able to win, so it didn't mean very much."
Last week in a 37-10 victory over Middle Tennessee State, Falslev fumbled three times, losing two of them. He also had a 71-yard punt return for a touchdown.
Despite Falslev's miscues, Mendenhall said this week that he's going to "stick with" Falslev as his punt returner.
"JD's body of work overshadows one game, that he actually scored a touchdown in," Mendenhall explained. "I like him being aggressive and sometimes boundaries are set when you push the envelope as far as he did, but I have no issues in terms of confidence with him."
Of course, Falslev appreciates Mendenhall's support.
"It means a lot," he said. "He could have easily taken me out and lost confidence in me. It boosts my confidence tremendously for him to continue to have my back."
In part because of his familiarity with the Aggies, Falslev knows Utah State poses a big challenge to the Cougars.
"They're a great team. Every dude tries their very, very best on every play," he said of USU. "They've lost a couple of games that were really close. We have to be prepared for anything. We know they're going to come play hard, and we'll try to do the same."
For Falslev, this rivalry with Utah State is comparable to the one with Utah.
"Pretty close, especially for me because it's going home," he said. "They all mean a lot to me, but this one has a little extra oomph to it because I'm going home and I'm going to play in front of all my family and friends probably for the last time. They had such an impact on my life growing up, so to be able to go back to my hometown and see everybody and play in front of them is a cool deal."