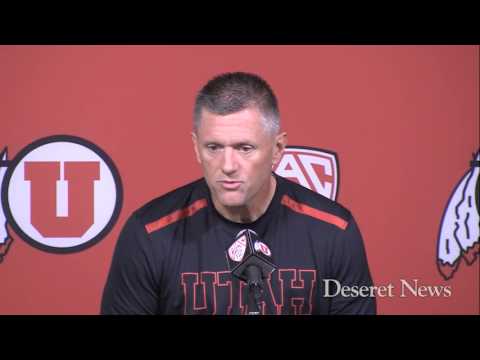 View 2 Items

SALT LAKE CITY — Utah football head coach Kyle Whittingham addressed the media prior to Thursday night's game against the No. 12 UCLA Bruins.
On mobile? Watch the press conference on YouTube.
Don't have time to watch the video? Here's the audio.
This is a full transcription of today's press conference:
Kyle Whittingham (KW): OK. I thought we made the most of our bye week. We got a lot done, got the players some rest, got some bumps and bruises hopefully healed up, so we're back today. Obviously a short week this week with the Thursday game.
UCLA, as I mentioned last week, is a tremendous football team, ranked 12th and 13th in the country in the respective polls. Really, they have no weaknesses right now. Offensively, they're leading the conference in total offense. They may be leading the nation in third downs — I haven't checked. They're leading the Pac-12 for certain at 68 percent and might be leading the nation in that category.
Bottom line is that it's a big challenge for us, but we'll be ready to play and we're looking forward to the game on Thursday night.
Questions?
Reporter: Coach, looking at UCLA's offense and its ability to make explosive plays on offense, how important will ball control be for your team?
KW: That's always important for our team. Our offense has done a nice job of protecting the football and not turning it over this year. We've been very good with ball security, and that will be a premium this week, obviously. And then making first downs. …
In order to make first downs, we've got to be much better than we were on third down in the previous game. Third down was the biggest negative to come out of the rivalry game — our lack of third-down production. That's got to improve, and if that improves, then we'll move the ball better by making first downs and controlling the clock a little bit.
Reporter: Coach, it was just a few years ago that UCLA was pretty much an also-ran and they were kind of going nowhere as a program. Then they hired coach Mora, and he turned things around really quickly. Is this kind of a testament to how the right hire can come in and make a team that hasn't been so good really good in a short amount of time?
KW: I think that's part of it. Coach Mora's a heck of a football coach. He's got a great background, and he's done a lot of good things at a lot of different places, but my no means was the cupboard bare when he got there. Coach Neuheisel had done a great job recruiting there, and they had talented players.
I think it's a combination of a great deal of talent that he inherited but taking that talent and maximizing it. I guess the answer to your question is, "Yes," on one front, but there's more to it than just that.
Reporter: What is it that their quarterback, Hundley, does that makes him such a great weapon?
KW: Well, he does everything well. He's a lot like our guy, Travis (Wilson). Their numbers are almost exact, when you compare the two. They're within a point or two of each other in pass efficiency. Hundley runs the ball well like Travis does. There's a really good comparison between those two guys, and it's going to be an intriguing matchup. The quarterbacks are going against each other head-to-head Thursday night. What Travis brings to the table and makes him difficult to defend, Hundley does the same thing for the Bruins.
Reporter: In general, what are your thoughts on these very early week Thursday games, and specifically with this one, how fortuitous is it that you're coming off a bye to prepare for it?
KW: Well, I think Thursday games are good for exposure. You have the chance to be on national television. You don't want to make a habit of it. I think that one or two a season is plenty. Academics is obviously a concern. That's right in the middle of your academic week. Coming off the bye week, it's a level playing field where both teams are in the same situation, so I don't see any advantage or disadvantage for that.
Now, back in the previous years, there have been situations where you're coming off a bye week and the other team isn't or vice-versa, which makes things a little bit different, but I don't think it's a big issue. I think we're both on the same footing.
Reporter: What makes (UCLA's) Anthony Barr such a special player?
KW: Well, he's explosive. He's instinctive. He does it all. He's just a player that has a great motor and great skill set, fundamentally and technically sound, and he's a force. No doubt about it.
Reporter: What position matchup are you guys going to have to focus in on Thursday in order to have a chance in this game?
KW: Well, I think it starts at the line of scrimmage like it does most weeks. If our defensive line can do a good job putting pressure on the quarterback like we have done so far this season — we're second in the league, I think, in sacks, first in the league in sacks per game. If that can continue, if we can continue to win the line of scrimmage … and then it goes for both sides. Offensively we need to protect Travis and open some holes for the run game. I think most weeks that is the key matchup, and I don't see that being any different.
Reporter: The spotlight's really been on the secondary from the preseason until now. What sort of progress have you seen from them, especially after the BYU game?
KW: We're definitely taking steps forward in a lot of areas. The Oregon State game was a point where we gave up a bunch. Now, if you've followed Oregon State, he's doing that every week. I mean, (Sean) Mannion did it again Saturday — he threw for 420 or something like that. It's not something that he hasn't done to everybody.
But, to answer your question, I think we've made strides. We've got four or five guys that we feel comfortable with right now. The group has really separated itself. It's become apparent as to who the guys are that are ready to play and who's not quite as ready.
Reporter: Coach, you talked about UCLA's national rankings and the fact that it's a nationally televised game. What have you seen from your guys over the last couple of days of practice showing how amped up they are for this scenario?
KW: Their work ethic at practice has been excellent — their focus, their concentration. … And the week before the best it's been in a long time, and this past week has really been similar to what we had going into the rivalry game as far as the quality of practices.
There's an air of confidence about the team, and we know we've got to get things rolling in the Pac-12, but right now, we feel like we've made big steps as to who we are — our identity, what we're good at, what we're not so good at.
Reporter: Coach, over the first few games you've emphasized creating turnovers on your defense. Could you give us a progress report in how the defense is doing and how you're working to perhaps take a way a few from UCLA?
KW: Yeah, we're working on that constantly throughout the entire practice. There is no one period devoted to it. It's a constant throughout practice, stripping the ball out and getting the ball out of the air interception-wise.
We did come up with an interception in the rivalry game. We're still way behind where we'd like to be in takeaways. But with the offense doing such a good job taking care of the football, that has not been really magnified as it could have been if the offense wasn't doing such a great job with our ball security.
Reporter: Coach, third downs, offensively and defensively. … Looking back at last year's UCLA game, Brett Hundley ran wild. Can you talk about that scenario, and then offensively what you guys can do to better the 1-of-14 (on third downs) and extend drives?
KW: First of all, defensively we're not doing bad in third downs overall for the season. I think we're somewhere in the mid-30s or upper-30 percentile. Our goal on defense is 30 percent. If we can hold teams to 30 percent or less, we feel really good about that.
Offensively, we were actually doing pretty good on third down up until this past ball game. We were in the mid-40s, and this last game obviously hurt that percentage. On offense in order for us to move the chains, do a better job moving the chains in this past game, it was just a matter of making a few more plays. We had a couple drops, some penalties and things that negated those third down conversions.
Defensively, we've got to do a better job of keeping Hundley — when you relate back to last year — in the cage. He escaped far too many times, predominantly on third down, so we have got to do a better job with our pass rush and our spacing within those lanes.
Reporter: You already touched on Barr, and what he does for their defense, but what else are they doing defensively because they seem to be making plays, and who are the other guys to keep an eye on Thursday night?
KW: Well, they're good across the board on defense. The Marsh kid, the defensive lineman, No. 99, I'm really high on him. He's Curtis Marsh's son that played here way back when, and he's an active, tough defensive lineman. Their secondary is athletic. Their backers are active, and so there really isn't anything that you could say is a weakness on their defense. They're playing exceptionally well. They do a good job of mixing in some odd front and mixing up coverages.
Coach Mora, that really is his forté on the defensive side of that ball, and you can see that showing up their schemes.
Reporter: Kyle, in light of the Lane Kiffin firing over the weekend, just in general terms as a college football coach, how much concern is there for the need or the want to win now and get results now and what a short lifespan coaches can have?
KW: That's the nature of the profession right now. It's not very patient. There's a lot of money at stake. It's big business. I think Connecticut did the same thing. I think the coach at UConn got let go this week as well.
That's the way it is. There's no changing it. Every college coach. … I don't think there's anybody that doesn't want to win in the worst way and is far more concerned with that than what's going on externally. All you do is just do the best job you can, and the other stuff that's out of your control, you don't really worry about.
Reporter: Kyle, I know it's very, very early, but if you get a win this week, everybody in the South Division will have one loss in Pac-12 play already. Could you just talk about how Pac-12 play is developing so far in your eyes?
KW: Yeah, I think the Pac-12 North has a distinct advantage. I'm not sure what the overall head-to-head record is, but I know it's not good for the South. But, what that does for us is it actually helps us because the North has beat up on some people. We've got to worry about our own selves, and if we're fortunate enough to get some wins, then we're right in the thick of things.
Reporter: And the second question … home-field advantage doesn't seem to be obviously as prevalent as it was in the Mountain West. Could you talk about how wins don't seem to be as common as home as they were in the Mountain West?
KW: I think I mentioned a few weeks ago that the teams that are coming in here, there's a dramatic difference in a lot of the talent levels of the teams that have come in here. I will say our lack of home-field advantage is not because of lack of fan support.
Our fans have been outstanding. They fill the stadium up every week. They're loud. It's a great environment. We can't thank the fans enough for the support they've given us over the last several years.
To answer your question — to me the bottom line there is that we have a bunch of high-quality, top-25-type teams coming through here on a regular basis, and so that's been the biggest reason for that.
Thanks, guys!
Follow Deseret News Sports on Facebook.com/DesNewsSports and Twitter.com/DesNewsSports