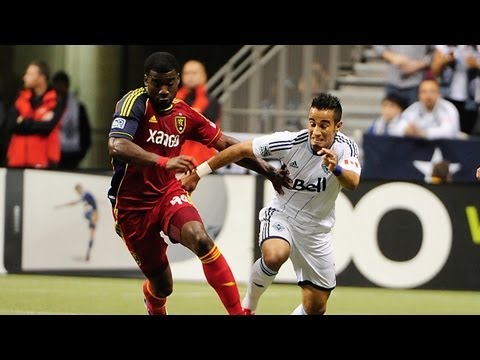 View 20 Items

Yes, this was our 'second team' if you want to call it that, but we're dangerous still. We were confident going in the game that we could get three points. We were coming off two straight losses and finally got a win.

—RSL's Devon Sandoval
VANCOUVER, B.C. — Playing with a virtual reserve side, Real Salt Lake secured a 1-0 win against the Vancouver Whitecaps at BC Place Saturday evening in front of 21,000 fans.
Head coach Jason Kreis made 10 changes to his starting lineup from last weekend's home defeat to the San Jose Earthquakes ahead of Tuesday's U.S. Open Cup final at Rio Tinto Stadium, with Devon Sandoval the lone survivor in the first 11.
Sandoval made the most of that continuity by bagging the opener just nine minutes in for his third of the season, sprinting past his marker Jay DeMerit to head in a cross from the right from Lovel Palmer.
"This result was huge for us," the Albuquerque, N.M., native said. "Yes, this was our 'second team' if you want to call it that, but we're dangerous still. We were confident going in the game that we could get three points. We were coming off two straight losses and finally got a win. I think we're back on the right foot and we're ready for Tuesday."
The win means RSL is now back atop the MLS Western Conference standings, sitting on 51 points. Real is one ahead of the Seattle Sounders, who host the New York Red Bulls at CenturyLink Field Sunday night.
But beyond the result, it was a commanding performance from Real Salt Lake, which took five shots on target to Vancouver's solitary effort, and looked the better team despite resting many of its best players for Tuesday's cup final match — something the head coach attributed to a system that functions the same way regardless of the personnel selected.
"Us being able to put anyone on the pitch and still win games is one of the large benefits of having a philosophy of playing in a system that we stick to 90 percent of the time," Kreis said. "We train all of our guys in that same system, we train all of our guys against opponents' systems within ours. So we know our weaknesses and we know our strengths, so we believe that if we put in the right effort that our strengths will come out."
At the other end of the pitch, Jeff Attinella was sharp when called upon in the RSL goal in his fourth start of the season, making a strong reflex save on Vancouver's lone shot on target in the 36th minute. On the play, Canadian midfielder Russell Teibert let off a thumping half volley, which forced the goalkeeper to push it over the bar.
"He had a good hit on it, yeah," the Clearwater, Fla., native said. "Any goalie can make a good save, but to be able to manage a game well is the part in which I'm most happy about how I played today."
With this win, Real Salt Lake finishes its three games against the Whitecaps unbeaten with a record of 2-0-1 — this result also marking the first time Real has come to Vancouver and come out victorious.
On a big-picture level, with this result the club becomes the first side in the post-shootout era to hit the 15-win mark and attain at least 50 points in four consecutive seasons — the L.A. Galaxy could join them at some point this season, as they currently sit on three years hitting those milestones.
1
comment on this story
"I thought we played an excellent game," midfielder Sebastian Velasquez said. "From what I've heard, we've never won here and to get so many new guys on the field and even though we had a whole different team there was a lot of experience on the pitch. We played together, we defended as a unit, and to get a 1-0 result here is an incredible thing."
Real Salt Lake now looks to win its first-ever U.S. Open Cup on Tuesday at Rio Tinto Stadium, and the so-called 'B' team hopes it has played its part to help the side stay in contention for the Supporters' Shield, awarded to the team with the best regular season record in MLS.