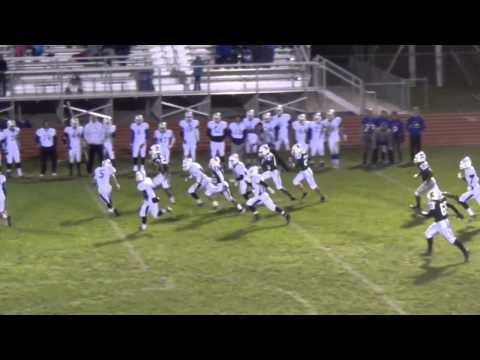 View 2 Items

Just the way the game unfolded in the fourth quarter. It was nuts; it was crazy.

—Kearns head coach Matt Rickards
KEARNS — The fourth quarter had been a wild one for both Kearns and Fremont in their non-region meeting Friday in Kearns.
"Just the way the game unfolded in the fourth quarter," said Kearns head coach Matt Rickards. "It was nuts; it was crazy."
Nothing was crazier, however, than what senior Amone Finau managed to do in the final 24 seconds of the game.
The drama really began at the beginning of the fourth quarter when Kearns drove down the field and went up by 13 points. Then the Silver Wolves answered those points, and took the lead on a broken play.
"With a minute to play, they scored on a broken play that was supposed to be a screen play," Rickards said. "We were up by one point because we'd blocked an extra point. We just had to hold them out of field goal range. Then the quarterback threw it up, and the receiver just made a great catch."
With 24 seconds on the clock, Kearns was trailing by six points (41-35).
"I was thinking about how am I going to get the ball downfield in 20 seconds to give us a shot?" Rickards recalled. "I knew I needed to get the ball in Colton's (Grossiant) or Amone's hands."
3
comments on this story
The Silver Wolves had been squib kicking, which made getting a decent return difficult. So Rickards decided to put Finau in the wedge position and put another player deep. Fremont kicked it deep but Finau back-peddled 10 to 15 yards, caught the ball and then did something Rickards hasn't seen as a coach.
He ran 95 yards for a touchdown to tie the score. Kicker Joe Whitting gave the Cougars the victory with the extra point.
"(Finau) has the athletic ability to make something like that happen," said Rickards of the senior who has made a verbal commitment to the University of Utah.
Twitter: adonsports
Email: adonaldson@deseretnews.com