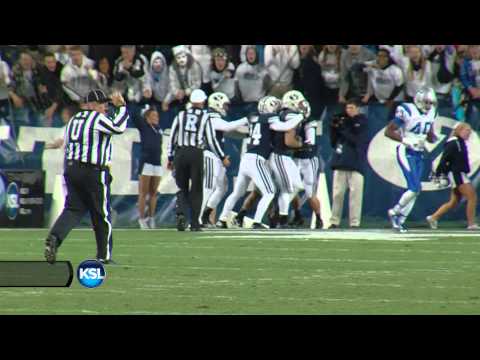 View 27 Items

I think everybody gets on Taysom: 'Is his confidence OK? Is this OK?' If you watched the film, it's the receivers; it's the linemen; it's the running backs; and it's the tight ends. First we have to catch the ball. Second ... and foremost we need to protect him so he can throw it and we have to catch the stinking football.

—JD Falslev, on the criticism Taysom Hill has received early this season for his passing game
PROVO — BYU senior JD Falslev is one of those guys you like in your corner — even if he fumbles, which is usually very rare.
He's a foxhole hero in waiting, a loyal patriot, a firecracker with a short fuse. He's as welcome as sunshine and regular as taxes.
He's as emotional as they come and loves competition like most of us love food. He loves to win; it's the engine that drives him. He'd walk on razorblades to get an edge in a game of checkers. In grade school his teachers noticed he always won, had to win, and wondered what was wrong with the guy. He plays all the angles, looks forward to the battle, lives in the minute, and is as loyal as a doe-eyed collie.
That's why it was so intriguing to see the senior Cougar fumble three punt returns Friday against Middle Tennnesse. It was both stunning and strange. Each one built upon the drama of the other.
In between the second and third fumbles, Falslev found redemption.
He ripped off a 71-yard third-quarter punt return touchdown, the first for BYU since he had one against TCU in 2011 — 20 games ago.
The speedy little guy took the ball at BYU's 30 and cut left, where he picked up blocks on a designed wall formation from Skye PoVey, Jake Ziolkowski, Michael Wadsworth, Jherremya Leuta-Douyere and Manoa Pikula. When Falslev turned down the sideline in front of the Cougar bench, he saw a sight any returner would give his cleats to see. Kyle Van Noy stood ready to take out the last remaining Middle Tennessee defender. Falslev saw that and eagerly sprinted past the junction, free as a canary. When he got into the end zone he skipped around like a leprechaun.
Anyone blame him?
The fumbles had been cannibalizing him.
"To me, my performance was unacceptable," he told reporters afterward.
"We may have had a punt return for a touchdown, but I put our defense in bad positions twice — almost three times. I acknowledge that. I recognize it; I take full responsibility for it. There are no words for it to come out of my mouth except it won't happen again. It hurts a lot that I was part of two turnovers, almost three."
By the same token, he was elated for his blockers, whom he credited for springing him loose for the touchdown. They're guys who usually don't get to do a lot except block. "To see them celebrate was worth it," he said.
The second part of the postgame quotes were also vintage Falslev.
He'd spent most of the summer playing golf with quarterback Taysom Hill. They hung out together, pounding tee shots, hunting birdies. They played alongside each other with head coach Bronco Mendenhall in the National Kidney Foundation charity golf tournament back in June.
When Hill and the Cougar offense received a lot of criticism for failure to produce an accurate and effective passing game in BYU's first three games, Falslev kind of got his fur up and stood up for his buddy.
"The whole throwing thing isn't necessarily confidence with Taysom," he said, his voice rising.
"I think everybody gets on Taysom: 'Is his confidence OK? Is this OK?' If you watched the film, it's the receivers; it's the linemen; it's the running backs; and it's the tight ends. First we have to catch the ball. Second ... and foremost we need to protect him so he can throw it and we have to catch the stinking football.
"That's what it comes down to. It's not a confidence issue with Taysom and it's hard as a teammate to see him get so much blame for it when it's not his fault. Plain and simple, guys have to catch and guys have to block. Just like the punt return, everyone does his job and it makes everything easy."
There you have it.
Falslev: fiery teammate and counselor.
The guy does everything. And just about did so under Friday night lights.
Dick Harmon, Deseret News sports columnist, can be found on Twitter as Harmonwrites and can be contacted at [email protected].