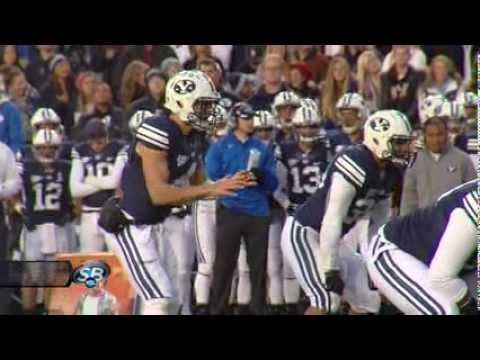 View 28 Items


I thought we caught the ball more cleanly and the throwing game took a step forward.

—BYU coach Bronco Mendenhall
PROVO — Quality teams have players that can step in for unavailable starters in a pinch. BYU had those players in Friday's 37-10 win over Middle Tennessee.
The Cougars made due without their star receiver, two starting offensive linemen, and two top running backs, and still managed 37 points and 486 yards of total offense.
With senior receiver Cody Hoffman serving a one-game suspension, the wideouts produced their best — and most consistent — outing of the year. Their patterns were crisp and open-field blocking stout, while the drops that plagued them during the first three games of the season were non-existent.
"I thought we caught the ball more cleanly and the throwing game took a step forward," said coach Bronco Mendenhall.
The offensive line was short starters Ryker Mathews at right guard and Brock Stringham at right tackle. Those two were replaced by Kyle Johnson and De'Ondre Wesley, respectively. Both reserves played the majority of the game and proved productive throughout.
The team entered the contest without starting running back Jamaal Williams, but was soon short another back when Adam Hine left the game early in the first half with a concussion.
Veteran Michael Alisa took on the featured back role and responded with 55 yards and two touchdowns on 16 carries. Freshman Algie Brown came in late to produce 68 yards on just 11 carries.
"I was very impressed with Algie Brown, our young freshman. I was impressed with how hard he ran and how explosive," Mendenhall said. "We missed Williams, and his explosiveness and ball security, but I was pleased overall."
FEAST OF FAMINE FOR FALSLEV: To say senior JD Falslev's punt return performance was both up and down would be a gross understatement.
The bad? Three fumbles, two of which came when he attempted to field punts on the run.
"It was uncharacteristic and it's certainly something we need to work on. Ball security needs to be better," Mendenhall said.
The good was Falslev returning a 71-yard punt for a touchdown in the third quarter. It was the first punt returned for a touchdown for BYU since 2011, when Falslev returned one for a score against TCU.
Besides Falslev's fumbles, BYU's special teams produced a complete effort, which was jump-started by Hine returning the opening kickoff 90 yards.
"It was really nice seeing a punt returned for a touchdown and coach (Nick) Howell had a nice design for that," Mendenhall said. "Our special teams continue to be volatile, but I was overall pleased with the performance."
Email: [email protected]
Twitter: @BrandonCGurney