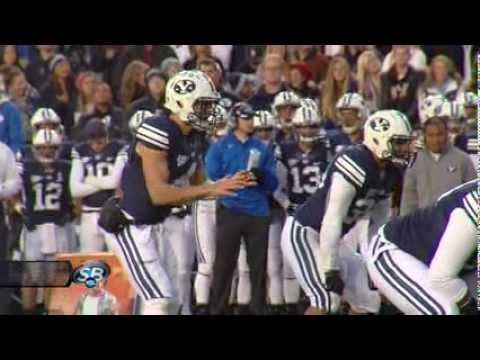 View 28 Items


Our throw game took a step forward today.

—BYU coach Bronco Mendenhall
PROVO — BYU's post-loss bounce back took awhile to get going in a short-week showdown with Middle Tennessee.
Once Taysom Hill got going through the air and on the ground, BYU waltzed to a 37-10 win over its Conference USA guest despite looking sloppy and giving up a season-high five turnovers.
"Our throw game took a step forward today," said coach Bronco Mendenhall. And that was good news.
On a day Mendenhall suspended his most experienced offensive player, senior receiver Cody Hoffman, for one game, the night was first of all about BYU's defense. Second, as is always the case in Provo, it was about the quarterback, Hill, who led BYU to 30 unanswered points.
Hill rushed 18 times for 165 yards. His 14 of 19 passing for 177 yards was his most accurate game of the year at 73.6 percent. His 31-yard fourth-quarter pass to Mitch Mathews was the most impressive non-Hoffman act of passing in his short six-game career.
Hill's 165 rush yards came against a Middle Tennessee defense that had yielded a total of 610 in four games.
As improved as Hill's passing was Friday — he had a 141.4 efficiency rating — his legs remained the storyline in a game the Cougars appeared unfocused and mistake-prone.
Hill showed why he is built to run. Hill is a guy blessed with uncanny speed and his size makes him tough to tackle in the open field. When he gets some steam he's like former BYU running back Luke Staley. QBs like Hill share the drag racer mindset. It's nested in the mentalities of athletes like Michael Vick, Robert Griffin III, Tim Tebow and Troy Smith. They grew up using their speed to dominate others; in baseball jargon, it is their "out pitch" and the one thing they know can carry them.
Blend that into a passer's mindset and you may have something. But for a speed runner, that itch, that temptation and confidence is ingrained into the DNA. Hill ran for 1,491 yards in high school for a 124.3 yards-per-game average and 10 yards per attempt. When you can munch that kind of yardage with your legs, confidence in that out pitch soars. This season, Hill has now rushed for 565 yards.
We saw this against Texas, a 259-yard rushing effort. We sat that again Friday night against Middle Tennessee when Hill exploded for 142 yards in the first half.
But back to the pass.
I wouldn't say Hill's issues with his passing accuracy have been due to happy feet — taking off and abandoning plays and trying to take on the hero role. His escapes have come mostly on design read-option plays or QB draws, unlike what we saw out of Riley Nelson's improvising.
Hill's pass issues coming into Friday's game as the nation's least efficient passer have been anxious throws, being in a hurry, not setting his feet and not toning town his excitement. And a lot of that's been due to poor protection, lack of time, receivers not being ready, a dozen drops and a lack of accuracy.
Before Friday, he was a 37 percent passer through three games.
Against Middle Tennessee, BYU coaches had him target his receivers in the first tier (0 to 10 yards). His first 10 passes were mostly in that range. He attempted just two passes in the second tier (10 to 20 yards) in that span. With Middle Tennessee playing soft coverage, Hill had time and delivered an impressive eight completions in his first nine attempts for 96 yards and a very impressive 178.5 pass efficiency rating through the first two quarters.
BYU also slowed down the "go-fast, go hard" offense and took another six to eight seconds to get off plays and let Hill's pulse subside a few beats.
His second quarter 50-yard touchdown run was a thing of beauty. Hill rocketed through a hole, found his second gear and pulled away from Middle Tennessee's safeties. He made it look easy.
Granted, BYU's foe was not Utah, nor did the Blue Raider defense look anything like what the Cougars will face next week in Logan against Utah State.
But it was success for a TD-starved offense that produced yards but not enough points in losses to Virginia and the Utes. It is an offense in need of confidence.
Friday was all about baby steps.
This is an offense that coordinator Robert Anae — after the first scrimmage of fall camp — told us was taking steps into a marathon; not a sprint.
The questions are: How long is the marathon? How fast does one count the mileposts?
And does progress only speed up against non-BCS defenses?
Dick Harmon, Deseret News sports columnist, can be found on Twitter as Harmonwrites and can be contacted at [email protected].